Hi, friends! Apologies for the extended blogging hiatus. Special thanks to a few unexpected people who told me that they were enjoying reading my blog! I had no idea more than, like, 3 people were interested in my ramblings. I knew I wouldn't have time to blog while I was in Victoria for the Canadian Championships, but I didn't realize it would take so long for me to get caught up once I got home. I'm still not caught up, but I have to set my other priorities aside for a few minutes, because today is quite a special anniversary.
A year ago, Vancouver was busy hosting what I consider to be the greatest Olympics ever. Week 1 was starting to wrap up, the home team was doing well, and I kept reading fantastic reports from the lucky folks who were there. But unlike previous Olympics, I wasn't just keeping track of the 2010 Games from my couch, wrapped in a tattered red flannel blanket. A year ago today, I arrived in Vancouver, along with four of my best friends and the best road trip buddies a girl could have.
February 18, 2010 was a looong day. For real...since I flew west, it lasted 26 hours! But it was a great one, too, one I'll always remember. My mom dropped me off at the airport, which is always a really nice gesture, since doing so means that she has to leave for work about an hour & a half early. The best part of the trip was that Chele, Jules, and I were all flying Southwest to Seattle. Although Chele started her trip in...BosMantonchester (I can't remember which) and Jules flew out of Detroit, Chicago is the hub for Southwest, so both of them had to switch planes at Midway, and we all had the same flight to Seattle. I got to greet both of them as their planes arrived, because I was early and hyper and excited and sleep-deprived, and it seemed like the right thing to do. We got seats in the same area of the plane, but not together, but the plane was still fun, once we realized that everyone around us was also going to the Olympics, and we all started talking about it.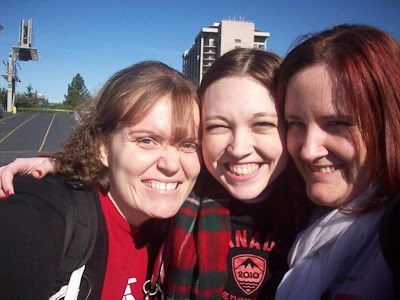 In Seattle, we picked up our rental car & started driving north. With an essential stop at the Bellingham Target for sustenance for the trip, we were soon crossing the border and exclaiming to the customs official that yep, we were going TO THE OLYMPICS.
Meanwhile, Christina and Jen had already arrived at the Vancouver airport. They left their bags there and headed downtown. Since we were going to have to come back there for their bags anyway, we parked at YVR and headed downtown via the train as well. When we finally met up with them downtown, near BC Place, there was much jumping and squealing and group hugging and self-portraiting, of course. It still hardly seemed real.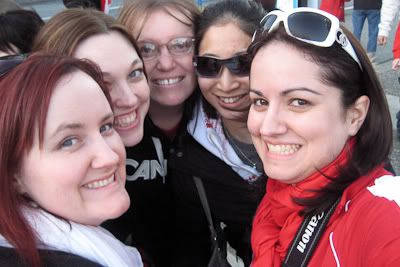 But things got very real and very Olympic very quickly. While we were eating at Moxie's, the CAN-SUI hockey game was in overtime, and then it went into a shootout, and the whole restaurant was hanging over railings and staircases, watching the TVs in the bar, which was packed shoulder-to-shoulder. When Canada finally won, the place went nuts. Some guy appeared with an enormous Canadian flag on a pole and paraded up and down the stairs several times. We all sang "O Canada." Grown men cried. I cried, but that's nothing new. And it was still the qualification rounds!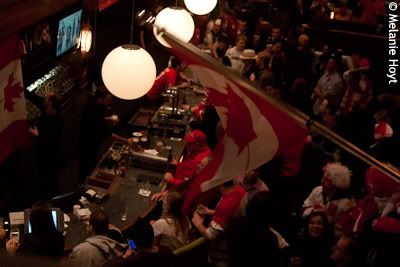 After some shopping, we were wandering the streets, dressed head-to-toe in Canada gear when a drunk Swiss guy hit on Christina. An encounter like that would have normally crept me out, but this was the Olympics! Everything seemed other-worldly. The Olympics was a place where it was normal to dress up like nationalistic crazies, run screaming through the streets, and have drunk guys try to pick you up. It was another realm, functioning with its own set of rules. Shopping at midnight in a department store? Totally normal. Buildings wrapped in giant flags? Yes please! Getting up before 4am to go to the rink to watch practice? Not only typical, but something to get excited about!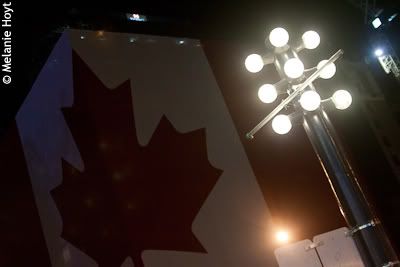 For years, I'd watched the Olympics on TV and wondered what it would be like to be there in person. We all had. The funny thing was that even though I'd thought about it for years, it still felt like a huge surprise. I really didn't know what to expect, and every turn was something new and exciting. Somehow, the Olympics were everything I'd dreamt about and at the same time, nothing like I'd imagined. I knew I never wanted to leave, and the real highlight was still a few days away.
To be continued...!