Apparently, a lot of Americans remember 02-22 quite fondly as the date on which the famed Miracle on Ice hockey game was played in 1980. I wasn't alive then, but I own
Miracle
, so I understand the allure. For me, February 22nd took on a significant meaning in 2000. I was in 11th grade, it was the Tuesday after the February semi-formal, and after keeping me in agony for 3 whole days, my high school sweetheart finally gave me a note before my ACT review session, asking me to make things official and be his girlfriend. We stayed together through long-distance, he asked me to marry him a year & a half later, and I truly thought we'd get married, be together forever, start a family, be happy. But when he ended things in January 2005, February 22nd became a dark day for me. Even after the fresh sting of the breakup was gone, 02-22 always reminded me of what I'd had and lost—my love, my best friend, a surrogate mom who was there when I couldn't communicate with my own, a chance at the life I honestly believed I wanted. Whether it was for the best or not is open to interpretation, of course, but whatever the case, February 22nd wasn't a day that I looked forward to. It was such a memorable day, too. Maybe if it had been February 25th, I would have let it go a little more easily, but all of those twos staring at me...it always brought me back.
Even at the Olympics, when we woke up—early again—on Monday morning, I had a little twinge. But this was the Olympics, and I knew that an amazing day was in store. We BELIEVED. But...a little superstition never hurt anyone. So we did almost everything exactly the same as the day before.
We went to practice, and although we got a little more sleep and missed the first couple of groups, we still got there before the sun was up. We settled into good seats, centre, opposite the judges. We caffeinated and cheered. And the top athletes warmed up their free dances, to be competed later that night.
Nathalie Péchalat & Fabian Bourzat's crazy/awesome lift entry...I was shaking too much to capture this moment in the competition later on.
Meryl Davis & Charlie White, probably my favourite photo I've taken of them.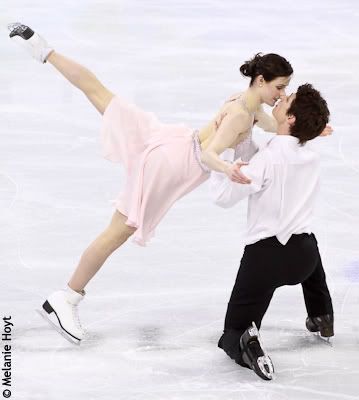 Tessa Virtue & Scott Moir, one of the final moments of their free dance. Again, not as crisp later that night due to the shaking. I was SO EXCITED when she came out in this blush dress. I knew she'd have a new dress for the Olympics, but was expecting white, of course. White on ice makes for bad photos. It's tough for the camera to focus on and it looks blah. Blush isn't that much better, but with Tessa, I knew better than to hope for a bright colour.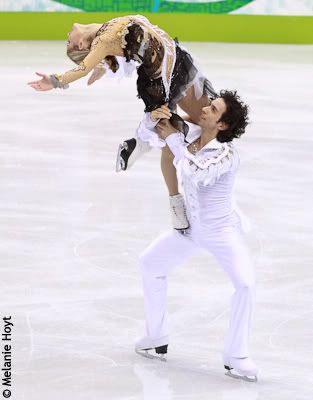 Speaking of white...prime example of how it doesn't work against the ice! Here's a beautiful lift by Tanith Belbin & Ben Agosto, white jumpsuit aside.
And just like the day before, we watched a couple of groups of ladies afterwards, including: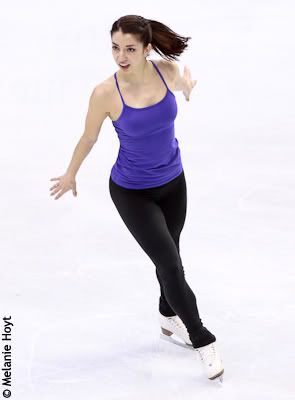 Tugba Karademir, everyone's favourite Turkish skater! She trains in Barrie, ON, and I first saw her skate at the Mariposa Gala in 2003, so it was awesome to photograph her on Olympic ice.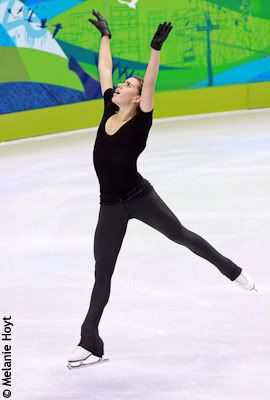 Cynthia Phaneuf, 2004 (and now 2011) Canadian champ
Mirai Nagasu, 2008 U.S. champ
And after the ladies, we headed outside for photo shooting and lunch, once again.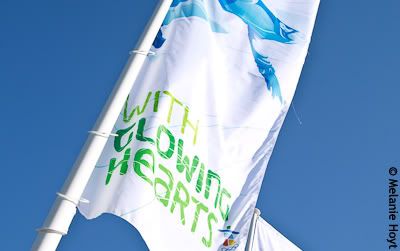 It was another beautiful day, and our hearts sure were still glowing!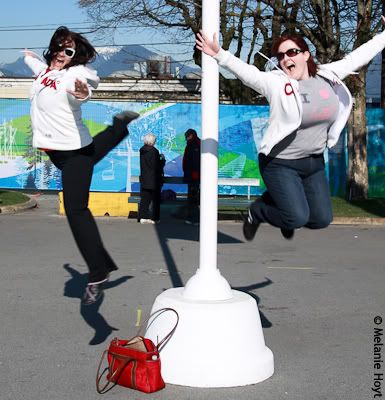 Christina and Jules were clearly pumped, and I continued my warmup with more action shots!
At lunch, we strategized our ticket-buying process once again, then schlepped to the bank to withdraw as much money as we could from our accounts. I'd been rationing food for weeks in hopes that my Olympic dream of being in the building for the free dance would come to fruition. We agreed that we'd spend no more than $300 each, but obviously, we'd prefer to spend closer to $200. When we headed back to the arena, to the corner of Hastings & Renfrew, where Chele and I had scored our OD tickets, the scene was quite different from the previous afternoon. Only about 5 resellers were standing around. I instantly got nervous. Fewer options would drive prices higher, and there was still a lot of time before the event started. We had to act quickly if we wanted to get in at all, but what if the only tickets were out of our budgets?
I didn't see the nice French guy who'd sold Chele and me our OD tickets, so we just picked someone. Did we want free dance tickets? We sure did. Did he have them? Well, only 3. But he had a friend down the block, and his friend might have some left. He could call him. I was clenched while he talked into his cell phone. Yeah, his friend had two more tickets. They were all in the same row, in the same section. I can't remember exactly what happened next. I think he wanted $300 each, but we talked him down to $250. Whatever it was, we ended up paying less than half the face value for five lower bowl free dance tickets that were essentially together at the OLYMPICS. As long as they scanned when we got to the door, I was officially the luckiest girl in the world. Well, me and the four girls I was with.
To be continued!