So I fully realize that it's the end of February and year-in-reviews are typically done at the beginning of January. But January is one of my busiest months, typically, and February is spent catching up from January's chaos, so I just haven't had time until now to post this. I could have just skipped doing a year-in-review this year, but if I don't do one, I'll soon forget most of what happened in 2010. Plus, now I am on a roll after all of my weepy Olympic recap posts, so I figured I would capture that feeling. So without further ado, here's part 1 of what I did in 2010.
January
I worked New Year's Day, so I didn't begin the year in any sort of exciting fashion, but on the 2nd, I drove to Michigan, where I met up with Jules and Christina and kicked off the year in a predictable way: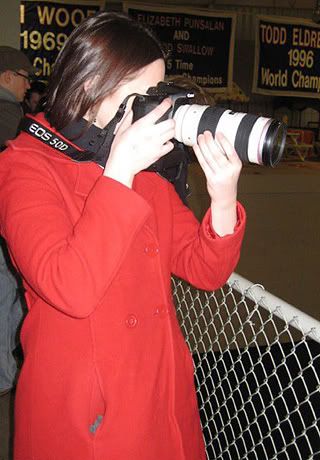 By shooting the Detroit Skating Club's Champions Ice Revue.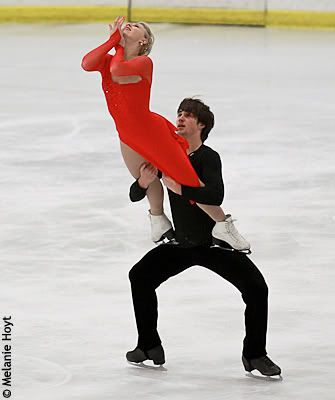 I'm glad we ended up going, because I got to shoot Piper Gilles & Zachary Donohue's free dance...
...and Jonathan Cassar's incredible spread eagle.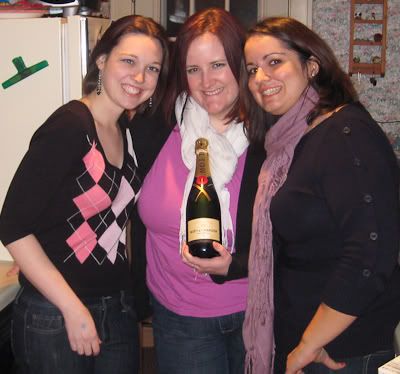 Afterwards, we headed back to J's house to ring in the New Year a day late. Thanks for holding off on drinking the Moët until I got there, girls!
Two weeks later, I was in London, ON, for my first skating event of 2010: the Canadian Championships.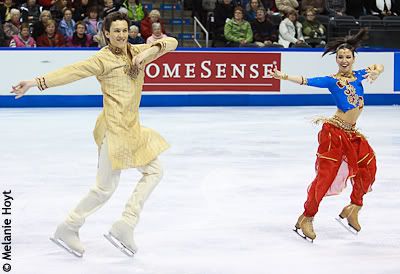 I got to shoot my favourite OD of the year one more time, Mylène Girard & Jonathan Pelletier's Bollywood program.
I was there all week, since I covered novice and junior events as well, so once the rest of the girls got there for senior events on the weekend, I was so excited to have friends to bring me coffee and hold my hand when I got nervous!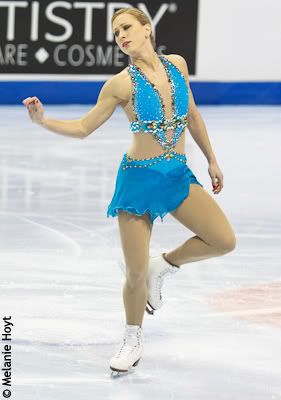 We weren't too nervous for Joannie Rochette—she was already on her way to becoming Canada's Sweetheart, but were thrilled to send her off to the Olympics with a terrific free skate.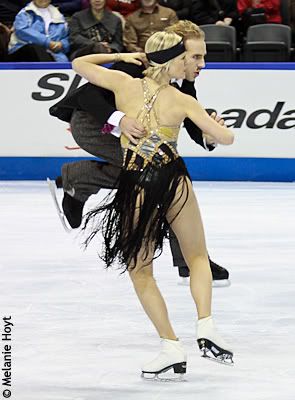 And I was personally thrilled to see Tarrah Harvey & Keith Gagnon's delightful Chaplin free dance get a standing ovation.
I was also thrilled to be in the arena when Vanessa Crone & Paul Poirier made their first Olympic team! I've had my eye on them since 2006 and have known them since 2008, when I did one of my first feature articles on them and then did a photoshoot with them a few months later. I am so proud of them and how far their skating has come and continues to grow!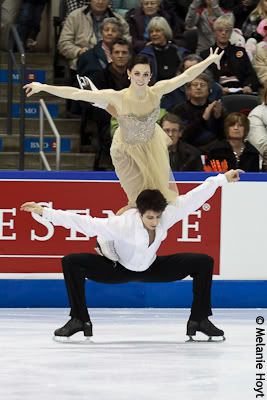 And of course...everyone in the hometown crowd was thrilled to send off their kids, Tessa Virtue & Scott Moir. Next stop: Olympics! (Spoiler alert: this turned out very well for them.)
On the last day of Canadians, everyone was supposed to wear red and white so they could do a cheesy and touching send-off for the Olympians, when they sent them around the rink holding a Canadian flag together while someone sang the slowest, most dirge-like version of "O Canada" I have ever heard. Yep, I cried! But before all of that, some of the girls got together for a group photo with our Canadian spirit and red mitts! L-R: Chele, Sarah, Christina, Jules, Erica, me.
February
I don't have any idea what I did for the first 11 days of February, but I do know that from February 12-28, I was in Olympicland! And for 6 of those days, I was actually AT THE OLYMPICS, which was such a dream come true. See the last 7 posts in this blog for full recaps:
Day 1
,
Day 2
,
Day 3
,
Day 4 (Pt 1)
,
Day 4 (Pt 2)
,
Day 5 (Pt 1)
,
Day 5 (Pt 2)
. In this year recap, I'll just (re)post a few of my favourite photos.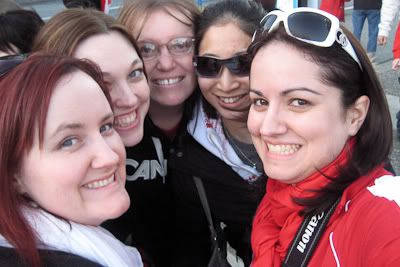 We could still hardly believe it once we got there and met up downtown!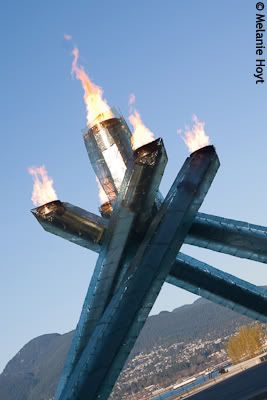 Downtown Vancouver was one big street party! It was such an amazing feeling to be a part of it.
Women's Curling was my first Olympic event...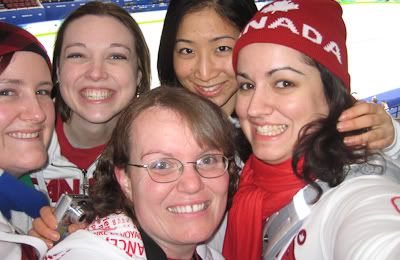 ...but seeing Olympic Ice the next morning at dance practice was even better!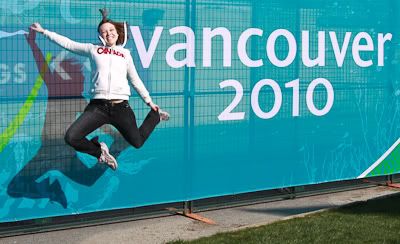 It was so great that I jumped for joy!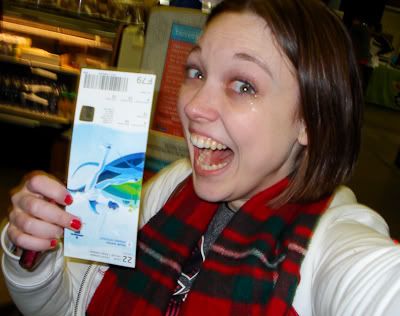 Getting inside the arena for the free dance the next day was amazing...
...almost as amazing as sitting 6th row with the girls...
...and seeing the kids lay everything on the line...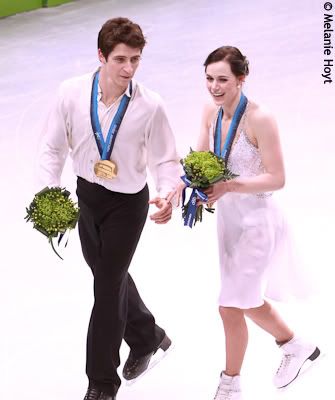 ...and wear Olympic gold. Tessa Virtue & Scott Moir of Canada, your 2010 Olympic champions.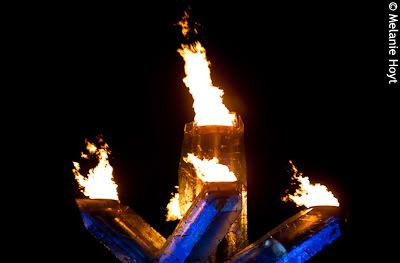 It was only February, and 2010 was already cemented as the best year ever. Dreams come true!
March
After we started to come down after the Olympics, Christina and Jules made plans to come visit me in Chicago for St. Patrick's Day weekend! In Chicago, this is a Big Deal.
We had great times of eating, shopping, and 5K running (them, not me). Perhaps once of the most meaningful moments of the weekend came when I brought them to Decolores and they met Tres Leches Cake from Kristoffer's. (Along with all of the other phenomenal food there!)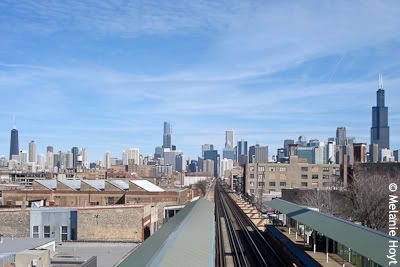 I love my city.
The next weekend, I went to Thin Ice at the MGM Grand @ Foxwoods in Connecticut. What an awesome trip with Jen, Chele, the awesome cast of Thin Ice, and the production company that hooked everything up, VIP-style! I wrote about it in more depth
here
and
here
, but some highlights: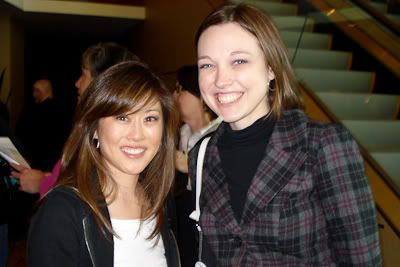 Finally meeting my (real) childhood hero, Kristi Yamaguchi!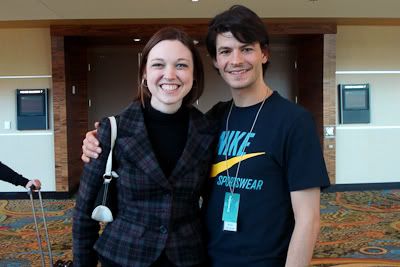 Also meeting Stéphane Lambiel, and finally getting to see him skate live.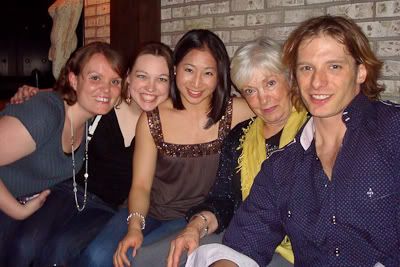 And spending some quality time with John Zimmerman, who really is just as classy of a southern gentleman as everyone has always said that he is, and meeting his awesome mom!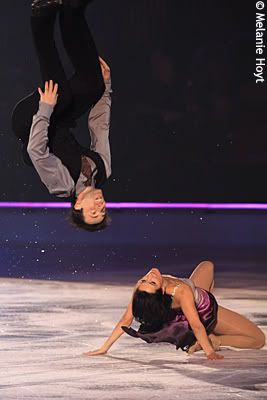 Oh yes, and I also took one of the greatest photos I have ever taken in my life: Michael Weiss back-flipping over (temporary) partner Marie-France Dubreuil, en route to winning the competition.
April
To kick off April, I shot Ice Dreams, a show in Chicago organized by Johnny Weir's management and featuring, of course, Johnny Weir. I brought Katrina with me, since she'd been wanting to try some skating photography with me for a while, but events are rarely in Chicago. And then the lighting was awful. Like, un-shootable, awful. It was a bit of a disaster.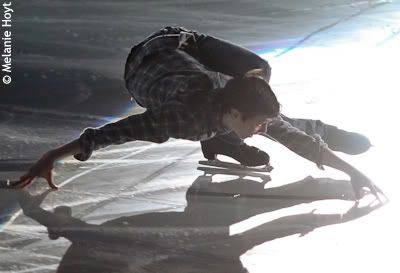 But I was excited to finally see Jordan Moeller, a talented young local skater who's now the 2011 U.S. silver medalist at the novice level. He goes to one of the schools in the district where my mom works, and he's the first national-level skater that I know of to hail from Chicago's south suburbs. Holla! Anyway, I'd been wanting to see him skate for a while, since my mom had met him and his parents, and it took Johnny Weir to make it happen. Who knew?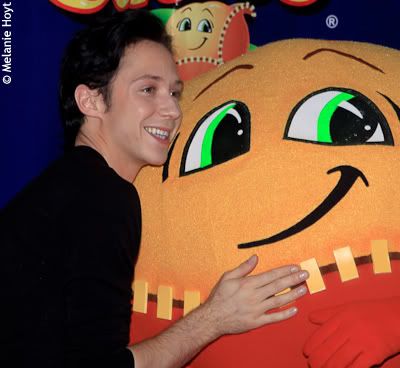 And speaking of Johnny Weir, here he is, hugging a giant clementine.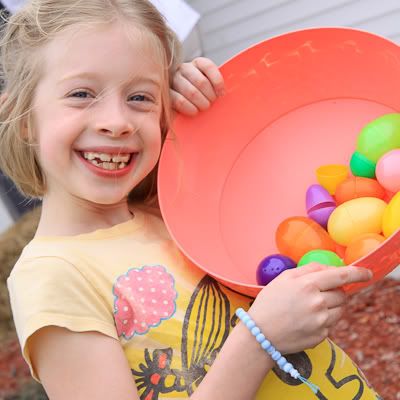 I got to spend Easter with my family! Here's my cousin Danielle with the eggs she found during the annual Markham Family Egg Hunt.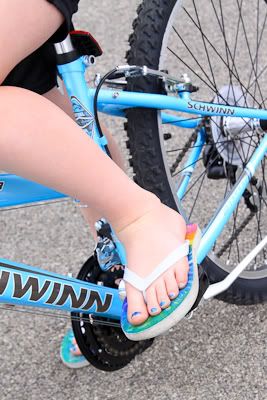 Cousin Kristin showed off her new bike and her flip-flops, both turquoise.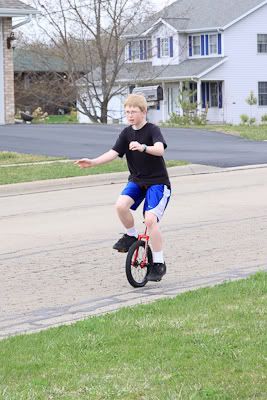 And poor cousin Brad...his parents only bought him one wheel when the girls got new two-wheelers, but he makes do just fine. ;-)
I went to Ottawa the next weekend to shoot the Gloucester Spring Fest competition with "my Canadian family." Here's me with li'l sis Cate at the event.
Over 10 months later, I still have hardly looked at any of my shots from Gloucester, so I wasn't sure which one to post. But then I remembered that I photographed Elisabeth (Lizzie) Dyer, and she's one of my favourite young skaters to watch, so I just went through my shots of her and picked one. Less daunting than trying to go through everything!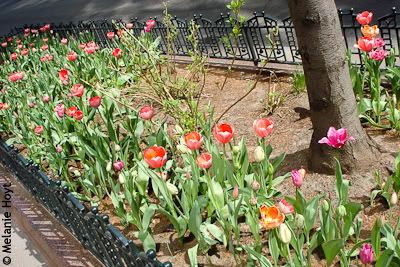 I was a busy girl, wrapping up the semester and starting to plan for my Cross-Canadian Adventure (!!!), but beautiful spring days in Chicago and tulips blooming on State Street right outside work kept me motivated.
Next up was the annual tour of Canadian Stars on Ice shows! This year, Jules and I planned to hit three: Windsor, Toronto, and Hamilton on a Thursday-Friday-Saturday weekend o' fun.
Windsor was up first, and we stayed overnight north of Detroit with Amber, which was a grand time as well, though Jules and I went solo to the show. I bought our tickets (which is a strange feeling nowadays) online at Amber's the day of the show, and Ticketmaster informed me that "best available" was something like Row P in a corner. UNpleasant, but then again, it was an Olympic year, so we dealt with it.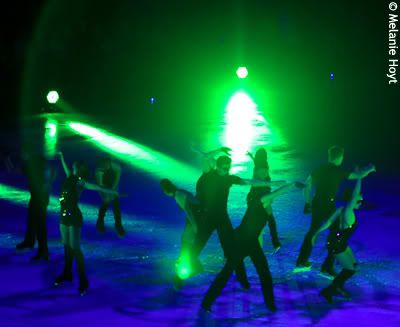 Sometimes, I get really fun shots sitting up high, like this one of the "Rock the Runway" group number that closed Act 1. Awesome number, too! What, what!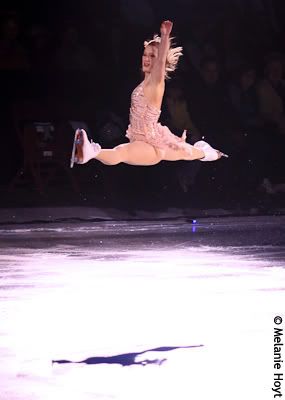 But while we were sitting up high in the corner, we noticed that the opposite corner, next to where the skaters came out, was almost completely empty. "Best available," Ticketmaster, really? So we moved, naturally, and I was so glad that we did, because I got a pretty great shot of Jo's split jump! I've been on a quest to get a perfect shot of Jo's split jump for 4 years now. Almost always, if she jumps facing me, it's blurry. If I nail the focus, she's facing the wrong way or doesn't get her back leg quite parallel. This still isn't absolutely perfect, but it's the best so far!
Up next was Toronto! Toronto is always a fun show to hit because so many of my friends are local, or close enough that they make the effort to get there. We also get to go to practice before the show if we get there early enough, and they put on a nice reception afterwards, so it's a pretty stellar evening.
At practice this year, we got to catch up with Shawn, have a peek at Jen Robinson's new baby girl, and see Scott & Tessa try (and fail) to imitate one of MF&P's lifts. Points for effort...that lift was insane. Also at practice, I got to tell the media rep exactly where I wanted them to set up a chair for me at ice level. Talk about getting to pick your seat, and way better media relations that what occurred on the U.S. tour in Chicago. Way to go CSOI...you were always my favourite.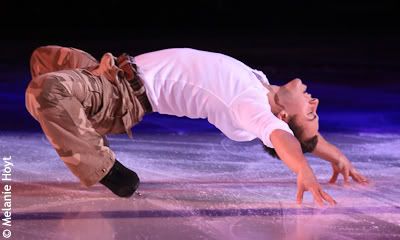 So from my hand-picked seat, I got some wonderful gems like this one of Shawn Sawyer's cantilever! I've been shooting this move for years, but never had a great angle for it until this show.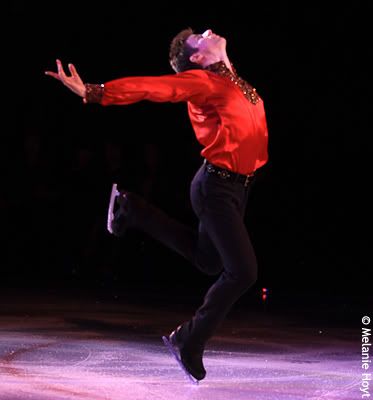 I love this moment from Jeff Buttle's "Sympathy for the Devil" program.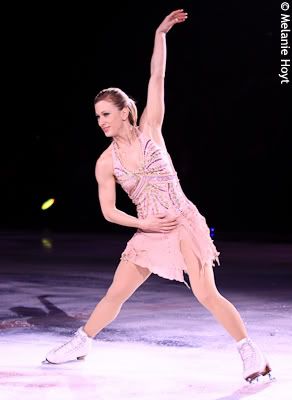 The lighting for Jo's "Summertime" program was perfect and made her look gorgeous...not that it's a stretch!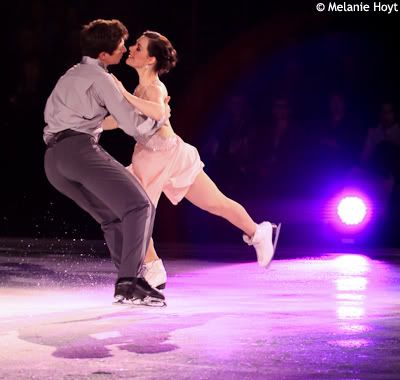 I was sitting almost directly opposite a floor-level coloured spotlight, so by the time Tessa & Scott closed Act 2 with their shortened free dance, a program I'd already shot so many times before, I had a chance to play with the lighting a bit. I love the flare in this shot!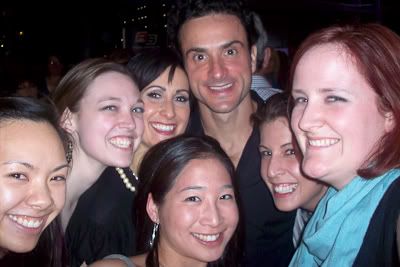 Group shot with MF&P, of course...once we all finally got into the reception! The short version of the story is that the reception passes didn't make it into the envelope with the tickets that Jo left, and a crotchety security guard tried to tell Canada's Sweetheart that her friends couldn't come inside. ACC fail, you can't talk to Canada's Sweetheart like that!
Group shot with the girls! L-R: Jules, me, Lori, Jen, Sarah
May
The 3rd CSOI on Jules and Mel's tour o' CSOI stops was Hamilton on May 1st. We love going to Hamilton because a) it's the show taped for TV, b) the Copps is an awesome arena with a lot of great memories, c) it's close enough to Toronto to just jet over for the show, and d) Hamilton is the best skating audience in the world, period. Unfortunately, this year, the lighting in Hamilton wasn't as nice as in Toronto, which was odd because it's the TV show. But maybe they needed to tone down the vivid colours for the TV cameras, or something, because it was definitely darker, less colourful, and a bit flatter.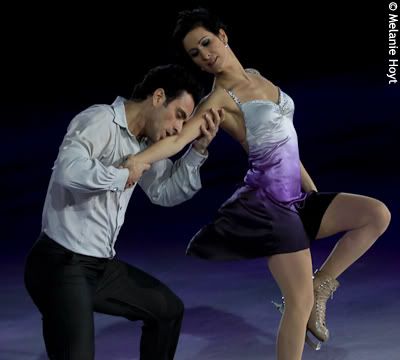 But I still got this great shot of Marie-France Dubreuil & Patrice Lauzon, in their bluesy & sexy "Do I Move You?" number.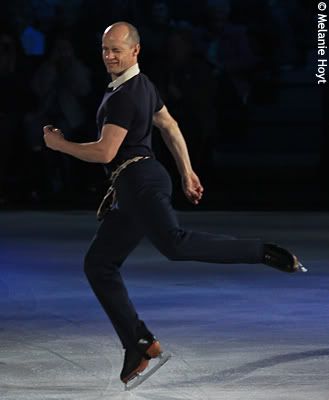 I've probably seen Kurt Browning skate 20+ times since I started going to live skating events in 2003. I've never seen him be anything but completely entertaining, so this is some pretty serious praise coming up. On May 1st, 2010, in Hamilton, ON, Kurt Browning gave the absolute best performance I have ever seen him give, to one of his classic programs, "That's Entertainment." It was complete magic. The crowd always stands for Kurt, but that night, it was like he was competing again, and he'd just delivered a skate sure to score straight 6s. Everyone was up before the music even ended. It was just so incredible. And to top off that memory, I also snapped the best shot I've ever taken of him! Win!
The day after the Hamilton show, Jules and I were high on skating and we had to head back to Michigan. But in order to head back to Michigan, we had to drive through London, right about the time the show was taking place in London, which as you might remember from the January part of this post, is Tessa & Scott's hometown. You also might remember, either from the February part of this post or from life in general, that Tessa & Scott became Olympic champs in February 2010. So seeing the tour in their hometown seemed like a great idea. The show was sold out, but when we stopped by the box office to meet up with a couple of friends who were already attending the show, a few more tickets had been released, so we just had to, you see. But since I already had photographed the show for the past 3 days, I just sat and enjoyed it, which is nice, every once in a while!
Two weeks later, the U.S. tour of Stars on Ice came to Chicago. Normally, the U.S. tour is first and takes place during the competitive season. The Canadian tour follows it and some of the skaters from the U.S. tour carry over, but some Canadian competitive stars are added to the roster to replace the pros who only do the U.S. tour. But in the Olympic year, they had two separate tours running simultaneously, so I saw a completely different cast in Chicago.
Unfortunately, my photos from that show are trapped on a corrupted external drive. I've taken steps to repair it and made a bit of progress, but haven't recovered my Stars photos just yet. So no photos to share, but I still don't believe they're really gone! I'm staying positive!
And here's where I'm ending this volume of my 2010-in-review. Next up: summer vacations!