And, finally, here's the last part of my 2010 recap. You might think that the end of February is kind of late for a year-in-review, but I posted part 3 of my 2009 recap in March 2010, so I am actually ahead of schedule!
September
September was a little crazy. I started semester #5 of my grad degree, which included the overwhelming task of starting thesis hours and beginning to synthesize everything that happened on my summer road trip. Not a super easy task, and I probably should have taken the trip in 2009 to make thesis-ing a bit easier, but I didn't have any money at all saved up a year earlier. So I just had to make it work.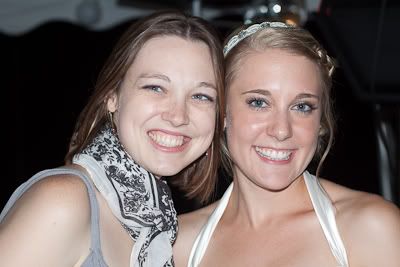 First up: Lauren's wedding in Saugatuck, MI. Lauren is a friend from my writing program, and I went with two of our other MFA-ers, Adam and Marynia. The wedding was in an old mansion—so gorgeous, and with unique "Lauren" touches all over it. Unfortunately, I overestimated the power of my flash, and therefore, most of my photos from the lovely event are kind of bad. We stayed overnight in Holland and then before we headed back to Chicago, we explored both Holland and Saugatuck. Amber and Jules even drove over to the west coast and met me for lunch, gelato, and a bit of wandering in Saugatuck.
The second weekend of September, I drove to Toronto to present at the PMA (Photo Marketing Association) show there! I was just filling in for Phil Culhane, who had to back out due to his day job, but it was a great experience. I was so nervous and know that I sounded like a moron at the beginning, but once I relaxed, I had a lot of fun. I spoke about shooting figure skating, which is obviously something that I know a lot about, but I still see myself as a novice in the skating world. Being viewed as the expert and having people ask me questions isn't a position I often find myself in. But once I realized that, while I might not be the most experienced skating photographer in the world, I was a lot more experienced than everyone sitting in front of me, things went well!
Next up was driving eastward to Ottawa to shoot Autumn Skate with Phil. It was cool to shoot an event in the arena where I'd sat and watched practices during Canadians in 2006. A lot has changed since then! Like, my camera is 8x heavier.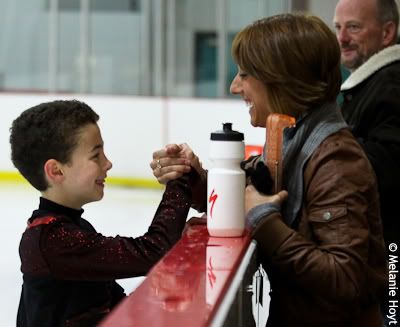 The arena had taken down a big section of the hockey glass, so it was fun to stand on the "back" of the rink for some of the events (not dance) and get shots of the skaters with their coaches.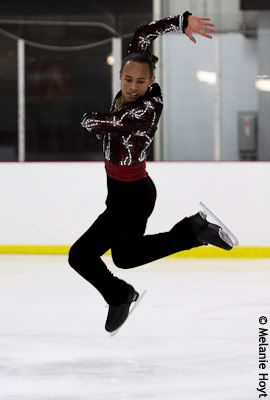 I also jumped for joy when I got this great jump shot of Elladj Baldé!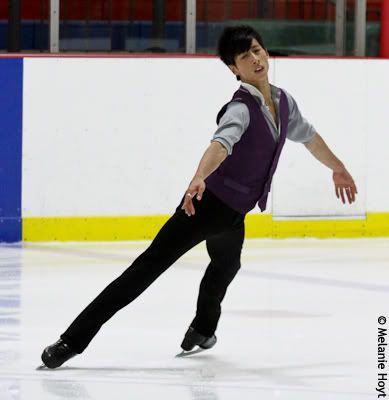 And I loved the sneak peek into Jeremy Ten's new short program.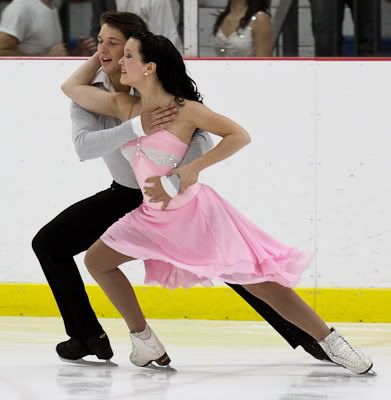 And I totally fell in love with Andréanne Poulin & Marc-André Servant's short dance to theGlee version of "Keep Holding On." So perfect for them.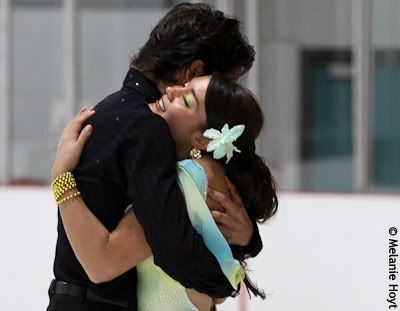 On Sunday, there was only one rink, so Phil took main photographer duties, and I got to stand at the back of the rink for some different angles on the free dances. I still haven't gone through most of those photos, but this one of Laurence Fournier-Beaudry & Yoan Breton caught my eye. I think it's awesome that they hug before they skate, every time.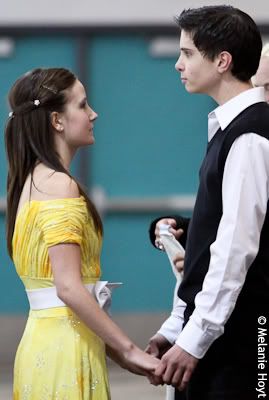 Carolane Soucisse & Benjamin Smyth, waiting to take the ice.
I don't have photos from it because, well, Symphony Center says no, but the last weekend of September, Mom and I went to our first Chicago Symphony concert of the season, where new music director Riccardo Muti directed "Symphonie Fantastique" by Berlioz, one of my favourite pieces of music! I'd heard it once before, but it was even more incredible this time around.
October
Much like October 2009, the beginning of October 2010 revolved around going to Toronto for Battle of the Blades. Such a fun experience! Even without MF to power-vote for, we had a great time at the premiere. The skating in the opening show was a LOT better than last year. The initial season was fun, but the guys in season two knew what to expect and came ready for a showdown.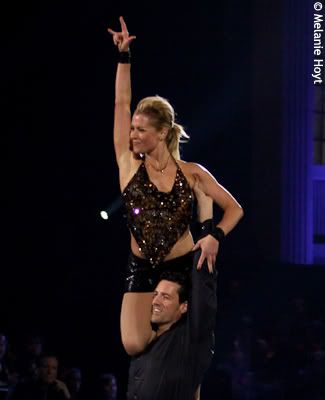 We had a few teams to cheer for, including Shae-Lynn Bourne & Patrice Brisebois.
One of the best parts of the premiere? Meeting DJ TANNER, aka Candace Cameron-Bure, whose husband Valeri Bure was one of the competitors. She was very sweet and even volunteered her oldest daughter to take the photo so Jules could hop in. Jules kept her feelings about Full House to herself at that moment and hopped in.
The next weekend, we were at it again!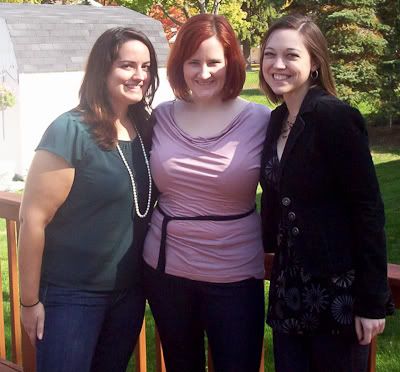 First, Christina and I both went to Jules' for a fun weekend o' shopping and celebrating for her new job. We also rocked some fierce hair.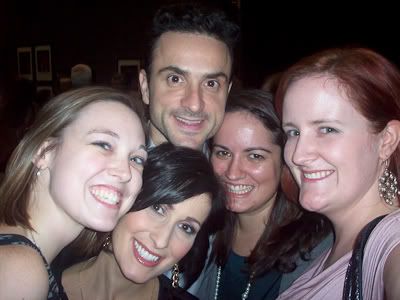 And then we caravanned to Toronto on Sunday to catch Battle, where MF was the guest judge and we caught up with MF&P after the show.
After the first two weeks of Battle, I managed to stay home for a couple of weeks (only because my mom and I had opera tickets, I believe) and get my hair cut (which I desperately needed, as you can see from the past couple of photos). Next up was Skate Canada in Kingston, ON, at the end of the month. I almost didn't go, but I'm so glad I did, because it turned out to be a really great event for me, professionally-speaking.
Since I got my start in skating photography by learning from one of the best, I am always eager for opportunities to observe photographers more experienced than I am. In Kingston, I got to shoot with quite a few experienced photographers, and since my friends weren't there, I found myself having more time to chat with the other photogs. I even ended up picking up a writing gig for IFS, which is a goal I've had for years! I feel bad taking any credit at all for it, since it literally just fell into my lap—it was just a matter of being in the right place at the right time. And the right place was Kingston during Skate Canada, in the photographer row, so I'm really glad that I went!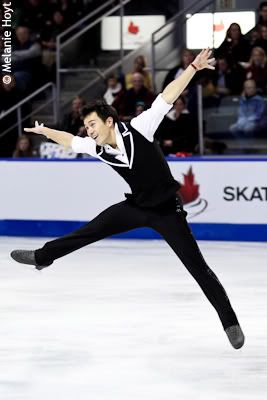 I also got some great shots, like this one of Patrick Chan.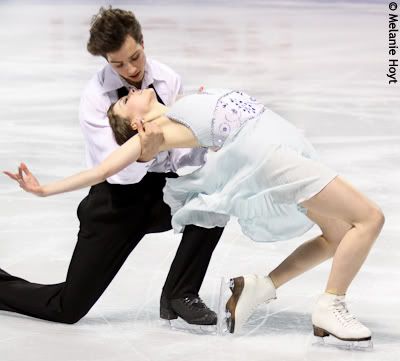 Of course I went to as many dance practices as possible, and I was so glad that I sat on the wrong side of the arena for the Sunday morning free dance practice, or I couldn't have nabbed this shot of Alexandra Paul & Mitch Islam.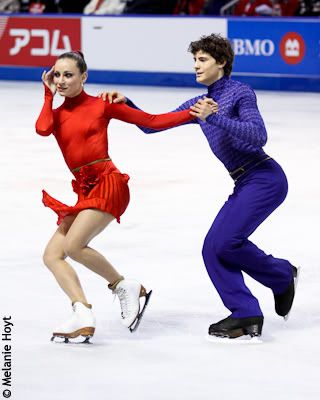 And it was wonderful to be in the arena for CroPo's first Grand Prix title. Like I said a couple of posts ago, I feel like I've been "with" them for a long time.
November
I'd taken a plane and a train to Kingston, but when it was time to leave, I hopped in a car with the Culhanes, who had made the trip to watch/photograph the event, too. I stayed with them for the week, then we went to Napanee for the weekend to shoot Sectionals.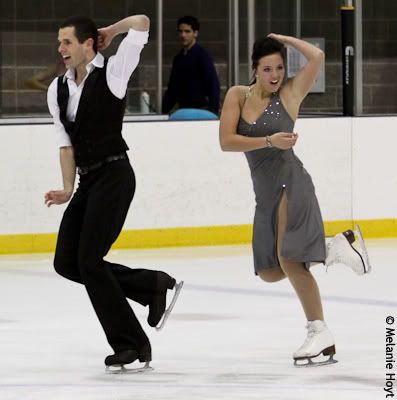 The arena in Napanee has hosted Sectionals two years in a row and I'm selfishly hoping that they don't get it next year, because it's poorly lit and the ads suck the life out of my photos! But at least they don't have ads in the centre of the boards, where Anoushka Ritchie-Hervieux & Philippe Massé (above) busted a move in their "Empire State of Mind" free dance.
Cate stayed in Ottawa over the weekend, so it was just Phil, Rhonda, and me at Sectionals. I had a good time, especially at the officials' party on the Saturday night, where Rhonda, Phil, Kristy, this guy whose name I can't remember, and I stayed for an hour after everyone else left and had to be asked by hotel staff to please be quiet...this was when it was just the 5 of us, apparently the noise was not a problem when 30 people were crammed into the tiny room. Oups! Anyway, when we headed back to Ottawa, I was glad to have one last night of homework partying with my Cate before I went home.
For Thanksgiving, my aunt & uncle & cousins went to their grandparents' in Wisconsin and my stepdad went to his son's house in Indiana, so my mom and I went to a nearby hotel that had a ginormous Thanksgiving buffet. The food was great and it involved no cooking or cleanup, which is just what we were after, but it still felt like such a weird holiday!
December
And a few days later, I was off to Challenge! I'm sure I've written about it before, but Challenge is one of my favourite events because I get to see almost all of the dancers in Canada from pre-novice up through senior, with plenty of time to catch up with kids & families & coaches between taking, like, a hundred thousand photos. This year felt a little weird because I was alone for most of it and because I missed the first day, but it was still full of good times.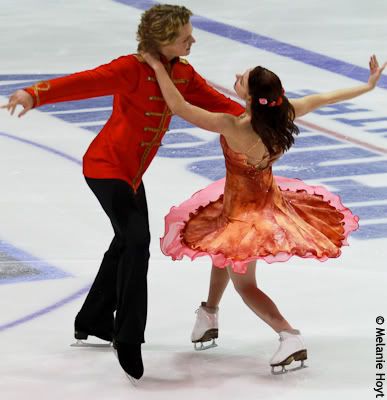 On Thursday, I shot the novice free dance, junior short dance, and senior short dance. Long day, but so much fun. This shot is of Nicole Orford & Thomas Williams in their second-place junior short dance. Since I went to the Michelle Wojdyla School of Photography (TM), I've been well-trained to look for and appreciate great skirt movement. Nicole's skirt has great movement.
I rented a Canon 7D body to try at this event, since I've been contemplating an upgrade. I thought about holding off and renting it for Canadians and having it my big event of the season, but I wanted to see what the 7D could do with low light in the Hershey Centre. I'm really glad I tried it, because I was not happy at all with its low light performance. The focusing was wonderful, a huge upgrade from my 50D, but since I do so much of my work in tragically-lit community rinks, it isn't the right body for me. The 50D has much less noise at ISO 1000-2000, so I'm sticking with it until I can afford a real upgrade. Anyone have a great deal for me on a 1D Mark IIN or Mark IV? ;-)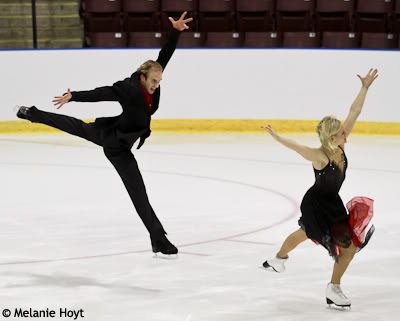 All of that said, I wish I could afford a 7D just to use in big arena settings, because it made getting shots like this one of Tarrah Harvey & Keith Gagnon a breeze! I think this is one of my favourite shots of T&K ever, which is really saying something, because I think I might have photos of them than their mothers do.
Friday, I had another long day, starting super early with pre-novice compulsory dances were up first. 33 teams, 2 dances each. At least one was a tango! With just over an hour between events, I was sitting on the ground in the concourse when Jules showed up with special Starbiz! That's what friends are for! We then settled in for an evening of junior and senior free dances.
I have to post a photo of Lauren Sears & Dave Mackay-Perry, because it ended up being Lauren's last competition. The Sears family has been fabulous to me over the past few years, including letting me & two of my friends (that they'd never met) stay at their home in Halifax when we passed through on the road trip last summer. Lauren's dad was the only one at home that night, and he was a fabulous host, demanding stories about our travels thus far and making some of the best chocolate chip cookies ever.
Saturday was my last day at the arena, which was perhaps why it felt so weird this year. I usually go back for something on Sunday. And Saturday was an earlier day, since all I had was the pre-novice free dance, which was over by early afternoon.
The pre-novice competitors don't go on to Junior Nationals anymore, so Challenge is the national championship for them. Jessica Jiang & Nikolas Wamsteeker took the title fairly easily with strong, confident skating and excellent unison.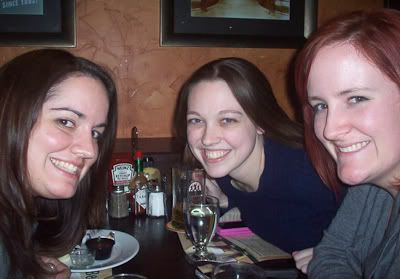 After I was done, I zoomed back to Toronto, sat in traffic for an hour when my GPS told me to exit by Yorktown (my GPS doesn't not make exceptions for mall areas on Saturdays in December), and then met Christina and Jules where they were shopping downtown. We then went to a fun brewery across from the Eaton Centre for dinner and I managed to keep my eyes open (but just barely, as pictured above) before going back to C's to take in a seasonal viewing of Love Actually.
Sunday, we actually started heading home at a reasonable time, after a super early dinner (or super late lunch?) with Megan & Aaron in the 'sauga, but by the time we got to London, we were in the middle of a blizzard that had closed the highway. Since we were in two separate cars, it was especially terrifying. Then once we got a little past London, the snow was basically gone. It was bizarre, but that's London for us. Typical.
After such a weird Thanksgiving, I was so excited to celebrate Christmas with my family! So excited that Christmas happened in two parts.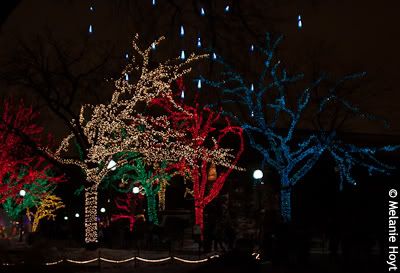 A couple of days before Christmas, when I had a day off, I planned a Chicago Christmas-themed day that included a visit to the Field Museum and the Christmas Trees of the World exhibit, a super cold trip through Lincoln Park Zoo to see the lights, and then I finally get to take my cousins to Molly's Cupcakes!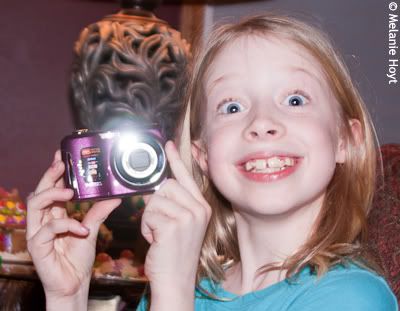 And then on Christmas Eve, my mom and I went to Rockford to spend the holiday with them, where Danielle was thrilled to get her very own camera!
Overall: two thumbs up for 2010. If I had three thumbs, I'd put them all up.