Warning: this part of the recap will probably be really long. This is only the second sentence, but I expect many more sentences, because a lot happened.
June
Life Dream #2 of the year began in June when I embarked on a 30-day, 10-province, cross-Canadian drive. What an experience! You probably know that I created a separate
blog
dedicated to that trip, so please peruse that if you want more details. It's pretty well organized, though still not completely done! I'm trucking along, though. For this recap, I'll try to stick to 1 photo per day!
British Columbia, province #1
My flight was into Seattle, where I rented a Toyota Matrix from the awesome guy at Hertz who gave Jules, Chele, and me a free upgrade a year and a half earlier, for 2009 Four Continents. Hilarious! No upgrade this time around, probably since I wanted to take one of their cars for 30 days and return it on the other side of the country.
June 9, Day 1: I drove into Vancouver, had sushi with Meg downtown, drove out to Port Moody to the Edwards' house, heard the Blackhawks win the Stanley Cup on the radio as I missed the turn for their street 3x, and celebrated my 26th birthday with the Edwards family, who were also celebrating Mark's birthday. Quelle coincidence! I was off to a great start and actually didn't take a single photo that day. Whoops!
June 10, Day 2: I took the ferry to Victoria! Such a lovely city. I fell in love with the city, the food at Rebar, and Munro's Books. I did not fall in love with hostels.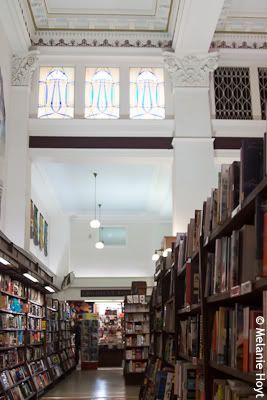 June 11, Day 3: Drove up the Malahat, ferry from Nanaimo to West Vancouver, Lighthouse Park in West Van, Lynn Canyon Park in North Van, coffee with Raul, and being the token girl out for drinks with Aaron and his friends.
Incredible view from the Malahat on Vancouver Island
June 12, Day 4: Relaxing morning at the Edwards', sightseeing Kitsilano Beach, re-sightseeing Stanley Park, and an awesome dinner Chez Edwards w/legit cedar plank salmon.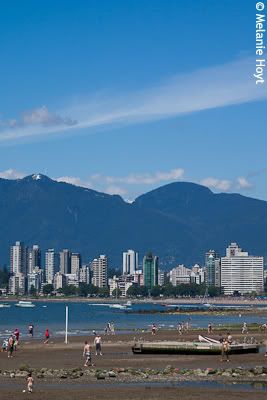 Kits Beach is just across the water from downtown Vancouver, so the photo ops are terrific!
June 13, Day 5: Met up with Jenny & Sam & fam in Stanley Park, a farewell to Vancouver and Vancouver friends, and a nighttime, fairly intimidating drive through the Coquihalla Pass to Kelowna.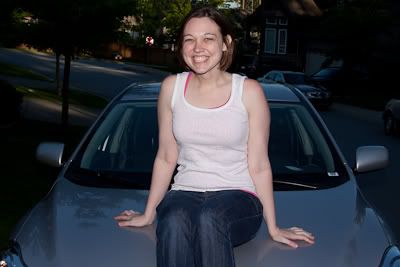 June 14, Day 6: Hosts Tori & Cam (and their son Austin) were wonderful! Cam took me on a tour of the Okanagan region, including scenic wineries and the Okanagan Lake Park. Then Tori called—an ambulance was on its way to take her away. So we headed back to the house, he took Austin and went to the hospital, and I took in scenic Kalamalka and Wood Lakes. They were all mostly fine—just a case of vertigo from their cruise for Tori and croup for Austin—so Cam took me downtown after dinner. Eventful day, but wow, that is a gorgeous part of the country!
June 15, Day 7: First long day of driving, from Kelowna to Calgary. Gorgeous drive through the BC Rockies!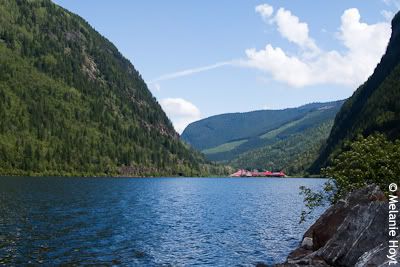 Ghost Town at Three Valley Gap, now a tourist trap, but it sure is picturesque from afar!
Alberta, province #2
June 15, Day 7: Rain started as soon as I crossed the border into Alberta, so the drive through the Alberta Rockies wasn't quite as lovely. After a downpour when I arrived in Calgary at Erin & Kyle's apartment, it let up enough for me to explore downtown Calgary for an hour. Two thumbs up for Calgary!

I got this shot up on a hill north of downtown...lucky to find this spot!
June 16, Day 8: First day where the weather derailed plans. Visited Canmore and Banff, but skipped Lake Louise due to rain. Canmore & Banff were both nice, but I'd love to see them again when I can get better photos and when my feet aren't soggy. Back to Calgary for the night.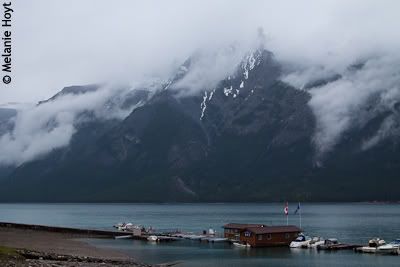 Lake Minnewanka, mysterious in the crummy weather
June 17, Day 9: Left Calgary via the Stampede grounds, where I got a little teary-eyed at the sight of the Saddledome! Drove north to Edmonton via the Alberta Sports Hall of Fame (it's in a rest area in Red Deer, no joke). Edmonton was kind of unattractive and disappointing, overall. The Legislature Building was nice. West Edmonton Mall was like a ghost town; it was creepy.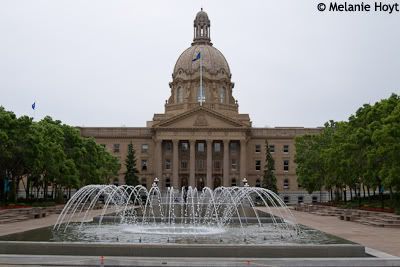 "The Leg" is the only pretty building that I saw in Edmonton.
Saskatchewan, province #3
June 18, Day 10: Mostly driving, from Edmonton to Regina. Some really nice scenic stops NW of Saskatoon, with a view of the river, and NW of Moose Jaw at Buffalo Pound Lake. I acquired 3 ticks. Chele's flight was delayed 6 hours, but I finally picked her up at the Regina airport just after midnight. Yay for having a road trip buddy!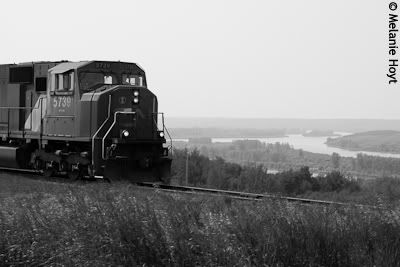 Train crossing the North Saskatchewan River Valley
Manitoba, province #4
June 19, Day 11: After walking around Regina in the morning (nice little city!), Chele and I hit the road for Winnipeg. Lots and lots of driving over very, very flat land. Enjoyed our time at The Forks in downtown Winnipeg and across the river in Saint-Boniface, the country's largest French neighbourhood west of Montréal, but the mosquitoes were horrendous.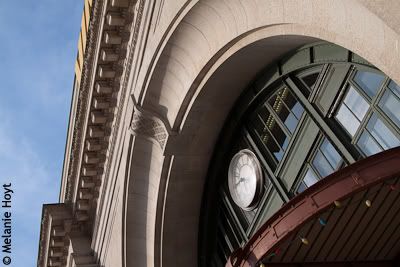 Union Station, downtown Winnipeg
Ontario, province #5
June 20, Day 12: Stopped in Kenora (Erin's hometown!) en route to Thunder Bay, where we stopped in a park and saw the Sleeping Giant rock formation in the distance before checking into a slightly sketchy hostel.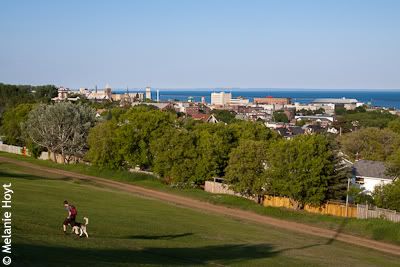 Park in Thunder Bay with view of Lake Superior!
June 21, Day 13: You know it's going to be a good day when it starts off with super-awesome, super-cheap Finnish pancakes. Beautiful day of driving from Thunder Bay to St. Joseph Island, just east of Sault Ste. Marie. First stop was at the Terry Fox Memorial, then onward around Lake Superior, through the provincial park. Arrived on St. Joseph Island at the Sunset Bay B&B, also beautiful, in time to take in the sunset behind the house.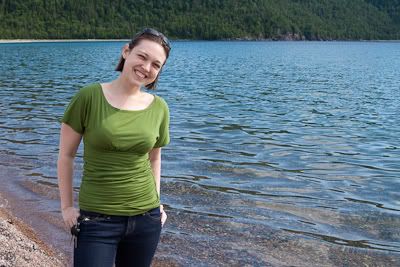 At Old Woman Bay, Lake Superior Provincial Park
June 22, Day 14: Still more driving: St. Joseph Island to Parry Sound. Stopped on Manitoulin Island, mostly to say we'd been, because the weather wasn't great for sightseeing. Great ice cream, though! Nice night staying at The Carson House B&B in downtown Parry Sound.
June 23, Day 15: Better weather, so we did our Parry Sound sightseeing before we left for Ottawa. Had to detour around Huntsville because of the G8, so we ended up seeing the world's largest photomosaic in Port Carling, where I also had the world's greatest banana-almond smoothie. Somewhere between Port Carling and getting back on the highway east of Huntsville, an earthquake shook Ontario and western Québec...we failed to feel it, probably because my GPS was routing us on gravel back roads! Arrived in Ottawa early evening, where we stayed with the Culhanes, of course—my Ottawa family!

Beautiful Georgian Bay in Parry Sound
June 24, Day 16: Fab day in the Capital City! I was a trooper and got up before the sun so I could go photograph Cate and the other Minto dancers at their morning session, then went back to the Culhanes' and got ready for a super day o' sightseeing with Chele. We photographed Parliament, wandered through the ByWard Market area, and visited the Museum of Civilization across the river in Gatineau.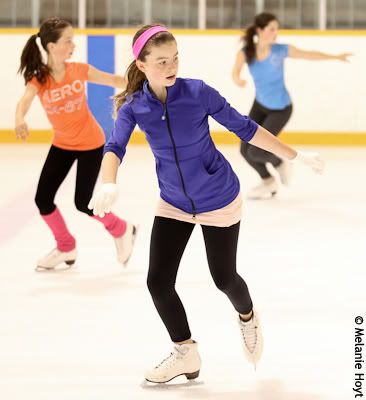 If you thought I could make it across Canada without shooting skating, you were wrong. Here's li'l sis Cate with Sam and Hélène.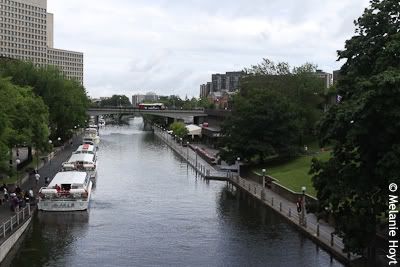 The Rideau Canal—in the winter, it's the world's longest ice rink.
June 25, Day 17: Backtracked a bit, driving back west towards Toronto. Stayed in Pickering, east of Toronto, with Sarah, who played a lovely host and took us out for some scenic photos after dinner. We ended up wandering by the Pickering waterfront, where I made geese friends that left me. It was a little traumatic, but I recovered.
June 26, Day 18: Chele I kept driving west, through Toronto to London, where Amber was dropping off Jules with us. Brunch at Cora's, of course, and then back east to Toronto and Christina! All plans of doing nerdy tourist things in Toronto were cancelled, because mobs were presently smashing windows and looting in downtown Toronto during the G20 summit. Fun? So we picked up Jen and the five of us went out for birthday dinner in The Beaches. Yay! All of five us, together for traditional birthday weekend, although it was a bit truncated this year.
Québec, province #6
June 27, Day 19: We said farewell to Christina and Chele (for the time being), and Jules and I headed to Montréal, La Belle Province. Feels a little like coming home, though I have never lived there. Spent a whole afternoon and evening wandering around the Vieux-Port. Beautiful day that ended with coconut ice cream...what more could a couple of girls want?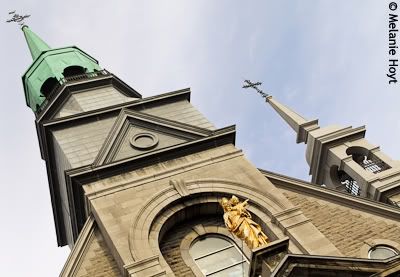 The Chapelle Notre-Dame-de-Bonsecours is one of my favourite things in the whole world to photograph.
June 28, Day 20: Visit to the Oratoire St-Joseph before leaving Montréal, and also to lunch at a café near McGill where one of the customers had a real, live snake wrapped around him. Then off to Québec City! Wonderful town...more wonderful when we don't waste over an hour sitting in traffic and when it doesn't downpour all over us, but enjoyable even with the setbacks, except for the FLQ graffiti! We really enjoyed our night staying at the Frontenac.*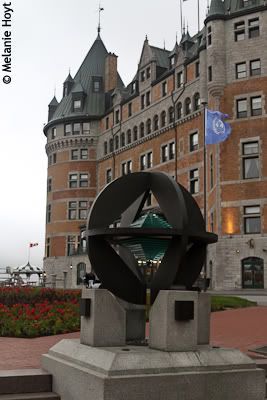 The Château Frontenac is a UNESCO World Heritage Site! Swanky
and
historic.
June 29, Day 21: Long drive from Québec City to Bathurst, NB, but with lots of stops! Montmorency Falls first, which were impressive but had muddy grounds, then a random stop in La Pocatière because we saw a pretty building on a big hill from the highway, a stop in Notre-Dame-du-Portage for photos, and a stop in Cabano to search for ginger ale (for Jules) and to pick up some road trip snacks, like a wheel of Brie (this is for me). Then crossed into New Brunswick, saw the falls in Grand Falls, and encountered two moose driving across the foggy interior of the province late at night (not recommended). So thrilled to finally get to Crystal's in Bathurst!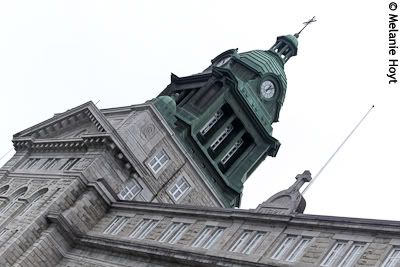 The pretty building in La Pocatière ended up being their school!
New Brunswick, province #7
June 30, Day 22: This was a great day of food. Crystal sent us off with a fabulous breakfast as we headed for the Acadian coastal tour. Highlights were scenic stops at Pokeshaw and Grand-Anse and the best freaking soupe de la mer I've ever had in my life at Phare Café in Caraquet, where Jules may have concussed herself a little on an iron coat hook. Then down the coast and off to PEI, where I had to drive the scary bridge because Jules had driven the moosey fog the night before. Blown away by the PEI countryside, picked up Christina at the Charlottetown airport, and feasted on Lobster at the Wharf.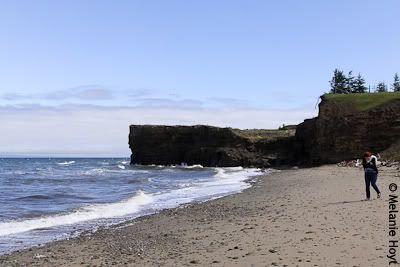 July
Prince Edward Island, province #8
July 1, Day 23: We began Canada Day in Charlottetown, the birthplace of confederation! How appropriate! But Day 23 was spent driving around the western part of the island, including a visit to Green Gables, PEI National Park, North Cape lighthouse, West Point lighthouse. We had dinner in Summerside while an awkward cover band serenaded us with "I Gotta Feeling" and followed a double rainbow to Cow's Ice Cream. Best Canada Day ever!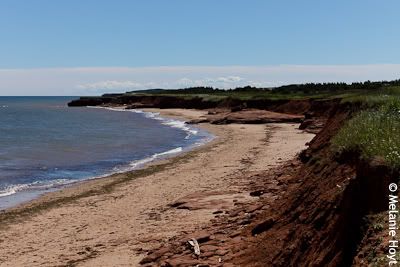 Prettiest beach in the world? Probably.
Nova Scotia, province #9
July 2, Day 24: Sad to leave PEI, but we had another incredible day ahead! Drove to Cape Breton, where C and I feasted on 2-for-1 lobster dinners and then we drove the Cabot Trail. Just gorgeous.
View from the western end of the Cabot Trail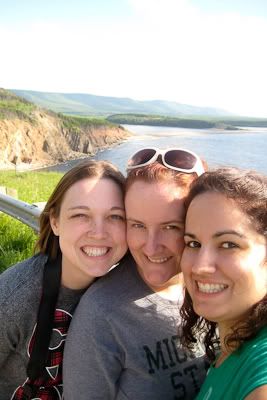 Road tripping with Jules and Christina makes the great stuff even better!
Newfoundland, province #10
July 3, Day 25: Long, long ferry ride to Newfoundland. 15 hours without sheets, sometimes freezing, sometimes gross, sometimes irritating, but we made it! My mom met us in NL to spend that part of the trip with us. St. John's turned out to be a great city and we had gorgeous weather for our first night there.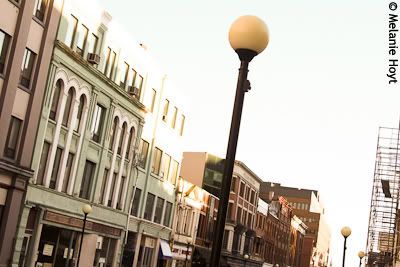 Downtown St. John's, throwback style
July 4, Day 26: Happy American Independence Day, let's go to France! Took a very rough ferry to St-Pierre, where everything was closed when we arrived. Everything. I loved how cute it was and how the houses were practically neon colours, but I did not love that we literally could not buy anything to eat until 8pm. At least the food was awesome, when the restaurant finally opened!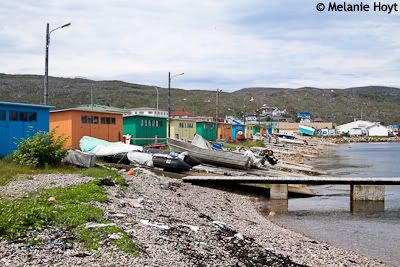 Les Salines, the fishing sheds near the St-Pierre lighthouse
July 5, Day 27: Spent the morning in St-Pierre, where a few places were open, but still not many. Nowhere to buy chocolate or cheese. Ferry back to Newfoundland wasn't so bad, and we drove straight to Cape Spear, hoping to get there before dark. We made it, but just barely! 27 days into my trip, I stood on the easternmost point in North America. Very cool.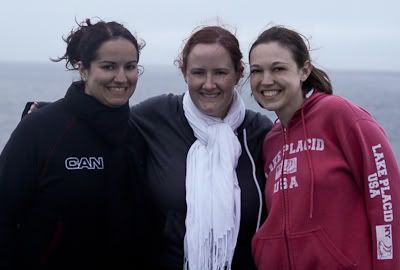 Thanks for going all the way east with me, friends!
July 6, Day 28: Woke up early to take my mom out for breakfast at Cora's, a must for her Canadian vacation experience. The two of us then went to Bay Bulls for O'Brien's boat tour, where we saw a few whales and a ton of puffins and other sea birds and where I got pooped on twice (no one else was hit, just me). Meanwhile, Jules and Christina slept in and explored St. John's a little more, then we met up with them for vegetarian lunch, finding the mile zero sign, and driving up Signal Hill, where it was so foggy that we couldn't even see the bottom of the tower. Last stop in St. John's before the ferry: Wal-Mart to buy cheap sheets! I don't usually shop at Wal-Mart, but this was an emergency.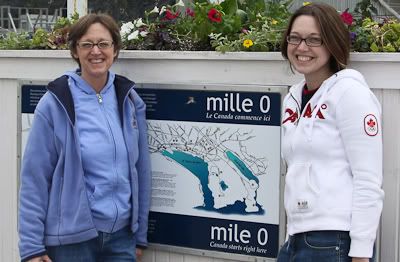 Mom and me at the Mile Zero sign: Canada Starts Right Here!
Nova Scotia, province #9, again
July 7, Day 29: The ferry ride back was more overnight, more comfortable with sheets, and better overall. After getting the boot removed from my car, we headed for Hali, which I loved. I definitely need more time here.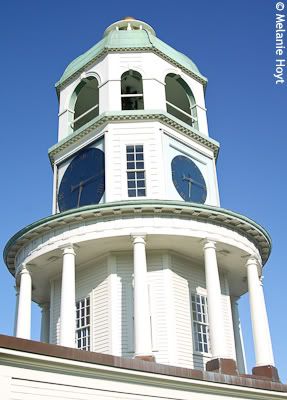 Old Town Clock, on Citadel Hill in Halifax
New Brunswick, province #8, again
July 8, Day 30: Fun at Fundy! We drove back up into New Brunswick, where we hit the Hopewell Rocks at the Bay of Fundy, which has the highest tides in the world. We timed our visit at low tide so we could walk around on the ocean floor, no big deal. After a seaweed appetizer, we had dinner at a veggie place in Moncton (cuter than I expected) and then went on to Fredericton, where it smelled like "poop and rednecks" (according to Jules), and where we stayed for our last night.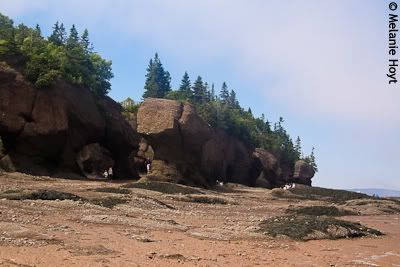 Pretty day at the Hopewell Rocks, as long as you didn't look at the muddy water!
Back in the States!
July 9, Day 31: Crossed back over the border into upper Maine, which was deserted and a little creepy, not gonna lie! But then we had lunch with Daphne in Portland, checked out the Atlantic in SW Maine, mysteriously and simultaneously acquired southern accents, and returned my beloved little rental car at the airport in Manchester, NH, where Chele picked us up and our relentless southern accents practically had her in tears, but she took us to Rhode Island anyway, so we could all cross that off our list of states to visit.
July 10, Day 32: Official last day of the trip was spent in Boston, which is a city that I just love. We sightsaw a little on the way to a pub for lunch, where of course I had some chowda, then ran through a monsoon and spent the rest of the afternoon drying out, wandering around the city, and continuing to speak in southern accents. And I finally got my photo with the ducks!!!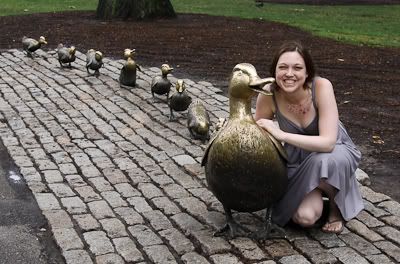 Overall...what a trip! We all flew home on the 11th and it took me a good week to recover and get back into reality. By the time I did that, I had to work overnights for a week, doing a reset at work, and then the week after that, it was time to pack up my camera and travel again for the second annual Minto-Lake Placid trip!
As always, I had a great time shooting Minto, but I'd injured my back a few days before the trip, and four straight days of shooting was a bit more than I can take. I ended the last day in a ton of pain, passing out on the floor under the photo table, and I still had another event to shoot. Oups!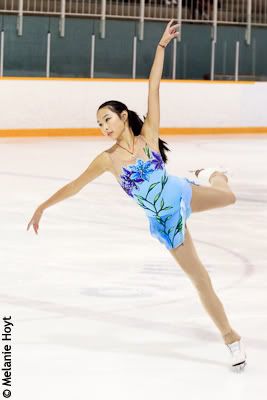 Here's Maddie with her partner, Zhao Kai. Maddie & her family hosted me at the start of my road trip in Vancouver, so it was great to see her and her mom again. Of course, it was also wonderful to spend time with the Culhanes.
August
The day after Minto, the Culhanes drove me to Lake Placid once again. The rest of my group wasn't getting there until later in the day, so I had some time to wander around town, for a change! Since we had a ton of photographers, I didn't have to kill myself shooting during the week, but I was in some serious pain every day. Not fun!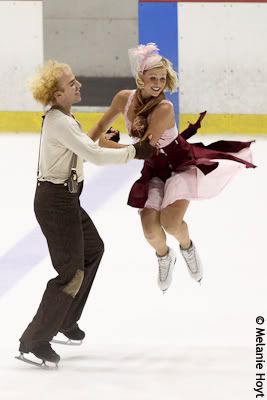 On Tuesday, I did a photoshoot with Hannah & Scott, then shot the three teams who showed up senior free dance practice and a few of the junior free dance practices, too. This shot is Tarrah Harvey & Keith Gagnon, always a fun team to shoot.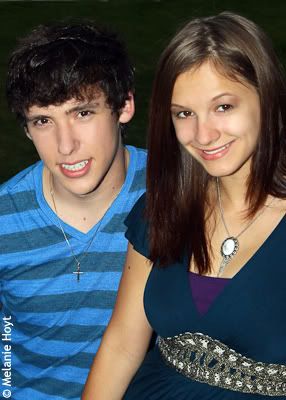 On Wednesday, I did a shoot with Maddie & Nathan (above), then only shot a few junior teams in their short dance practice so I could rest my back.
Thursday was a big day! I shot Intermediate compulsories, one of the Novice compulsories (Blues, my fave), half of the junior free dances and the senior free dance. Whew! Pictured above are Lynn Kriengkrairut & Logan Giulietti-Schmitt, who were fairly mesmerizing in the senior free dance.
Friday, my only assignment was Junior Short Dance, Group A, and this photo of Anastasia Cannuscio & Colin McManus was a fan favourite. Well, maybe not a fan favourite, but Colin and Stasia and their moms all loved it. Unfortunately, it's too small to do much with besides flaunt it on the web.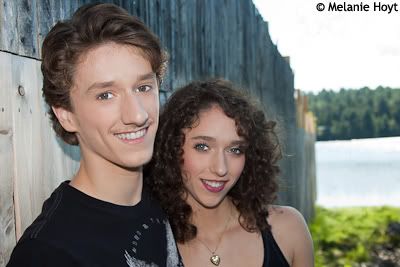 Saturday is always a bittersweet day in Placid because it's the last one. People leave, we get ready to leave, and it's sad knowing that another Placid week has flown by. But it always starts well, because for 3 years in a row, I've begun Saturday with a photoshoot with Danielle & Alex Gamelin (above), twin ice dance team extraordinaire. They are just so much fun and easy to work with. Michelle joined me this year, which was a great help, because I worried about getting stuck in a rut and taking all of the same shots again. Once I got back to the arena, I shot some opens and then the juvenile free dance, which is also one of my favourite things to shoot. The little kids are so much fun!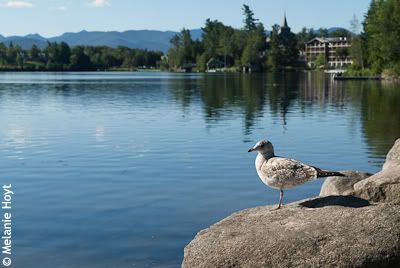 Thanks for the memories, Lake Placid! (This is actually Mirror Lake, which is the one that you can see from downtown...it's tricky.)
Once I got home from Placid, there was a lot of trying to recover from the back injury. I stayed home and rested, and when it didn't get any better, I finally went to my stepdad's chiropractor, who discovered that it was actually my hip joint that was misaligned, and rest was bad for it. Oups! So he popped it back into place, just in time for my mom and I to head to Cowden for the weekend.
I was born in central Illinois and we lived for my first three years in a tiny town called Cowden. Some of the people there are still as close as family, so we try to go back and visit a couple of times a year. Lately, I've only been making the trip about once a year, and in 2010, my Cowden trip was the last weekend of August, coinciding with Pioneer Days, their annual summer festival.
My mom and I usually go to great lengths to avoid Pioneer Days. We're not really into carnivals or being outside when it's hot and sweaty or sticky carnival food or anything like that. But we were good sports and went with a legion of children to the carnival. My mom even sprung for some all-day passes for some of the kids. I took a lot of photos, most of which came out badly, and most of which I haven't remembered to edit yet. But I did have a good time, especially because...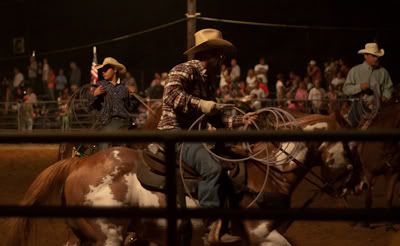 ...I can now officially say, "This ain't my first rodeo."
*We didn't stay at the Frontenac, we just took a lot of photos of it.