2010 Olympics, Day 4, Pt 2: OD OD!
For non-skating folk, the original dance (OD) was the 2nd of 3 segments in ice dance competition between 1990-ish(?) and 2010. The dancers had required elements to perform, and a theme was given each year, but they could pick their own music that fit the theme. For the 2009-2010 Olympic season, the theme was "Folk/Country" for the 2nd time in 3 years. Not my favourite theme, but no complaints allowed at the Olympics!
Christina, Jules, and Jen had nosebleed tickets, the only skating tickets any of our group got in the initial ticket lottery. So after lunch and a break between practice and the event, Chele and I sent them off towards security with hugs and hopes that we'd be joining them shortly. First, we had to hike uphill to a bank, since my debit card only works in ATMs at banks in Canada. On the way, we set a limit and talked strategy. This was our first experience dealing with ticket "resellers" at any sort of event, so we didn't want to get bamboozled.
My friend Liz already had positive experiences with the resellers in Vancouver, getting her into the opening ceremony for less than half the face value of the tickets. She said to wait as long as possible, and if we wanted to wait until after the event started, we could probably get great seats for $100. Unfortunately, Vanessa & Paul were in the first group, and it was a long walk from the ticket sellers to security, and then another long walk to the arena. I didn't want to risk it, and Chele said that it was okay. We decided that $250 was our limit, and I hoped that for that, we could at least get seats in the first few rows of the upper bowl, where my 200mm lens could still get decent shots. But...I wasn't going to be too picky about seat location!
So Chele and I kind of wandered into the ticket sellers, and a guy from Québec approached us. He wanted to sell us two lower bowl tickets for $250 each. I was tempted, but if we could get lower bowl for $250, the poor student in me wondered if we could save $50 and get first row in the upper bowl, which wasn't a huge difference. So we started to look for another option, but then Québec started chatting with us. He said he loved Chicago. We said we loved Montréal. I spoke French with him and he complimented me. And then he said he'd drop the price to $200. Really, really, really nice guy! And sold!
We were too nervous to celebrate until they scanned our tickets at the door and let us in, but we got in! And Miga, my favourite of the Olympic mascots, was there to welcome us. Thanks, Migs.
We didn't have a ton of time once we got inside, but it was enough to meet up with the other girls and freak out a little! Then they headed upstairs to their seats, and Chele and I found ours—last row of the lower bowl, on the end opposite the kiss & cry. I normally don't like shooting ice dance from the ends, but at the Olympics, you can't always pick your seat, so I just went with it. I don't have as many awesome shots as I'm used to getting, but I have more than a few, and it was more about the experience than the photography!
It was fun to see the lower-ranked European teams that I hadn't seen before and I got some great shots that I didn't expect, like this one of Irina Shtork & Taavi Rand.
I feel like Nora Hoffmann & Maxim Zavozin withdrew from more competitions than they entered leading up the Olympics, but they made it through the Olympics, where I got this neat shot of their OD.
Emily Samuelson & Evan Bates were one of three teams at the Olympics with American cowboy numbers, and the only American team of the three. This program worked so well for them; I don't think they ever skated it poorly, and it was a ton of fun to shoot!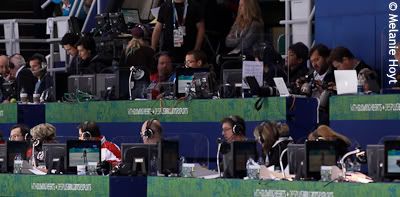 Shot of the media tribunes in the lower bowl. These extended through the center section all the way up the upper bowl, too! Maybe I'll have a seat at one of these in the future. :) The guys in the upper right corner are the "wire" photographers—for Associated Press and the like. They usually get access at ice level near the kiss & cry, so they probably weren't happy with this nook in the top row of the lower bowl media area. However, it was high, center, and right behind the judges—exactly where I love to shoot from! Oh, to be in their shoes...especially if their shoes come with their gear and access to the giant Canon storeroom available to Olympic credentialed photogs!
Before long, it was time for the big guns! The top ten teams after the compulsory dance draw for a random order in the last two groups.
I was so excited to see Isabelle Delobel & Olivier Schoenfelder's Can-Can OD! I love this team, and since she'd had a baby less than 4 months earlier, this was their competitive season debut.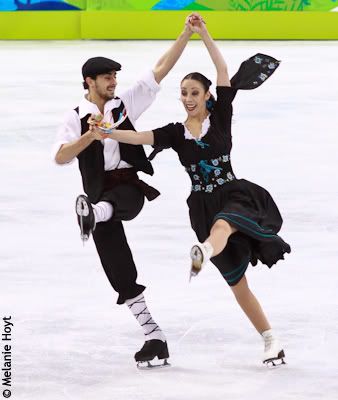 I was also excited to see Federica Faiella & Massimo Scali, who I'd been watching since 2002, but had never seen live until then.
Nathalie Péchalat & Fabian Bourzat's (French) take on a cowboy OD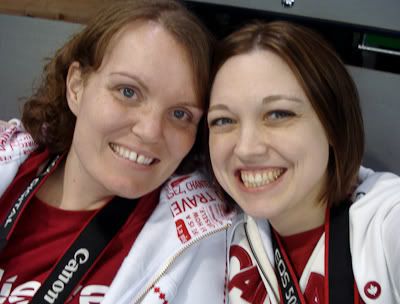 Chele and I were loving our lower bowl Olympic seats!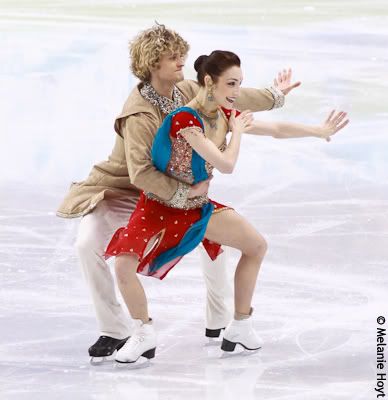 Meryl Davis & Charlie White's Indian OD was one of the most popular dance programs of last season. Yeah, it was pretty awesome to not only see it at the Olympics, but also to see it go into first place! Chele and I were pretty sure that we could hear Christina, Jen, and Jules screaming from across the arena! ;-)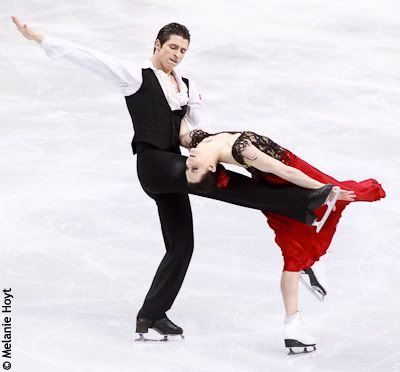 Of course, Meryl & Charlie didn't stay in first for too long, because then Tessa Virtue & Scott Moir came out and rocked their flamenco for the home crowd! What a moment!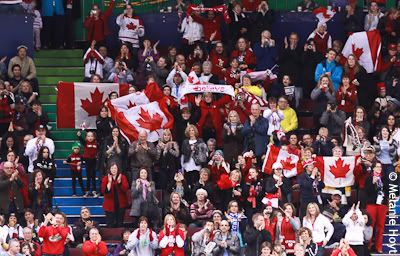 The ovation just kept going! I felt bad for Tanith Belbin & Ben Agosto, who were the only team left to skate after them, but they are pros and handled the pressure with ease and a ton of class.
After it was over, we had people to see! The Olympics are kind of a rough time to socialize because everything is crazy and everyone is so busy. But it was not okay that we only had one day left in Vancouver and we hadn't seen Megan & Aaron yet, so I was texting him during the last group, coordinating a meet-up location. It took forever for me to make it all the way around the arena, since I was exactly at the wrong end, but I finally pushed my way through the crowds and found them, where they were getting fangirled! Aww.
Jules and I dragged them over to the rest of the girls for a chat and our usual self-po. It's still too bad that I didn't get a photo with my favourite Olympians four years earlier, when they were actually competing, but Europe + Olympics + unemployment = impossible, so four years later at the Olympics in their hometown was an acceptable substitute.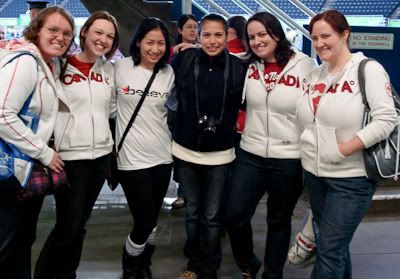 After we said farewell to Megan & Aaron, who had to get up early the next morning to coach, we ran into Gladys right away! Gladys was a Mexican champ, and we'd met her and cheered for her at 2004 Four Continents, the first skating competition I ever attended. She's married to Canadian world champ Elvis Stojko now, so they were there together. She was so thrilled to have him take this photo, since she's always taking photos of him with fans. We usually prefer the group self-po, since they're a lot more fun, but we didn't want to crush her dreams, so I handed my point & shoot over to Elvis for this shot. Maybe I should put "© Elvis Stojko" on the side?
By then, Marie-France & Patrice had wrapped up their commentary duties for the night and stopped for a chat. We exchanged some hilarious commentary of our own with P and agreed that it had been a great night of skating.
Our chat was cut short because security started pushing us out. Apparently they were supposed to secure the arena? We're so not used to this! So we said bye, and they headed downstairs while we started making our way to the front doors...where there were still a ton of people. So much for emptying the arena!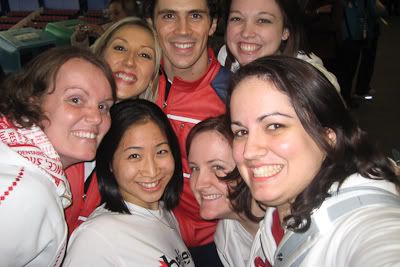 And we caught up with British competitors Sinead & John Kerr, who were still signing autographs and chatting with fans. This was the first time that I'd ever been at an event where they were, but I always heard that this was typical for them.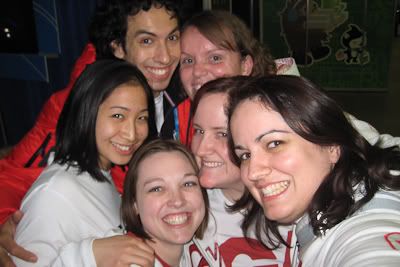 And last but not least, we said hi to Ben Agosto, who was also still hanging around.
Then security showed up again (or maybe the same ones just followed us around the corner), so finally gave in and left, knowing that we'd be back at the rink in the morning for practice and, hopefully, we'd score tickets for the competition, too.