Let's pick up where I left off with my last post, shall we? I'd just purchased "resold" tickets with the girls and we were going to the free dance. To help you understand what this is like for me, I'll give you a good ol' American football analogy. For me, this was like getting tickets to the Super Bowl, within spitting distance of the field. Only imagine that the Super Bowl only happens once every four years. And the year that your home stadium is hosting the Super Bowl, something which is decided several years in advance, your home team ends up having an incredible regular season, winning their division, and breezing through the playoffs to make the Super Bowl. So you're watching the Super Bowl
at home,
and your team is favoured to win. And now it's halftime, and you're up by two touchdowns and you feel like nothing can possibly go wrong. Oh, and you've known the quarterback since college, you had world civ together and created a hilarious government for a group project, so you have all these inside jokes with him. This is what it felt like for us, walking into the free dance in Vancouver. Just take a moment and imagine it.
We headed through lucky Lane F at security and I decided that I wanted to remember that moment as a happy one, even if we got to the arena and the ticket was a dud.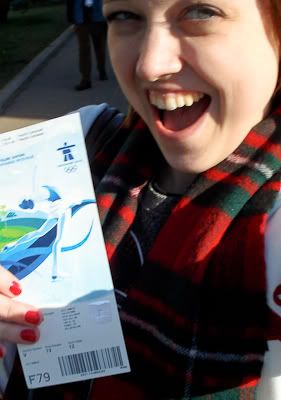 No regrets!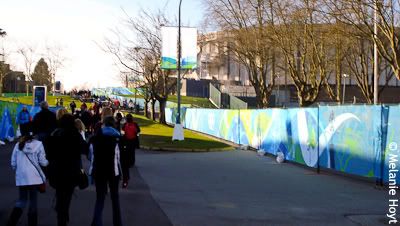 I tried not to get too excited just yet, but it was tough, because the walk to the Pacific Coliseum was basically the greatest walk I've ever taken. We even walked part of the way with the Moir clan, who were pretty calm, all things considered! We agreed that it was going to be a great night and wished them luck. We also chatted with Jim Virtue, Tessa's dad, though now I can't remember if that was outside or once we got in—he was sitting just half a section over from us.
But back to the walk...we had someone take our photo together by the sign, proudly holding up our newly purchased tickets. We were almost to the door and our fingers were crossed.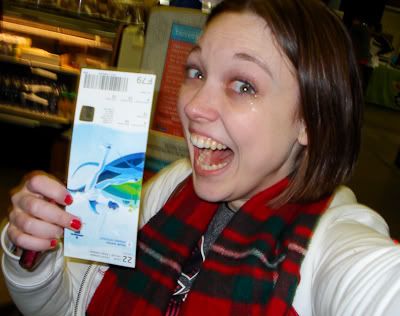 Chele had a little scare because she was the last one of us to go in, and the usher accidentally scanned her ticket twice, which made a terrifying noise, and we all stared back at her like OMG!!! But the usher knew what happened and sent her happily inside, where we FREAKED OUT. And the tears started for me already!
We had plenty of time, so we headed to the washroom to apply some face decor, and then checked out our seats, which turned out to be EVEN BETTER than we expected. Our tickets said row 13, but the first 7 rows had been taken out on our side, so we were in 6th row from the ice!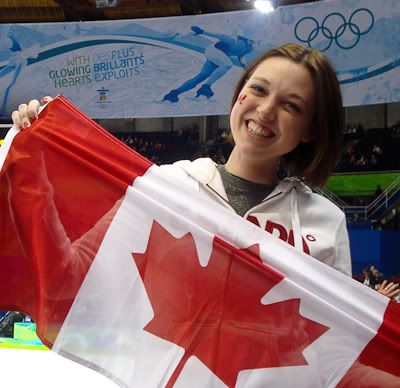 We were so thrilled that we started an impromptu photoshoot, of course. Don't I make a great Canadian?!
It turned out that we were sitting in front of Vicky, another photographer that I'd met the year before and re-"met" via a mutual friend on Facebook a few weeks before Vancouver. We'd run into each other during one of the practices already, but then it was really cool to end up having seats by someone else that I knew for the free dance!
I think we all agree that this is one of the most perfect photos we've ever taken. The five of us, in front of Olympic Ice, before the free dance, together, not really that far from where we'd be sitting. Shut the freaking front door. Dreams DO come true.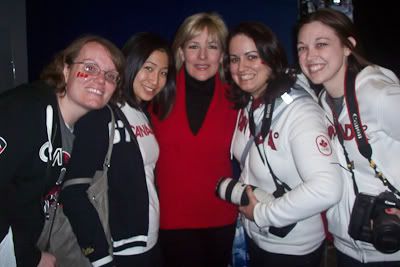 Speaking of dreams, THEN we ran into Tracy Wilson! She's one of my favourite ice dancers ever, basically the only one I hadn't met yet, and in Vancouver doing rockstar commentary. Since this was a day of dreams, we stopped her and asked for a photo, and she was so sweet and down with it.
Not long after that, it was time to begin! When the 3 people sitting between our two pockets of tickets realized we'd be talking around them all night, they offered to slide down. Thanks, Seattle couple and the other girl who told me her name and I've now forgotten it! You're still tops of my list of awesome seatmates. Our seats were close to where we'd sat for practice that morning, but one section off-center. I don't usually choose to photograph from the side opposite the judges, but I ended up getting some awesome shots. I was in the zone, the lighting was perfect, and of course, the emotional level was through the roof.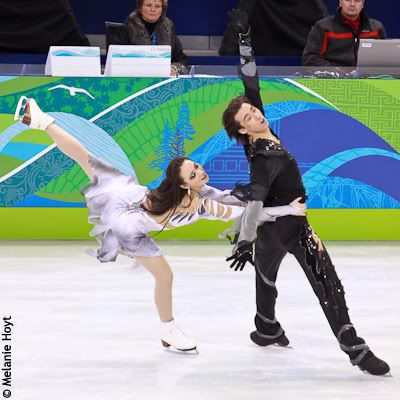 Cathy & Chris Reed (JPN)
Christina & William Beier (GER) -- I actually don't remember a thing about this program, not even the music, but this photo is one of my favourites from the event. It's in my portfolio and I get a ton of compliments on it.
Remember the Canadian kids I wrote about yesterday, Vanessa Crone & Paul Poirier? They rocked their free dance and I cried like a proud mom. Their scores were lower than they should have been, but don't worry, they ended up breaking the top ten the next month at the World Championships.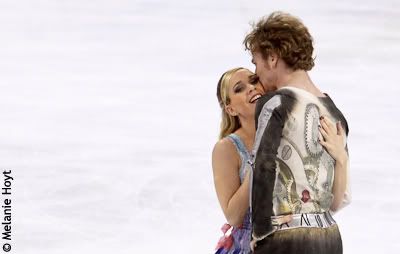 By the penultimate group, emotions were sky-high. Nathalie Péchalat & Fabian Bourzat (FRA) had a great skate in the stacked field.
There were a lot of Olympic moments that night, but one of the most beautiful, in my opinion, belonged to Isabelle Delobel & Olivier Schoenfelder (FRA). After years of getting lowballed on marks, especially missing out on the podium at 2005 Worlds and 2006 Olympics, they finally won their first and only World medal in 2008—and they won the gold. At that point, with the Olympics less than 2 years out, you know they had to be dreaming about stepping onto the podium in Vancouver. But a freak shoulder injury meant surgery and missing 2009 Worlds, which is never a good thing for a pre-Olympic season, and then, in spring 2009, Isabelle found out that she was pregnant. A beautiful thing, of course, but not what a highly competitive team expects in an Olympic season. But they were determined. They choreographed their programs before she got too far along, and she stayed active for as long as she could during the pregnancy. After baby boy Loic was born in the fall, she was back on the ice as soon as possible, and the French skating federation pronounced them ready for Vancouver. By the free dance, they knew that a medal was almost certainly out of reach, and they just skated for the moment—to prove they could do it, to complete their comeback, just to skate. Their program was "The Impossible Dream" and it was the story of their career. It was beautiful. I think it was a bit overshadowed (understandably) by the medal-winning performances, but it was still definitely an Olympic moment, and one that I am so grateful to have witnessed.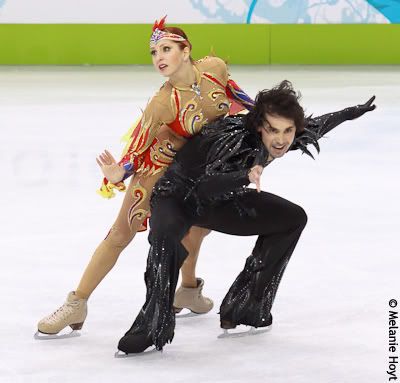 I'm not usually a fan of over-the-top (OTT) crazy programs, because I feel like a lot of teams do them because they want to BE DRAMATIK and MAKE A STATEMENT. However, I embrace the crazy OTTness when it comes to Jana Khokhlova & Sergei Novitski (RUS) because I really believe it just comes naturally to them.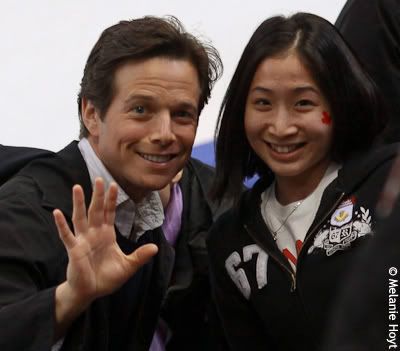 During the flood before the final group of dancers, Jen spotted Scott Wolf sitting in the next section. She's been in love with him for, like, a decade, maybe more. And since it was a night of dreams...she went like she owned it! His V costar took a photo of them with Jen's camera, but for insurance purposes, she asked me to be at the ready with my telephoto lens. So I was snapping away, but getting most of the backs of their heads, and then to my surprise, I saw her point at me and they turned and he waved. Hilarious.
Back to the skating! Meryl Davis & Charlie White (USA) were up first in the final flight and created an incredible Olympic moment. Their passionate performance even made me forgive them for picking Phantom of the Opera! Gorgeous moment. I think we all knew when it was over that they'd be standing on the podium at the end of the night, but we were also silently hoping it would be the silver medal. Nothing against them, just...full disclosure.
I always think that Tessa & Scott skated last, but they actually skated third in the final flight. We all squeezed hands before they began, took some deep breaths, and clenched. Normally, when I'm really, really nervous, it takes a little bit for me to get into the program, before the tears start. But with Tessa & Scott's Olympic free dance, we all believed so fiercely that they would skate their best and wear gold at the end of the night, that I actually relaxed almost as soon as they started skating. I knew they would skate lights-out. I knew it, I knew it, I knew it.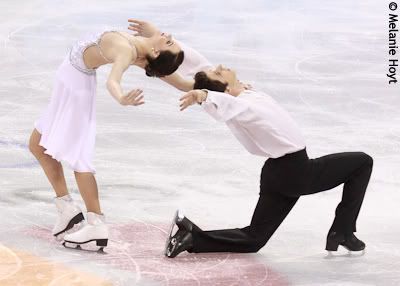 They skated with beauty...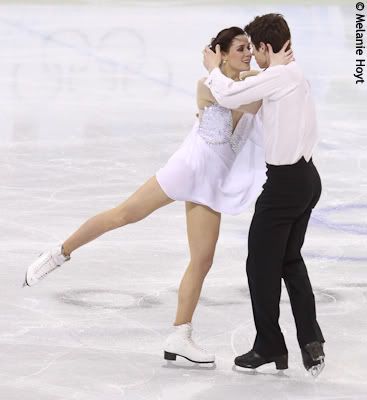 ...and with passion...
...and when it was over, we didn't need the marks. We believed.
But we got marks anyway, and then it was almost official. Two teams left to skate, but they'd have to put up almost inhuman numbers to surpass The Kids.
For the second night in a row, Tanith Belbin & Ben Agosto (USA) had to skate after the Canadian favourites, and for the second night in a row, they did an incredible job. I liked Tanith & Ben a lot when they first broke out, circa 2003, and then I went through a phase where I found them overrated, and then I loved their free dance in 2008 and started changing my mind, but then they went to Linichuk and I started respecting their skating more, but disliking their programs again. But at the Olympics, I realized how much I respected them, and I desperately wanted them to medal and firmly believed that they deserved to medal, but in the end, they were left in fourth. It wasn't the right decision, but they handled it extremely graciously, so I applaud them for that, and I think they're doing a fab job on Stars on Ice now. And I love Stars on Ice something fierce, so I don't just throw that kind of praise around. Also, I love this lift, and I was pissed at myself for missing this photo in practice earlier in the day, but I nailed it in the competition!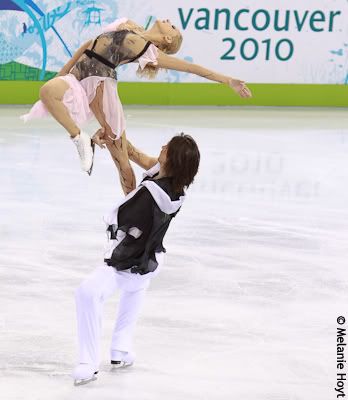 Oksana Domnina & Maxim Shabalin (RUS) had some nice moments, like this lift, but I wouldn't have placed them in the top five if I'd been on the panel. Shabalin came back from knee injuries too soon, more than once, and the weaknesses just showed too much in his skating. Plus their OD was downright offensive.
So when the marks came down, it was official—Canada would stand in the middle.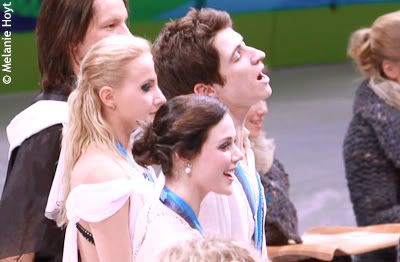 And we all sang "O Canada" together. Well, all the Canadians and the nerdy Americans who know all the words, of which there were at least three in the audience that night.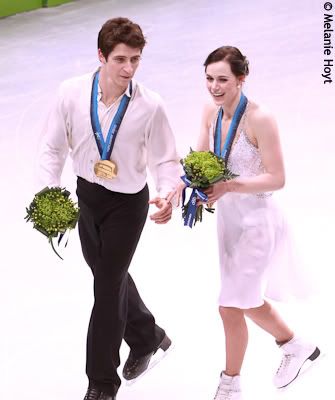 All for the kids, who wore gold that night. This is why we came. This is why I shelled out a month's salary to get in the building that night, and I would have paid just as much for far worse seats, just to experience those moments. Shoot, the whole trip probably cost me 6 weeks' salary, and it was more than worth it. It would have been worth it even if it hadn't ended in gold, even if this blog was about how proud I was of them for trying and coming 2nd, or 3rd, or 4th, or not making it through the competition because Tessa was skating through incredible pain. It would have been worth it, no matter what, because of the journey and everything that went behind it, but you have to admit that it makes a pretty great story when it ends in gold. But no matter what, the reason why all of this happened—why my Olympic dream came true—is because we believed.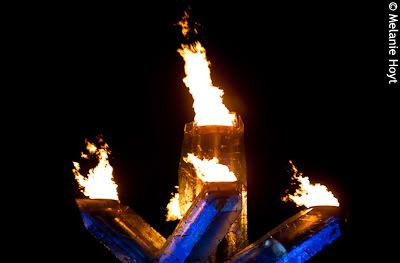 Dreams come true when you believe.