Two weekends ago, I enjoyed a little vacation in San Francisco with my mom! Well, vacation for me, conference for her. She was in sessions most of the time, so I was responsible for planning the itinerary for our free day together and also for finding post-conference restaurants each night. I love picking restaurants.
I arrived late on Thursday, March 24, and Mom was already there. She'd arrived Wednesday evening so she could have two days to sightsee before the conference started, but I have Thursday afternoon class, so I decided to just fly out after class. Thursday turned out to be a bit of a bust—terrible thunderstorms in the Bay Area, so I'm glad that I didn't blow off class for that.
So on Friday, we were both looking forward to exploring the Bay Area! We went to San Francisco together in 2007 and both loved it, and we wanted to do something different this time. One of her friends suggested Sausalito, so I did a bit of research and we planned to take the ferry over on Friday. First, though, I had to pick up a rental lens in SOMA. Since
BorrowLenses
, a fabulous mail-order lens rental company that I always use when I need glass, is based in SF, they do local 3-day rentals at various pick-up locations around the city. I'd never used a wide-angle lens before, so I was excited to try the Canon 17-40mm f/4L lens. We stopped for breakfast at Whole Foods on the next block over, and my mom and I both tried Icelandic yogurt. She liked it better than I did, but I didn't hate it either. It's similar to the Greek yogurt that I've had.
Next, we headed to the Ferry Building! The F-line (streetcar) was packed, so we took a bus that follows the same route. None of the other tourists appeared to have caught onto that.
I'm pretty smitten with the Ferry Building. We went past it on the 2007 trip, but never got out of the streetcar, so this was my first time photographing it, and I went a little nuts. I'd also forgotten about the palm trees on the Embarcadero. I never think of SF as a palm tree sort of town, but there they are.
Inside the Ferry Building are a bunch of really interesting shops (mostly food-related) and restaurants. I already had plans to eat there with a friend the next day, and we'd just eaten our Icelandic yogurt breakfast, so Mom and I didn't buy anything, but I was definitely tempted by the Ciao Bella gelato shop. Just a few days before my trip, I'd noticed that my grocery store in Chicago had started carrying Ciao Bella, and I loved the key lime pint that I'd bought.
The San Francisco-Sausalito ferry has been hailed as one of the greatest ferry rides in the world. I'm not keen on boats in general, but got used to them fairly well on my Canada trip last summer, so I was looking forward to the views and not thinking about the boat aspect.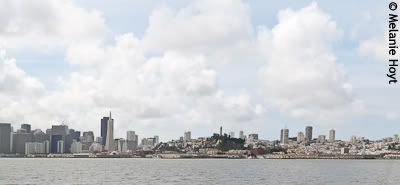 Great views indeed! I can only imagine how much more spectacular this view would have been on a prettier day, if the water could have reflected more blue from the sky.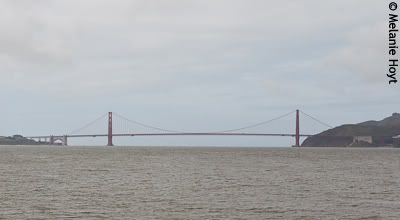 Same goes for this shot of the Golden Gate Bridge, although it was really neat to be able to see it from this angle.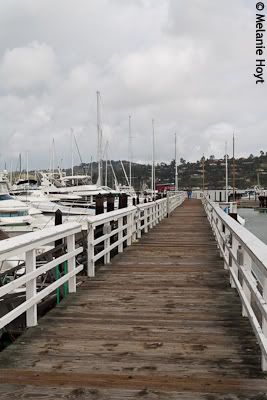 In Sausalito, one of the first things we did was stop at the tourist office, where a very nice lady was kind enough to point out the entrance to a delightful wooden boardwalk along the boat docks. There were a lot of boats, which led to an amusing conversation between my mom and me...we don't really get the whole boat concept, unless you actually live on a lake. Like, how often would you even use a boat that isn't in your backyard? Personally, I would much rather spend my extra money on traveling or art or even a nice car! But then again, I don't really like boats, so maybe that is clouding my judgment.
We walked around for a bit, then settled on a restaurant on the east side of the main downtown
area for lunch, where I ordered a salmon burger and yam fries. Doesn't get much better than that! Then we walked up to Caledonia Street, which is kind of the "local" version of Main Street, so the locals don't have to fight tourists. It wasn't too crowded on a blustery Friday in March, but I'm sure that downtown is super clogged on sunny weekends during the summer. Caledonia Street was a lot of fun and featured two of my favourite Sausalito stops, Studio 333 and the Pinestreet Papery. Studio 333 is a huge art gallery in a renovated warehouse kind of space, featuring work from over 40 local artists. We especially liked the
. The Pinestreet Papery is a delightful little shop featuring cards, books, decorative papers, stationery, etc. I love a good paper store.

We headed back towards the main part of town after that, and climbed a huge staircase/ramp conglomeration to the top of a giant hill. We're talking, like, 5-6 stories up. It was brutal, but the view of the bay was pretty grand. I took this from someone's driveway. Can you imagine waking up every day to a view like this?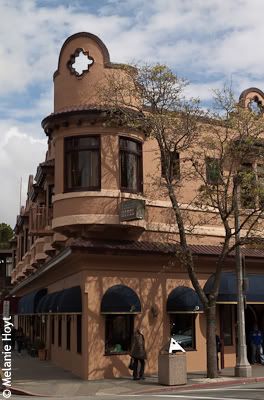 Back downstairs, a patch of blue sky had moved in, so I took a ton of photos of downtown, including this one of the Sausalito Hotel.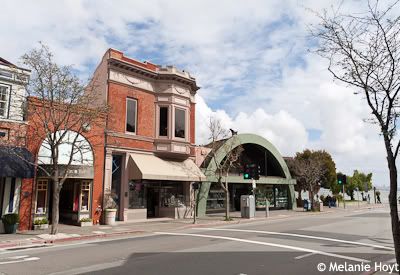 Here's the west end of the main street, where Bridgeway curves around and follows the bay to the Golden Gate Bridge. Around back of the curvy building is Piccolo Café, whose sign out front proclaimed that it had the best cappuccinos EVER. Of course we had to try. I think it's pretty bold to say that they're the best ever, I mean, forever is a long time. But the cappuccino I had was pretty heavenly!
We visited some of the galleries in this part of town, but for the most part, they were a lot more formal than Studio 333, so we didn't linger anywhere too long, since we weren't buying. However, the exception was the Hanson Gallery, which was friendly and bustling and featured some work that I loved by
Scott Hanson
. We saw
this piece
(or a similar one), a map of the United States made of out pieces of license plates. My mom and I both loved it, and one of the employees heard us talking about it, so came over to tell us a little bit more. My mom mentioned that she was sure I'd love a Canadian version, and the guy brought us over to his computer because the artist
has made a couple!
Seriously, if I could afford it, one of those would be on the wall in my living room, pronto! I'm actually already starting to wonder if I could create something similar out of my photos from the trip...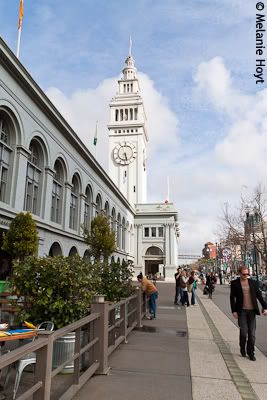 It was starting to rain when we left Sausalito, but an enchanting blue sky was hanging over San Francisco when we got back, so of course I had to shoot the Ferry Building again!
Then we walked to North Beach, a mostly Italian neighbourhood in the northeastern part of San Francisco for more seafood with some Italian flavour.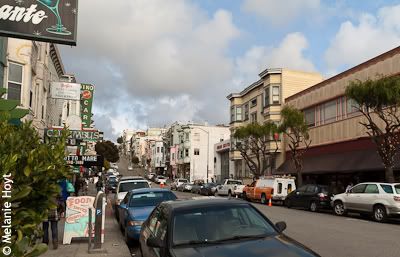 I'd scouted out Caffe Sport on Yelp on the ferry ride back, and it turned out to be a fantastic find. This shot is of Green Street outside the restaurant. The inside of the restaurant was covered in all sorts of random stuff. It was like Buca di Beppo on crack, but less commercialized, you know? Then our waiter told us that the owner had actually made most of the things on the walls—random posters, painted tiles, bits of mosaic, etc. Really neat. Caffe Sport serves meals family-style, so my mom and I split a house salad (simple but delicious), salmon ravioli (a special), and the signature cioppino. Cioppino, WOW. It had lobster pieces (still in the shell), scallops, mussels, clams, and I don't know what else, but it was all incredible. My mom and I are suckers for fresh coastal seafood, and that definitely hit the spot. And since dinner was such a hit, we topped it off with cappuccino and a cannoli for dessert. The cappuccino was wonderful, but only our second-best cup of the day. Hard to beat the best ever, you know!
We decided to walk back after that, since I wanted to walk through Chinatown, but it was getting late, and everything was closing up. We ended up walking down Stockton by chance, but it turned out to be an excellent choice, since Stockton St. tunnels under Nob Hill for a less strenuous walking experience.
It might be a few days, but I have posts on days 2 and 3 in San Francisco still brewing!