I hardly ever see movies and I don't currently have a way of watching TV that isn't Hulu after the fact, so here's a Monday-morning blog that's
not
about the Oscars. Instead, I spent yesterday being fairly productive, though I suppose I should have spent a bit more time working on my thesis. I only gave that a whirl early in the day, and then abandoned it.
Lately, I've been wanting to be creative. I think this is partly inspired by my friend Lori-Anne Jackson, who is working hard to get her brand-new accessory line, Sara Laurence, ready for its launch. She's been posting sneak peeks of some of the pieces on Facebook in preparation for her pro photoshoot, which is coming up soon. I haven't made anything that I've wanted to wear since a poorly-thought-out foray into painted beads in the fourth grade, but I do get paper crafty, on occasion. Though it's been a long time since I've been inspired for those occasions.
Jules and I made an 8x8 photo scrapbook together to give to some friends of ours last fall, but besides that, I'm 7 years behind in my scrapping. And I like to scrap chronologically (I like to do most everything chronologically), so I'm determined to finish up the years I can barely remember before I can't remember them at all. Over the weekend, I started digging through all my tubs and boxes of materials and started to get organized. I currently have an empty bedroom in my apartment, so this has proven to be quite useful for the process.
In 2006-2007, I worked at a scrapbook store for 50 weeks (that's a story for another blog...), and one of the things I picked up there is that it's easy to fall into the organizational trap and never get anything done. So yesterday, I determined that I had unearthed more than enough to scrapbook my March 2004 weekend in Michigan, and I did it!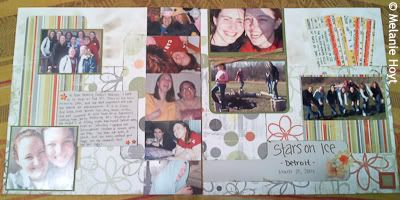 It took me a long time to pick the paper from my stash. It was for a skating show, but that was before I was a real photographer, so my pictures of the actual skating were worth forgetting and I wanted to highlight the good times of the weekend with paper that was fun, a little springy, and not too girly. This super old paper (all of my paper is super old, since I bought it in stacks in 2006-2008 and never got caught up) by Junkitz did the trick! Sidebar, but the striped paper is reminiscent of Seb's pants, right? I didn't have any specific embellishments to use, so I layered papers, used Distress Ink in a couple of places, and added some Prima flowers and a painted chipboard square with a sticker to the bottom right corner. The brads on the journal box are glittered, so I thought that was appropriate for Stars on Ice.
I actually didn't plan for the paper to coordinate with the tickets, but that was a nice perk, once I decided where to put them! They're actually stuffed into a makeshift pocket behind the patterned paper. I have this weird thing where I don't like to stick things down if I can't see them completely, but I didn't want to take up all of that space of laying out all 4 tickets, side by side. So I put them in a bunch in this pocket and if I ever need to take the tickets out to see exactly where I was sitting in each arena, I can. You know, just in case.
I hate throwing away scraps, so instead of saving all of these tiny pieces of paper, I have taken to making cards out of the leftovers. These are all small (4.25"x3.5") and very simple, but they're cute and will be useful. I'm actually planning on sending the two non-thank you cards out in a package that I'm planning on mailing today, if I can get the rest of the photos for it edited.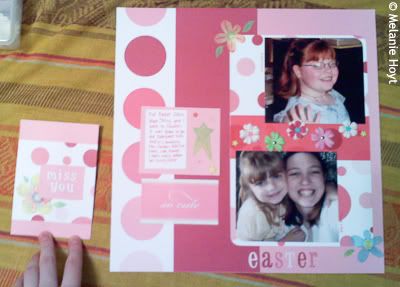 I thought I was done after that, but my creativity was still looking for something else to do, so I ended up making another page. I only had two photos from Easter '04 and couldn't find backups of any other photos to print. It's actually tougher for me to come up with an interesting layout with only two photos, since I'm so used to having to cram 10+ onto a two-page spread. I picked remnants of a paper pack that I bought circa 2004, used some vellum and some flower brads and some Prima flowers, and hoped for the best. I don't like this one as much as the other one that I did yesterday, but it's better than the awful layout I did the one time that I scrapped last year! I only had enough leftover paper from this page to make one card.
I should apologize for the quality of the photos, taken on my phone. I was feeling a little lazy about photography last night. I'm not sure I'm going to keep posting photos of craftiness, but if I do, I'll get motivated to post better photos.