Olympics Trip Day 4: Remembering February 21, 2011...Part One!
There's something about the phrase "Olympic Ice," you know? It's something the commentators always say, and they always say it with two capital letters. "She's under so much pressure, skating on Olympic Ice." "What a great moment for them to have on Olympic Ice!" And since the Pacific Coliseum hosted quite a few national and international events leading up to the 2010 Olympic Games, it was a phrase that got tossed around a lot. I went to two of those events, the Canadian Championships in 2008, and the Four Continents Championships in 2009, and there was such a buzz about the "soon-to-be Olympic Ice." It's almost like Olympic Ice is specially made somewhere else, and the same ice is trotted out every four years, jumping from Olympic city to Olympic city. Of course, that's not the case, but I almost feel like it should be. Olympic Ice is special.
And on Day 4, my friends and I were going to see it.
In case you've been living under a rock, here's the story: skating is our passion. I still haven't figured out how to explain it for myself, especially since I can barely stand up on skates, so just go with it. Entering the Olympic arena any year, at any time, would have been something incredible for me, but for the five of us to be together at an Olympics in Canada, one we'd planned on attending together since just about the day they announced that Vancouver would host 2010...that was our Olympic moment.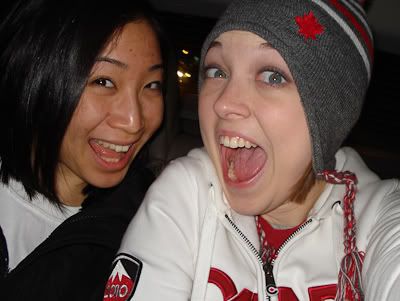 Like all Olympic moments, this required sacrifice, and we left Chez Jackson around 5am. Jen and I were excited about it.
I think practices started at 6 or 6.30, and we were determined to be there for every minute of them. Well, I was the most determined, I guess. Vanessa Crone & Paul Poirier were in the first practice group, and they're my kids. I have a lot of kids now that I like to call my own, but they were one of the first Canadian teams that I claimed when I started going to Lake Placid a few years ago. The feeling of going through security (Lane F!) was euphoric, so much that I actually ran most of the way to the arena, which was quite a haul. Some of the other girls run, but I really do not run. Especially a year ago. But I couldn't wait to get inside, to smell Olympic ice, to feel Olympic chill, to hear my kids get Olympicly announced for an Olympic practice.
We got our tickets scanned and kept running toward the ice. It was empty. We'd made it in time. This called for a celebratory self-po above Olympic Ice, but what doesn't, with us?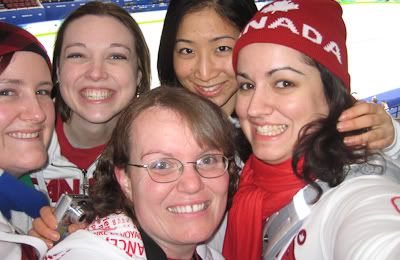 After the photo, it really started to hit me. I just remember tearing up, and everyone laughing, because it was only a matter of minutes before I did. I'm always the crier, and anything can set me off. A few years ago at Nationals, looking over and seeing Barbara Ann Scott sitting in the section got me teary. I'm ridiculous. So of course, a clean sheet of Olympic Ice was just the recipe for my first cry of the day—the first of many cries.
I was covering the Olympics for Ice-Dance.com, but unofficially. I didn't have a credential. I actually didn't even apply for one, because I didn't know that the deadline for beginning the application process was a year in advance. Whoops. Not that I would have gotten one, anyway! So Liz and I were both on unofficial coverage duty, although she did most of it alone, since she was at the Olympics for the full two weeks and had tickets for all of the events. At that point, I only had tickets for two mornings of practice, but was hoping that I'd have luck with the scalpers later on. So we stood at the top of the concourse and cheered for the kids when they got announced, but then I was ready to sit down and start shooting.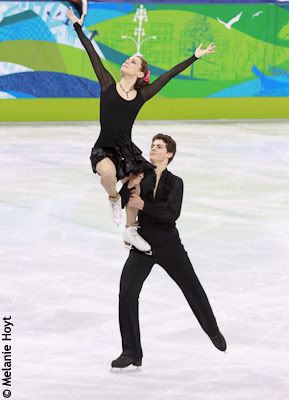 And since I made such a big deal of those kids, here's my favourite shot of Vanessa & Paul. At the end of the first practice group, Christina and I walked around to the judges' side, which was mostly blocked off for official seating and the media tribunes. But I managed to get an epic Olympic shot of their epic free dance lift from the right side, so...win!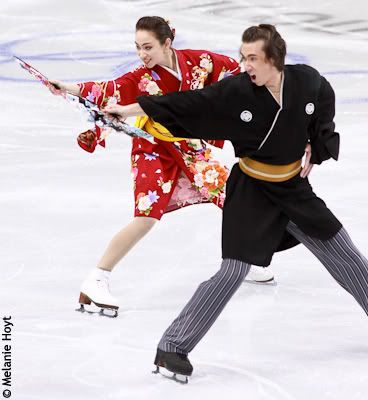 The other girls weren't as dedicated to watching every single dance team as I was (what can I say, I'm a huge nerd), so they walked around for a while and I took advantage of the sparse early-morning attendance to seat-hop, which gave me this gem of a shot. The dancers are Cathy Reed & Chris Reed, Michigan-born and East Coast-trained, but representing Japan. Since the dancers were encouraged (but not required) to portray their own heritage for the folk-themed original dance, they had a fun Japanese kodo program that involved fans.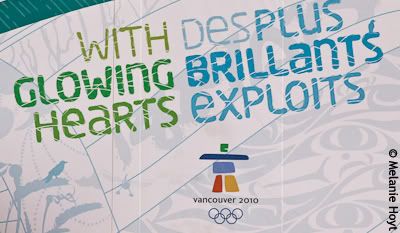 I caught up with the girls on the flood for caffeine and more photos around the rink. Our hearts sure were glowing!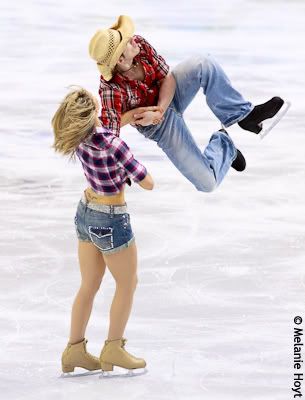 Here's another of my favourite Sunday morning shots. This is Sinead Kerr & John Kerr, siblings from Scotland. They'd already done a Scottish program twice, in fact, so they chose American country. Great program, and their choreography always has fun, photogenic highlights.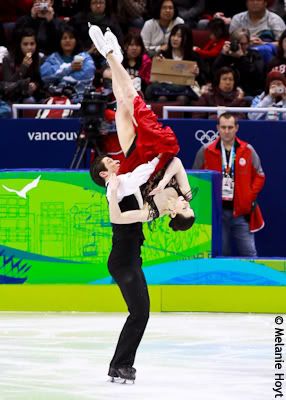 Speaking of kids...Tessa Virtue & Scott Moir are actually the kids that we claim most fiercely and collectively. We all go way back with them, Christina most of all. Four years earlier, we all knew that if we made it to Vancouver in 2010, we'd be watching Tessa & Scott skate. I sure wasn't expecting to be watching them dominate, though. I still look back on the years between 2006 and 2010 and wonder how that happened! And seriously, how is the kid in the white suit pulling off lifts like this one?!
After their runthrough, though, the euphoria came crashing down. My phone had buzzed while Tessa & Scott were skating (they were the 2nd-last team in the dance practice), but I didn't check it until they were done and Tanith & Ben were getting into their start positions. There was a text from Michelle, my editor at Ice-Dance.com, that said that Jo's mom had passed away that morning. The girls and I have known Jo for a long time, too, so it hit us pretty hard. But there wasn't anything that we could do, so we just cried and hugged and walked around a bit before the ladies started practicing. It definitely added another layer to the emotions of the day, though, and I kept her in my prayers.
The audience wasn't allowed to stay for the whole ladies practice, since they had to clear out and secure the arena before the event later that day. Just as well—that would have been way too long of a day. Instead, there were only two groups, so we decided to stick it out so we could catch the Americans and Yu-Na.
First, though, someone's eagle eye spotted Ms. Michelle Kwan across the arena!
I said a few posts back that I didn't have any photos of Michelle, but I forgot about this one. Yes, the only time I've ever seen MK in the flesh, she was sitting with Phil Hersh, who is one of the primary reasons why I say that I am a skating photographer, and not a skating journalist. Not known for being a nice guy, to say the least.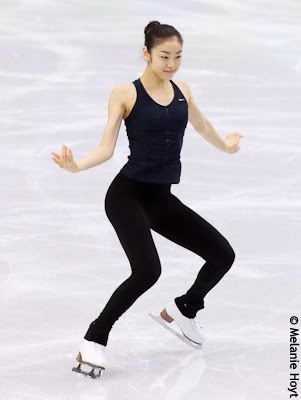 We did see Yu-Na Kim, just a few days before she became Olympic champion.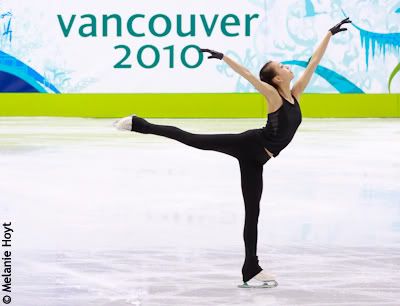 And I got this sweet shot of her Korean teammate, Min-Jung Kwak, against a great spot on the boards.
Once group two was over, we had to clear out, and unlike Nationals or most of the other events we go to, security was actually pretty tight at the Olympics! I guess that's a good thing, but we sure aren't used to being pushed out of arenas when we're not literally the last people inside!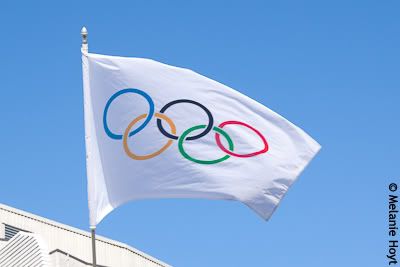 Outside, the skies were blue, and there's nothing like a blue sky to fill me with hope! So there's really nothing better than an Olympic flag against a blue sky!
We had a really hard time leaving the grounds, stopping for an extended photoshoot near a photogenic piece of fence. We all took turns jumping in front of it, throwing in some jumps in pairs and some classic poses.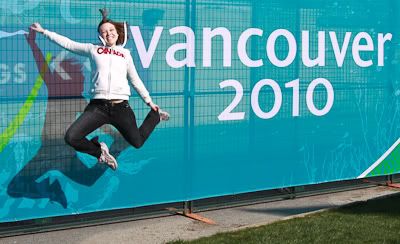 Here's my exuberant Olympic jump, as captured by...someone who is not me, obviously.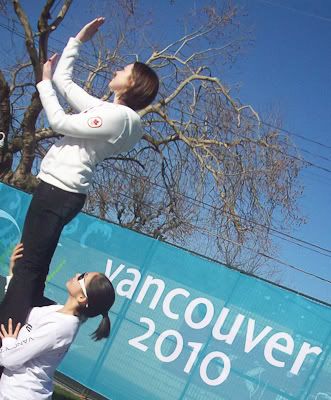 Jen and I have this long-running quest to take photos where it looks like she's lifting me, totem-style. It stems back to a hilarious night when we took a photo that really, really looks like she's lifting me, totem-style. None of the repeat shots have been quite as successful, but they're still fun!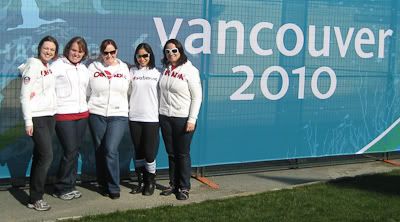 Since this is so long and full of 14 photos already, I'm cutting Day 4 into two parts. Part two begins with Chele and I tracking down tickets to the OD and includes all kinds of awesome OD festivities, so be on the lookout for that later today!