This is a bit late, but I did have a most excellent time on part two of Spring Break 2010 (wooooooo!), which took place at the MGM Grand at Foxwoods in Connecticut. You may or may not recall that I had a trip planned to spend the weekend with two friends for the tapings of Thin Ice, which aired live on ABC on March 19 and 21.
For skating purists (like us), the show wasn't really the greatest show we've ever attended, but I do think that the skaters put on a great show for the local crowd, especially. They all really got into the spirit of the competition and went all-out, even given the demands that they faced. I don't know of any skaters that are used to do two shows a day, but they had seven shows (2 live shows, 5 dress rehearsals with full audiences) scheduled over 4 days. That's tough in any circumstances, but especially skating brand-new programs with brand-new partners. I thought everyone did an awesome job and I would have thrown everyone a vote if I could have. As it was, I couldn't throw anyone votes, since I was rolling with the VIPs, and we were labeled as suspicious and biased and not allowed to take voting keypads. Bah!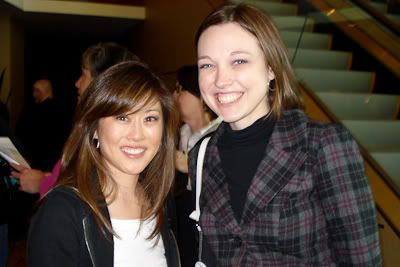 I have to post about meeting my childhood idol! I fell in love with skating during the 92 Olympics, which of course were the Games that Miss Kristi Yamaguchi won. I adored her. I wanted to be just like her. I begged my mom to buy me the Wheaties box that she was on, and my mom made me promise that I would actually eat the cereal, so for two weeks, I forced those awful Wheaties down. I finally saw her skate live in 2004, but couldn't get up the nerve to say anything to her when she walked past me after the show. Same thing happened again in 2007. But 2010 is my year.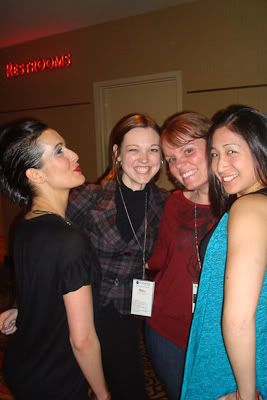 Speaking of favourites, one of my favourite ice dance teams was a part of this competition, although with separate partners, of course. On Friday night, Marie-France had the most insane hair, and she was super proud of it, as you can see from the photo. There weren't any clips in it, they just made it stand up like that! Rad. She went on to win the competition (with Michael Weiss) on Sunday night.
My friends and I had a great time the whole weekend, and since we went to all the shows, we quickly met the other people who kept popping up from show to show. Like John Zimmerman's mom, who joined us for dinner after the show on Friday. She's a fantastic lady.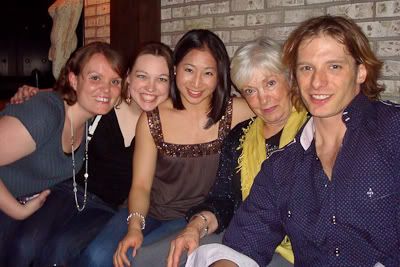 Chele, me, and Jen with Norma (John's mom) and John, taken on Sunday night at the afterparty.
On Sunday night, the whole cast & crew & everyone's guests descended upon Shrine (the aforementioned Asian lounge) for sushi, drinks, and dancing. The sushi & sashimi was fabulous. I wasn't expecting it to be so good at a casino, but it does have excellent proximity to major fishing grounds, and well, it is the MGM Grand. High rollers and all. I also thoroughly enjoyed the dancing, including the fact that someone must have slipped the DJ a list, because he kept playing music that had been used in the shows. Full marks to John and Shae for recreating their entire program to "Poker Face" while everyone stood around them and clapped like we were at an 8th grade dance.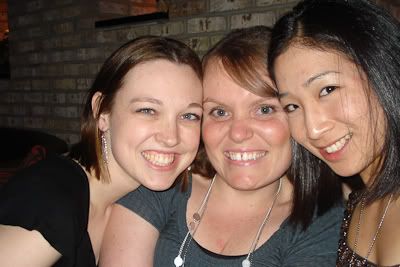 With Chele and Jen at the afterparty, two of us looking super blue-eyed.
A-MAZING sashimi platter that they plopped down in front of me. When it was empty, they brought ANOTHER one. I wish things like this happened to me at home. Things like this never happen to me at home.
The sushi was so amazing that Chele even volunteered to try her first piece of maki ever! Awww!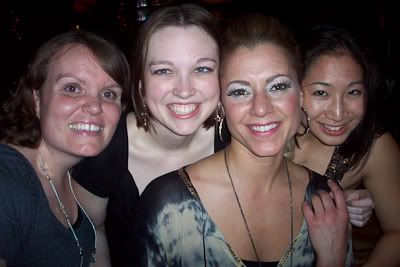 Photoing up with the lady who hooked up the whole weekend.
Overall, kind of a great weekend! It was quite different from what I expected, but I had an excellent time. Right now, my photos from
the first show
are available on Ice-Dance.com, and I'm hoping to get through the rest of the photos in the next two days. I shot the 2nd show three times, so I'm trying to make sure I don't post the same shot from each of the 2 rehearsals and the live show. The process is taking a bit longer than usual, plus I have been really busy. As usual.
So if all goes well, expect another blog post in the next couple of days with a few highlights from the skating portion of the weekend!