30 Days of Skating
Day 10: What was the last competition/show that you attended?
I'm doing this challenge at a lovely time for this question, because my most recent event was one of my annual favourites. Every year, during the first week of December, I drive to Mississauga, Ontario, for the Skate Canada Challenges. They're the nationals qualifier for senior, junior, and novice levels, and the national championship for the pre-novice level. And since it's so chock-full of ice dance, I hardly have time to watch anything else, which I really don't mind. I love seeing almost all the dancers in Canada at once, especially approaching the end of the season for most of the teams.
This year, I missed the first day, so I didn't get to see the novice compulsory dances, and I was exhausted from my marathon drive in a broken car to get there, so perhaps it was a little more subdued than usual. But I loved the chance to catch up with people I only see a few times a year, see everyone compete, and take tens of thousands of photos. It has the scope of nationals, but even though more teams compete at Challenge (and a whole extra level), it's far less stressful for me. I don't have to dress up, since I'm just about the only media person that attends, and since I shoot from the stands, I have more time to catch up with athletes and their families than I do at any other event.
Only a few places in Canada have the logistics to hold the event, and I'm so glad they've stuck with Mississauga since 2007, because I wouldn't be able to afford to fly to both Challenge and Nationals just 6 weeks apart! Plus, it means I get quality time with the girls since I stay at Christina's. This year, Jules drove up on Friday and met me at the rink in time for junior & senior free dances, and then Jen met us later that night for a late dinner. After I was done on Saturday, I drove back into Toronto and met Jules and C for Christmas shopping and dinner downtown, and then on Sunday, all four of us went back out to the 'sauga for linner with Megan & Aaron.
The lighting in the little rinks is absolutely awful and editing takes some extra TLC, but I always manage to get great shots at Challenge, like this one: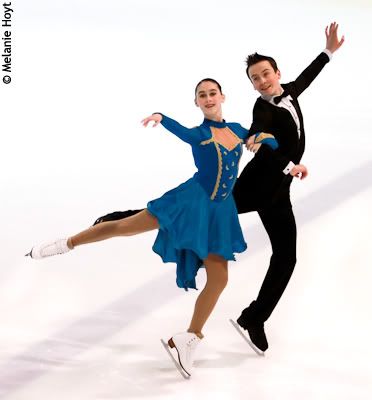 Desiree Bortolussi & Graeme Gordon, pre-novice Keats Foxtrot in the super dark rink, after a little Photoshop TLC