30 Days of Skating
Apparently, I totally skipped a day, then I messed with the order...whoops. Oh well.

Day 6: Which up-and-coming skaters are you most excited for?
While this question may have been originally phrased for younger senior skaters that haven't yet had a major breakthrough, I spend a lot of time following ice dance in Canada & the U.S. at all levels, so that's what came to mind first for me! I have such respect for kids training at all the levels up to senior, no matter their abilities. I love to see them climbing the ladder, reaching for better scores and higher levels and testing up. It's so fun to see, especially in Canada, when I get to see quite a few of the teams 4 or 5 times during the season. Less fun when they don't skate well, because my heart breaks a little more for the ones that I know, so I've always got my toes crossed when they zip by me at the boards.
Anyway, this question is hard, because I don't like picking favourites among so many teams that I know and respect. When I write previews and reports for ice-dance.com, I work really hard to set preferences aside and stick to the facts—what each team has done, what they are likely to do based on past results, where their strengths and weaknesses are and how those may come into play with the judges, etc. So, with that in mind, I think it's safe to say that Madeline Edwards & Zhao Kai Pang are definitely a team to watch.
Madeline Edwards & Zhao Kai Pang
They won the Canadian juvenile title in 2009 and the pre-novice title in 2010. So far, they are the strongest team on the novice level, heading into 2011 Canadian Junior Nationals next month. Strong and consistent technique has been one of their greatest assets over their career so far, but they are also musical performers and they have a ton of charisma. And they're pretty fabulous kids, too. Well, I guess I haven't spoken much to Zhao Kai, but I've heard complimentary things. Maddie, though...we go way back. And she's definitely fabulous.
Another factor in their success is certainly their training environment—their teammates are some of their stiffest competition. Noa Bruser & Timothy Lum and Caelen Dalmer & Shane Firus both train with them, and the three teams push each other all year long. Even better, they're all friends at the end of the day.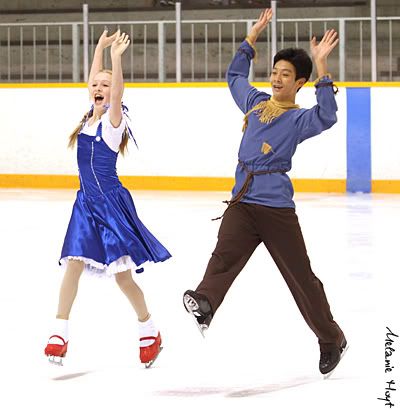 Caelen Dalmer & Shane Firus
Okay, well if I let myself write anymore, I'd probably never stop, and I have to be up at 5.30. So tomorrow, I'll try to get back on track with the scheduled questions and pick some more favourite programs of all time.