30 Days of Skating
Day 5: Who are you expecting great things from this season?
The question for today was originally worded to predict medalists at 2011 Worlds, but it's a little hard to do that when countries haven't picked their teams yet. I don't want to jinx anyone into a broken leg, or anything.
Ladies
Probably the hardest discipline to predict lately, and the one I'm least invested in this year. I love, love, love Alissa Czisny's free program this year, and it was fantastic to see her skate so well at the Grand Prix Final. I really hope it translates to Nationals and she has another opportunity after that to compete again this year, but with her, you really never know.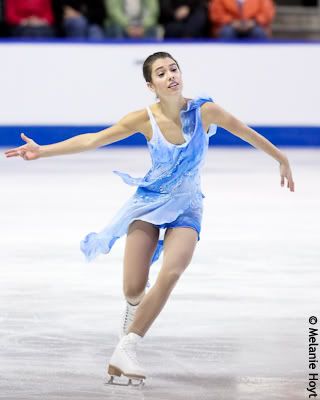 Being at Canadians this year without Jo is going to be bizarre. She's been at every major competition I have ever attended. The task of taking over for Jo is likely going to fall to Cynthia Phaneuf, and I do like watching her (when she skates well), my favourite Canadian lady is totally Myriane Samson, so I'd love to see her skate well and grab another podium finish this year. It was great to see her put together a pair of successful skates at Skate Canada this year.
I'm a little out of the loop, and I'm not sure if Yu-Na Kim is really going to come back this spring or not, but if she does, I expect she'll be in the medal hunt at Worlds, even without competing this fall. Mao Asada has had a rough outing this year so far as she's been reworking the technique on her jumps, but if she puts it together at Nationals, I know better than to count her out completely. My favourite Japanese lady to watch is probably Akiko Suzuki, but the buzz this year is all about the youngster Kanako Murakami, so I just hope that if Suzuki skates well enough to earn a place on the World team at Nationals, she won't be replaced by younger talent.
I also have to mention Kiira Korpi's short program this year, choreographed by Shae-Lynn Bourne—one of my favourite programs of the year.
Men
I'm totally on team Chan. I can't help it. I spent the years from 2005 to 2007 waiting for Patrick Chan to really break out in senior, and then I was covering my first Canadians in '08 when he did. Even though his inability to have two new programs in a single year drives me crazy, I still love to watch this kid. Especially his short program this year.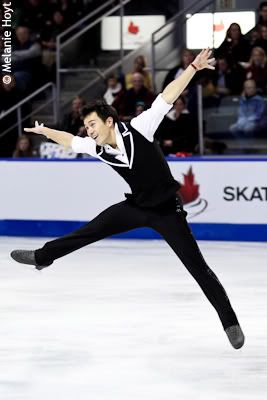 My favourite program this year, however, is Jeremy Abbott's free program to Life is Beautiful. So, so gorgeous, and it made me love the new footwork requirements. His second footwork sequence, when he's not cramming as many turns in as possible to get a higher level, is just exquisite, and so musical. I really hope I get a chance to shoot this program this year, though the odds aren't looking good. Stateside, I also really like Adam Rippon.
It was fun seeing the Japanese trifecta of Oda, Takahashi, and Kozuka have such a great Grand Prix season, and I think they'll continue to skate well this season as they push each other through Nationals this month. Of the three, I like Oda best, but I like him best when he's not so serious, like in his exhibition program to "I Could Have Danced All Night."
Final thought: I'm really, really excited to hear that Ryan Bradley is planning to compete at Nationals. It was heartbreaking last year for him to have such a fantastic free skate at Nationals, yet have it still not be enough to make the Olympic team. I'm not expecting perfect skates, but I'm expecting to be entertained!
Pairs
I haven't been too excited about pairs since both of my favourite CoP-era pairs retired and split in 2007. So I suppose Savchenko & Szolkowy and Pang & Tong will be at the top of the leaderboard, and maybe some other Chinese or Russian teams will challenge them, but none of them really excited me.
I do think that Iliushechkina & Maisuradze are really cute, but I don't expect them to be Russia #1. I hope they'll continue to improve.
Since I go to Canadians, I'm interested in what will happen there, as new champions will be crowned. I think it will be between Moore-Towers & Moscovitch and Duhamel & Radford. Duhamel & Radford have the content to win it if they hit, but if they have mistakes, the door will be open for MT&M. I also think that Paige Lawrence & Rudi Swiegers have great programs, so if they skate well, they could be right in the thick of things, too.
Dance
Whee, saved my favourite discipline for last. There's a lot I could say about dance, at all levels, but I'll try to just stick to the major contenders in senior.
I think this season is Meryl Davis & Charlie White's to lose. Even if Tessa Virtue & Scott Moir make it back, I think Davis & White will still have a clear edge, as long as they skate clean. I'm delighted with how well Nathalie Péchalat & Fabian Bourzat are skating, but I'm still not sure they're going to challenge Davis & White if both teams compete well.
In terms of programs, though, I think Péchalat & Bourzat's are better. Their short dance to Doctor Zhivago is one of my favourites this season, though it's garnered some mixed reviews. I really like P&B's free dance, a Chaplin theme, much better than Davis & White's tango free dance, but I'm having a hard time loving it because I loved Tarrah Harvey & Keith Gagnon's Chaplin free last year so much.
Last year's bronze medalists, Federica Faiella & Massimo Scali, are kind of a question mark right now, since their first Grand Prix didn't go that well, and they withdrew from their second due to an injury to Scali's back.
I think I'm most excited about Vanessa Crone & Paul Poirier's success so far this season. I've been following their progress since they were novices, so it meant a lot to be in the arena when they won their first Grand Prix gold this year. I really like their short dance to "Fallin'," even though the music is a bad cover, and I really, really love their free dance to "Eleanor Rigby." The movement is unpredictable, but still elegant, and they keep improving every year. I'd love to see them in the top 5 at Worlds if they skate well.