Much belated, but here's the last part of my 2009. I know you've all been on the edges of your seats waiting for skating, skating, and more skating.
September
September marked the return to school and the beginning of my second year as a grad student, but I don't often photograph my classes, so let's talk about the better times that I had in September.
Jules came to visit me in mid-September, just for kicks, because we're BFFs and she loves Chicago. We went to Celtic Fest, one of the last festivals of the season, where we viewed some unfortunate Irish dancing and visited Nova Scotia. Then we left the Celts and hopped on over to Buckingham Fountain, one of my favourite places in the city.
The next weekend, I went back to Ottawa to shoot another skating event, EOS Autumn Skate. I was a big fan, because it had a huge dance roster. Fall events like Autumn Skate are a great way for dancers who don't compete internationally to stay in competitive mode and build toward Sectionals. And I love photographing all ice dancers, whether or not they compete internationally.
Victoria Hasegawa & Connor Hasegawa, a sibling team of ice dancers on the novice level. They train in the Montréal area and she has a fabulous skirt on this dress. Fun costume fact: this dress was worn by Milena Todaro at the 2005 Canadian Championships, which was the first time that I saw Milena skate.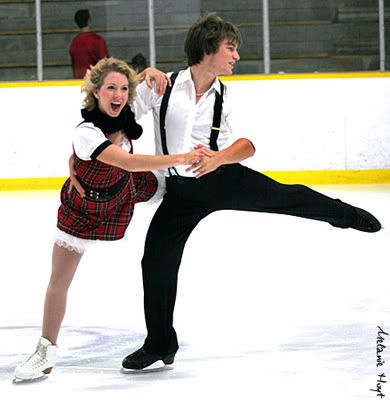 Marie-Philippe Vincent & François-Xavier Ouellette skate their Québecois folk original dance. Lots of energy, cute dress.
Lisa Casselman & Jonathan Arcieri made their competitive debut here. I'd met Lisa in July at Minto Summer Skate, and she was recovering from surgery and bummed about not having a partner. What a difference six weeks made...the brand-new partnership won the junior compulsory dance at Autumn Skate.
My mom's friend Cheri is a breast cancer survivor and a former high school teacher. She's been recruiting kids to participate in the Race for the Cure for quite a few years now. The Eisenhower High School contingent won largest group again. Everyone at the race is always surprised to hear that Eisenhower is a regular public school in a middle- to lower-middle-class suburb.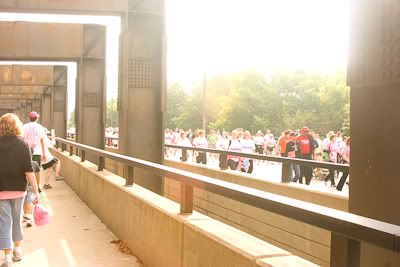 This year, I went along for the first time as team photographer.
My friend Adam Morgan won FOX's screenwriting contest in 2009. I'm sure it has a more official name; it's actually a really big deal.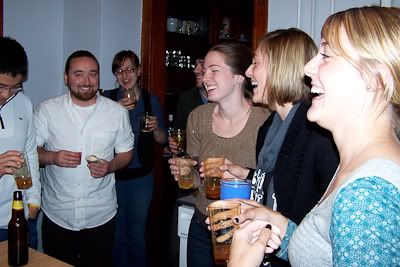 Here we are, celebrating his big win after he got back. Of course, what he's most excited about from 2009 isn't this award—it's that he's now made my year-in-review blog three times.
October
First up in October: a trip to Toronto for the Battle of the Blades premiere, where CBC paired ex-NHL stars with professional figure skaters and taught the boys how to skate. Hilarious concept turned into an awesome show because they really got into it! I was lucky enough to attend both the first and the last shows, so I really got to see how much they improved.
While we were in town for BOTB, Toronto had Nuit Blanche, its all-night public art festival. We took in some street art, ate some sweet food at The Drake, experienced Miracle Fruit shortly before C got impregnated by an alien, and went to the Bata Shoe Museum at 3 in the morning. Great night!
Me and C, ready to paint the town white
Favourite self-portrait ever, also taken that night
The next night was the BOTB premiere...
...where Claude Lemieux and Shae-Lynn Bourne started running toward the finish line...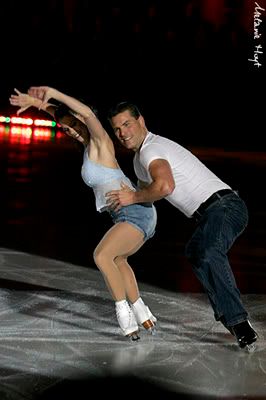 ...and Craig Simpson showed that Jamie Salé really taught him how to skate...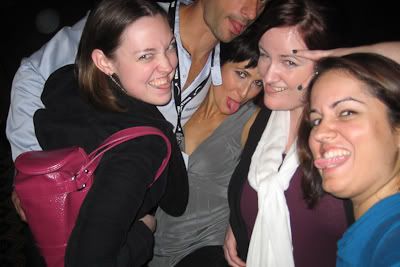 ...and we goofed around after the show with contestant Marie-France Dubreuil (paired on the show with Stéphane Richer, not pictured this month) and her real-life partner/husband Patrice Lauzon.
Being at the first show made me crave more, but unfortunately, my October was quite booked, apparently with things that didn't allow photography like the opera, because I didn't take any more photos until I went to Michigan with some friends in late October.
I've never seen a New England autumn, but I'm willing to bet that Michigan's are just as pretty and less crowded!
And Michigan has my favourite body of water, the glorious Lake Michigan.
And October closes with Halloween, so I leave with a photo of me as an 80s rockstar, about to head out to a party, where I won best female costume.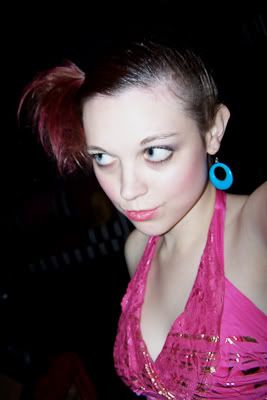 November
November was a HUGE month for me. I began a stretch of 5 skating events in 4 weeks, I stopped sleeping, I fell behind in my classes, I didn't eat regularly, I got really really sick, and I loved the intensity of it. November made me really believe in my dream to someday be a full-time skating photographer, one way or another, if only because it's what made me feel most alive, despite all of the struggles.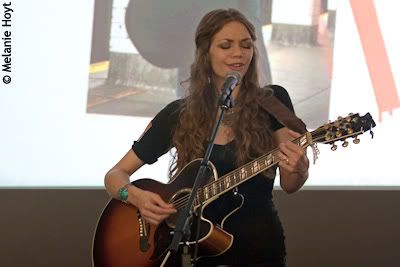 Before all of the skating craziness, though, I saw Natalie Gelman perform at the Apple Store in Chicago. Natalie and I went to music school at the University of Miami together, although I didn't meet her until several years later, when she sang at a mutual friend's wedding. Loved hearing her songs live...she's incredibly talented!
Then skating craziness happened! Oh, and first, my student loans finally came in and I immediately upgraded to a new camera. Canon 50D, what what!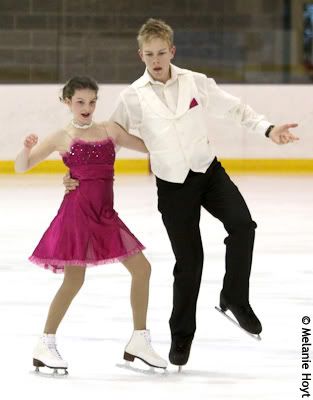 Cate Culhane & Malcolm Jones, Free Dance practice
It's not often that it's easy for me to pinpoint a single image from a skating event that means the most to me, but at Eastern Ontario Sectionals, it was a piece of cake. When I shoot events with Phil, I don't get to photograph his daughter because he is, obviously, so I am on the other rink. At Sectionals, though, each event had an official practice on Friday morning, so when Cate's group was up, I took my new camera into the rink because I needed to take some test shots and figure out how high I could push the ISO before I started drifting into grainy. Over the weekends that I've worked with the Culhanes, they've taken me like an extra family member, so I guess, if they're my Canadian family, Cate is my Canadian little sister. She's an extremely talented ice dancer, and I'm not just saying that because I adore her. Although i do adore her, definitely.
After Sectionals, I took the train from Napanee to Toronto, and we hightailed it to Maple Leaf Gardens for the final competitive night of BOTB.
We were cheering hard for Stéphane Richer & Marie-France Dubreuil, so Jules and Christina made t-shirts before I got there (and made one for me too). Maybe M-F was a little excited when she saw our shirts...
...so she demanded a photoshoot at the reception afterwards. Who were we to say no?
At the Finale the following night, some of the skating stars were showcased without hockey players.
Kurt Browning, one of the hosts, brought back his popular "Brickhouse" number. I remembered watching it when I was younger, but had never seen it live, so I was thrilled already...and then he stopped right in front of my camera. Multiple times. Oh, Kurt.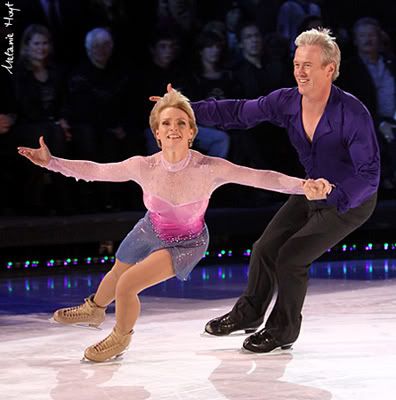 One of the most incredible moments was Barb Underhill & Paul Martini's return to the ice together -- on the same ice at Maple Leaf Gardens where they'd said farewell to their skates in 1998.
What made it even more emotional was that Barb's daughter, Sam Gaetz, sang while they skated. The whole performance was a tribute to Sam's twin sister, Stephanie, who died when she was very young.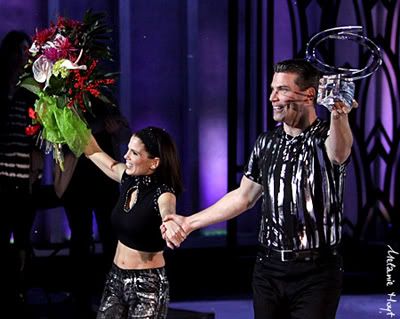 And at the end of it all, Craig Simpson and Jamie Salé were declared champions of the first season of Battle of the Blades. They won $100,000 to donate to charity and got to skate around the ice under fake snow with a trophy, as pictured here.
After BOTB, I went home for three days, went to class, unpacked, did laundry, and repacked. On Friday morning, I was back in Ontario -- this time, in Kitchener, for Skate Canada. I wasn't given a credential for Skate Canada, but I took photos. However, since I wasn't responsible for uploading photos to ice-dance.com, I still have not looked through my Skate Canada photos. So for this blog, I tried to remember my favourite moments and I found photos of a few of those.
Mirai Nagasu's short program is one of my favourites of the year. It's charming, a bit powerful (but not too powerful for her at this point), and when she skates it well, it lights up the arena. At Skate Canada, she lit up the arena.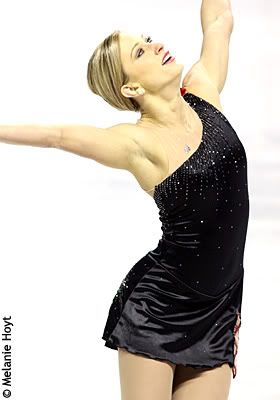 Of course, no one in the ladies events lights up a Canadian arena like Joannie Rochette. With this performance, she broke 70 points in the short program -- a first for her -- and truly established herself as a threat heading into the Canadian-hosted Olympics.
And of course, Tessa Virtue & Scott Moir, basically a hometown favourite, since London is just up the highway from Kitchener, also lit up the arena. It wasn't the first time that they brought a crowd to their feet here -- in 2005, they won a silver medal at the World Junior Championships in The Aud in Kitchener. I liked this gentle free dance to the Adagio from Mahler's 5th right away, but I didn't love it until I saw it live. What a performance.
After Skate Canada, I went home again, this time, for about five days. I didn't have class because of Thanksgiving break, so I probably would have stayed in Canada, except that it was Thanksgiving and it was our year to have my aunt & uncle & cousins for Turkey Day. They came and stayed at my parents' house in the suburbs and once I got unpacked and repacked and brought home laundry to do, I joined them.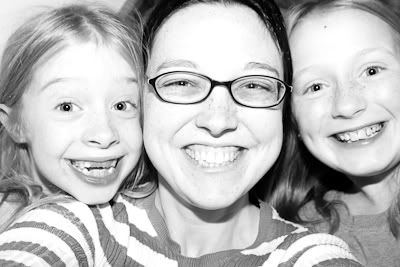 And the girls, Danielle (left) and Kristin (right) took this self-portrait with me, which was overexposed badly, but which looks quite adorable in the right mix of black and white.
On Thanksgiving night, I picked up Emilie, one of my best friends who'd just returned from two years in the Peace Corps in Lesotho, and took her on a mostly-Canadian and mostly-skating road trip. Hey, she asked for it! We went to Ottawa first, where I shot a StarSkate competition in Hawkesbury with the Culhanes, and between destinations, we squeezed in a day trip to Montréal, a city I'd never really photographed before with a "real" camera, even though I've been there quite a few times.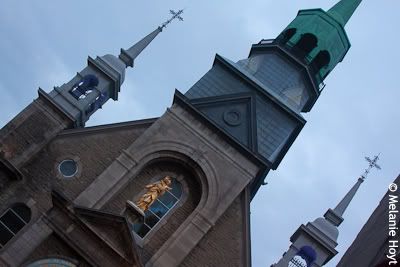 Notre-Dame-de-Bonsecours, the smaller of the two important churches in Old Montréal. It was the first church built here by French settlers and it's just lovely. The other Notre Dame is a few blocks away and it's gorgeous, but also huge. NDdB is just more charming.
Place Jacques Cartier after sunset and before Christmas
December
The main event in December was Challenge, which is the qualifying competition for the Canadian Championships on the novice, junior, and senior levels. The top seniors get "byes" so they don't usually compete, but other than that, it's all of the best skaters in Canada in five days in one rink. And I really, really love it. It has the variety of Nationals without the huge crowds. I love getting to chat with skaters and their parents and their coaches, and I love the long days and the craziness to keep everything organized.
Laurence Darveau & Jamie Forsythe, senior original dance. Laurence & Jamie had a rough time in the CD and the free and ended up missing out on qualifying to Canadians by just one place, but over the course of the season, I really loved watching them skate. And they brought plenty of spice to this Latin OD.
Mylène Girard & Jonathan Pelletier's Indian folk OD was absolutely my favourite OD of the season, and this is also one of my favourite photos of the season. They always skated this program with energy as well as precision, and how can you not love these costumes?
Tarrah Harvey & Keith Gagnon had one of my favourite free dances of the season because they got the Chaplin feel perfectly and paired it with challenging choreography. In Lake Placid in August, Sasha got a fantastic shot of this jump in practice and from then on, it was my mission to get one, too. I still think Sasha's is better, but I was pretty happy with this one!
In addition to qualification for novice and up, Challenge this year was also the national championship for the pre-novice level. The pre-novice dancers really brought it in their free dances. I had so much fun watching and they provided such great photo ops that I can't narrow these down!
Audrey Croteau-Villeneuve & Dominic Barthe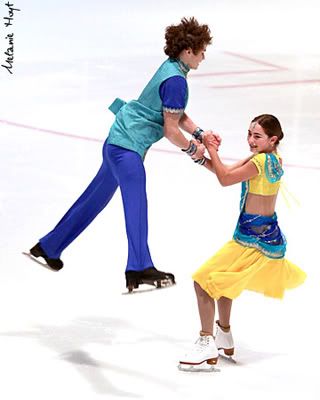 Courtney Baay & Drew Wolfe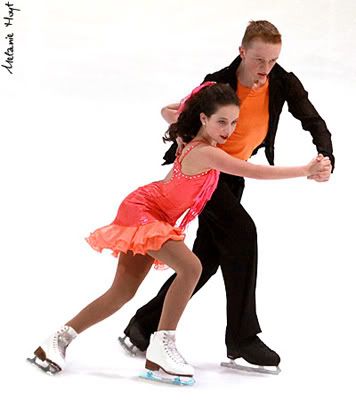 Samantha Glavine & Jeff Hough
Laura Holbrough & Jacob Marsh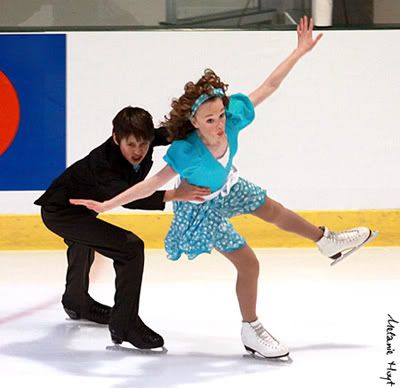 Katie Desveaux & Dmitre Razgulajevs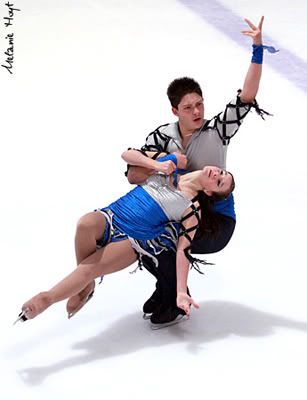 Carolane Soucisse & Alexandre Laliberté, 2010 Canadian pre-novice bronze medalists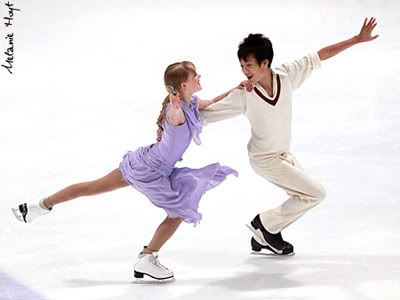 Noa Bruser & Timothy Lum, 2010 Canadian pre-novice silver medalists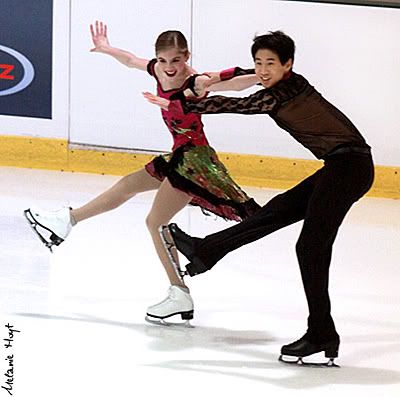 Madeline Edwards & Zhao Kai Pang, 2010 Canadian pre-novice champions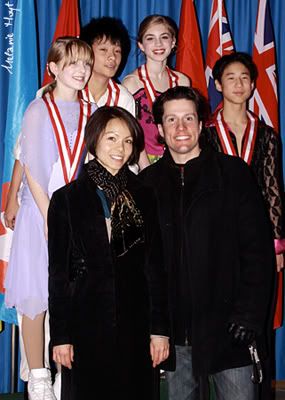 Noa & Timothy and Madeline & Zhao Kai train together in BC, so it's adorable that they went 1-2. I also loved it because their coaches are Megan Wing & Aaron Lowe, 10-time Canadian medalists themselves and also friends of mine.
Once I got back from Challenge, it was work-work-work to get classes finished and work-work-work at the beauty emporium for the Christmas season. I finally got to have a lovely Christmas five days after the fact, when my cousins returned to Illinois.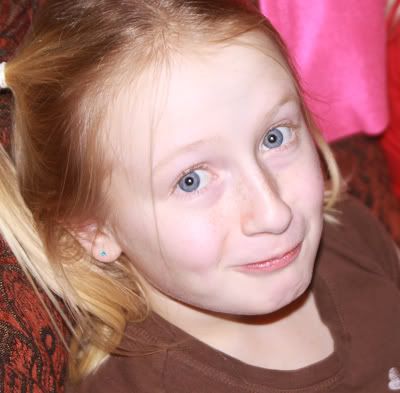 Kristin, who has been all about making awesome faces for my camera lately
Danielle, upon realizing that she had almost as many American Girl dolls as her older sister
Bradley, triumphant snowboard champ on the local hill
2009
Overall, 2009 was a rough year for me, but doing this year in review has helped me to focus on how many great moments and opportunities I had to balance out the negative aspects. 2009 taught me to be incredibly thankful for what I have, most importantly, my family, my friends, and my passion for photographing skating. Thanks to everyone who kept me sane in 2009, especially everyone who was a willing subject for my camera. Here's to a great year and even more photography in 2010. Which already started two months ago, but...whatever, I am always late. You should see how behind I am on my scrapbooks.