Spring Break 2010 might be my favourite yet! I'm having a fantastic week so far, spending time with some of the people I love most in the world and eating some stellar food while we're together. What more could a girl want? Oh, a skating event to photograph? Check, I'm off to one of those this weekend!
Last Friday, I spent the day cleaning and getting ready for the girls, then went to fetch Christina at the airport in the evening. By the time we got back to my place, it was ready to think about food, and after carefully considering our options, we decided on
Flat Top Grill
. I'm a big FTG fan, going back 4 or 5 years now, but I hadn't been to the West Loop location yet. It's an easy walk from my place, so despite some drizzle, we walked over, which made us feel a bit better about eating two bowls each of yummy create-your-own stirfry! Jules arrived later and arrived hungry, so we walked over to the
Jefferson Tap & Grill
, my favourite neighbourhood bar. It has a good bar feel, but not a scummy one, and it also has a great menu. C & I just got drinks, Jules had a turkey burger and their fab waffle fries, and then we got hit on for a while, by a guy who really loved our Canadian Olympic jackets and his very inebriated friend. They weren't too obnoxious though, so it was fun. And finally our last stop of the night was Berry Chill, conveniently open until 2am on weekends. Best froyo ever! (Though I haven't tried Pinkberry, but I've heard that PB and BC are pretty comparable.)
Saturday was St. Pat's Day (observed) in Chicago and although we didn't make it over to see the traditional dyeing of the river, we did get our Irish on early when we stopped at a pub on N. Broadway in Lakeview for lunch.
Wilde
wasn't the best food I've ever had and I'm not sure I'd go back, except if I really want an Irish experience, but we had a great time. It was a cute place, it's just that there are so many incredible restaurants in Chicago. From Wilde, we walked south to
Molly's Cupcakes
, which is a must whenever I have visitors in town—and sometimes even when I don't! I
love
Molly's. They had a minty green cupcake delight in honour of St. Pat's and I probably could have eaten three, but I stopped at one...better not to gain ten pounds on cupcakes, since I can't afford to buy all new pants!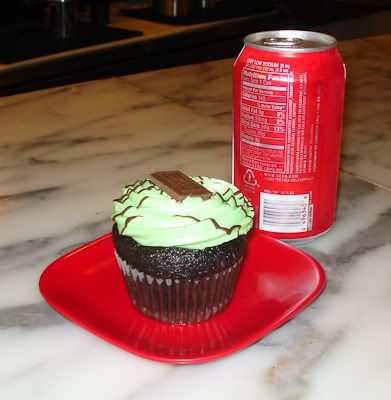 A cupcake and a Coke = my own little slice of heaven
Molly's has fun swing seats at the counter
We were stuffed at that point, so we definitely needed to walk off some of our food babies. Unfortunately, when we got off the bus in Near North for some bougie shopping, the unpleasant mist had turned nasty, complete with a nippy wind off the lake. So instead of shopping Oak Street, we headed for 900 N. Michigan, which is an indoor mall. Jules and Christina bought some new pants at Lululemon, but I was holding out for my first Anthro trip! So after a bit there, we walked over to the red line and jetted down State to the other side of the river. I was so glad that I waited for Anthropologie to spend any money! After hearing Christina and Jules rave about it for months, I knew I would love it—my friends have great taste! I tried on a bunch of tops and a couple of dresses. There was one dress on clearance that I would have bought in a heartbeat if they'd had it in a smaller size and one gorgeous navy dress that fit me perfectly, but it was $188 and I didn't have any reason to buy it. So I convinced myself to say goodbye to it in the dressing room, but I did by a sassy silk printed top that I can't wait to rock this weekend at Thin Ice...then again many times this summer, so I can get my money's worth out of it.
Post-Anthro, we were giddy about our purchases but kind of
starving
. I'd talked up
Decolores
to death since my first visit with my mom about a month ago, so the girls were excited to try it. I'm happy to report that they loved it as much as I do! The Tres Leches cake (from
Kristoffer's
) is so incredible that after we split a piece of the vanilla-coconut, we had to try the chocolate one, too. I had the fish tacos and although they were quite good, I think I'll get the shrimp ceviche again next time, which is what I had last time. Or I might have to try the fajitas, which was what Christina ordered.
After devouring one tres leches cake and before devouring the next
The night was still (sort of) young after that, so we went back to my place and changed to go out. Since we'd already done the Irish thing in the afternoon and we'd just bought classy clothes at Anthro, we decided to go to
The Gage
on Michigan, my favourite classy bar in Chicago. No one came over and hit on us this time, but I did catch the guys at the next table over looking like they wanted to, haha. It was just as well—we were busy trying to name our Top 5 Beatles songs. In the end, it was too hard for me to come up with a top five that didn't change every two minutes, but my favourite is definitely "All You Need is Love."
Sunday morning came way too early, thanks to a late night and the time change, but we got up and headed to Diversey Harbor, because Jules and Christina had signed up to do a 5K! I don't run and I walk 5K regularly because that's a round trip from my place to work, so I wasn't keen on paying $30 for this event, so I may or may not have taken a nap in the car while they got their exercise on. The rest of Sunday was low-key. J's sister and brother-in-law had driven in from Indiana to see her in the race, so after some showers, we went out for lunch with them and since it was convenient, we went back to the Jeff. After that, we hung out at my place until Jules had to leave, and then C and I wrapped up the evening with looking at photos and watching the premiere of this season of Amazing Race. We're a bit behind, yes, but that's what happens when shows start during the Olympics.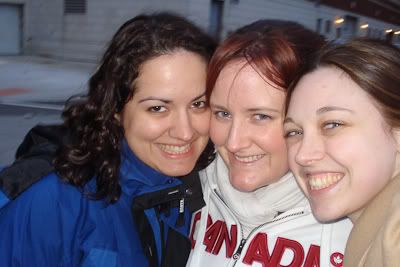 THE GIRLS just before we sent Jules on her way
On Monday, C wanted to hit up a Trader Joe's, so we started with lunch at the Chicago French Market, then red-lined up to the Near North TJ's, then walked around a bit before we got free Berry Chill (it was their 2-year anniversary) and walked back to my place. Near North is a bit of a walk, but the weather was nice and we like to walk, so it wasn't bad at all. We had time for one more Amazing Race ep before we had to go to the airport and say farewell until my next scheduled trip to Toronto (first weekend of May).
Yesterday was part two of spring break fun—I went up to the Rockford area to see my cousins! I don't get to spend as much time with my family as I would love to, so even though it was just an evening, I really treasured it. I had dinner with them, danced around the living room to Irish music, played basketball at the park, and then promptly passed out on the couch around 8, slept for almost 4 hours, got up for about an hour, and passed out again until 8 this morning. I guess I needed to catch up on my sleep!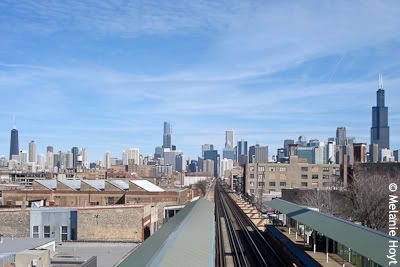 The trip began when I spaced out and got on the wrong train. I had to get off at the Ashland stop to switch lines. Worth it for this view of my city!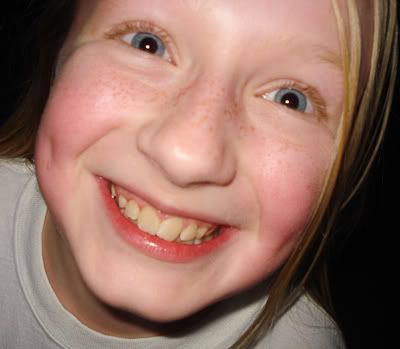 Kristin, the middle cousin.
Today has been a day of catch-up and homework because tomorrow, I leave for Connecticut (via a night in Massachusetts). I'll be at the Thin Ice tapings at Foxwoods, which I think I mentioned in my last blog, and I have another blog scheduled for tomorrow about that event. This one is too long already.