Last Thursday (March 3), I had one of those terribly crazy days. It began at 4.30 am and it involved work and a midterm and a train and driving and exhaustion. But then I got to Mojoes and the music started, I finally relaxed.
I was there for Superchick, a band I've been following since the beginning, to say the least.
It started with Matt Dally, whom I met the summer I was 8. He was the lead in the children's musical at church, playing Gideon in Zeroes into Heroes. I was in the "corps," parading up and down the stage, holding a papier-mâché jar over my head in "Crash Go the Pitchers." I don't think he had any idea who I was.
But in high school, the jazz band was desperate for a pianist, and I was coerced into the job, despite having no idea how to read a chord chart. Matt played guitar, his friend Bill was the drummer, and Bill lived down the street from me. My sophomore year, they were both seniors, and Bill drove us to 7am practice every day. One day towards the end of the year, Matt gave Bill a cassette tape to play when he got in the car. It was a recording of a band he'd kind of auditioned for the night before, and he really wanted to join. 12 years later, Matt is still playing bass for Superchick.
For whatever reason, I'm often out of town or otherwise booked when they have nearby shows, so it had been almost 2 1/2 years since my last Superchick show. It was great to catch up with Matt and his mom, who was working the merch table, and of course, to see the band play. It's a really cool feeling when I look around and see girls shrieking for them and singing along to their songs.
From the beginning, they've always put on spectacular shows. At the last show I went to, in fall 2008, the shutter on my camera broke midway through their set. I've been a little worried about my shutter lately, but it held up just fine and I got some awesome shots. So enough with the sappy stories about the "beginning" and I'll get on with some photos. Warning: these photos have more lens flare than a pivotal J.J. Abrams scene.
The first opening band was Keep the Change, a local band from Joliet.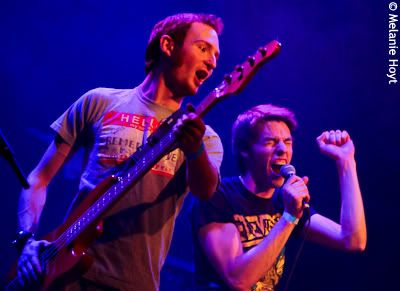 They seemed a little nervous at first, but looked like they were having fun by the end of their set. I think this is Frank Stella on bass and Jeff Winter on vocals.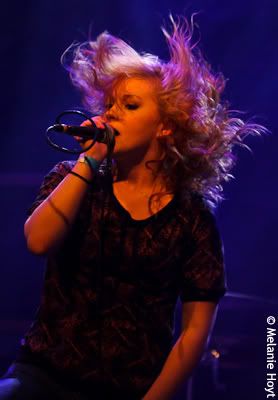 Next up was At Rifts End, another semi-local band out of Bradley. This is their frontwoman, Haleigh Boatright. She tossed her hair a lot, so I had plenty of opportunities to get "hair-movement" shots.
I think the show was actually Made Avail's CD release party, and since they've played with Superchick before, they asked Superchick to join them. I'd heard the name before, but hadn't heard their music. It's not usually the type of music I'm drawn to, but they played really well and put on such a great show that I really enjoyed their set.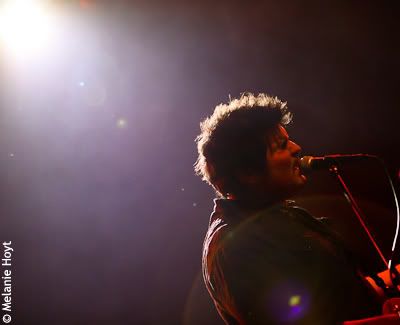 I tried to find the names of the guys in Made Avail, but I'm having some difficulty, especially since it seems that they've recently added 2 or 3 new members. So I don't know who this is, but I love the way the light is hitting him.
The frontman (also nameless) for Made Avail. Their last song was this crazy performance piece that involved super-dramatic lighting, a rose, and a face mask.
Then Superchick was finally up!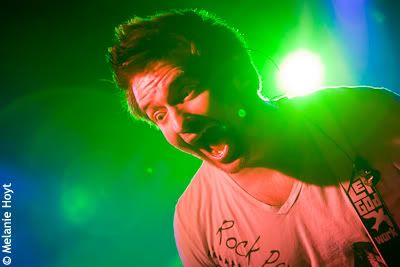 I got this hilarious shot of Matt early in their set. It really sums up the essence of Matt's typical performances. :)
Melissa Brock, guitarist and vocalist, working the crowd during "Hey Hey," I think.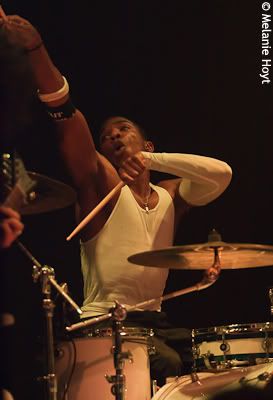 It's really hard to get good shots of the drummer in most bands, because they're generally in the back and generally not well-lit. But I tried! So while this one isn't as pretty as the spotlight shots, it's a fun one. I believe this is a new drummer, and I actually don't know his name. Apologies!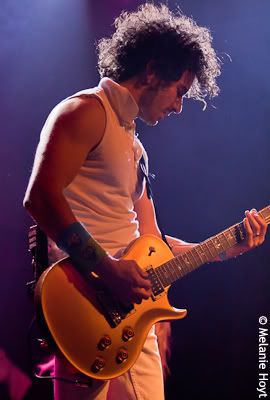 Guitarist Dave Ghazarian in one of his more tranquil moments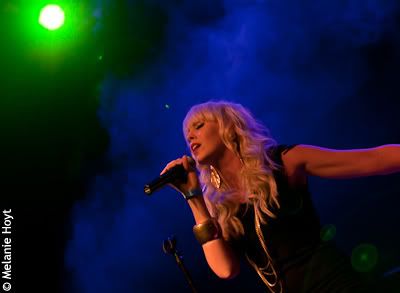 Tricia Brock, lead vocalist, in one of my favourite shots of the night. She's an incredibly photogenic performer, so I have a ton of photos of her to eventually post to my Flickr account, along with more shots from all four of the bands. I'll try to remember to post an announcement when they're up.
Whew, this has taken me 2 1/2 days to finish this post! I'm technically on spring break, but that only means that it's crunch time for the projects that I had to set aside while I was trying to get ready for my midterm. I have two chapters of thesis to finish this week, along with two columns to write for IFS by Thursday, which includes reading two books. Off to continue book #1...at least I won't have to worry about being bored this week!