Technically, I'm on spring break this week, but I'm not any less busy this week than I was last week during midterm week! So I'm not really feeling the "break" part of this week, but it's definitely spring in Chicago. This isn't to say that the weather is nice, just that we're experiencing some of that cold, damp, muddy weather that we look forward to every March here in the Windy City.
I did a phone interview last week with Tanith Belbin & Ben Agosto, Olympic silver medalists in ice dance who are currently touring with Stars on Ice. They were a great interview because they're very poised, they come off as very friendly, and they can pack a lot into a short amount of time. I was able to squeeze the 15-minute phone call into my midterm schedule a week ago, but I didn't have a chance to write the article for a few days. It went live on ice-dance.com today:
read it here
.
This is also deadline week for IFS, the figure skating magazine that I started writing for a couple of issues ago. I normally plan ahead better, but the timing of this deadline was tough, and I was still gathering information and frantically reading books at the beginning of the week. I'm reviewing two books in one of my columns, which are going to be my 4th and 5th reviews for the magazine, so I guess that's kind of becoming my thing. I like reviewing books and take that task very seriously, so I'm trying not to rush through them.
And of course, I'm trying to keep plodding through my thesis, but I'm having a tougher time with energy and motivation this week. I was so looking forward to working on my thesis this week, but with everything else going on, I guess it's not the relaxing break that I was looking forward to. I have stuck to all of my deadlines with my thesis adviser so far, but I'm worried that I'm not going to be able to keep this one.
When I need a break from the written word, I'm also working on my old scrapbook from 2004, which is proving to be a bit of a challenge, since I can't locate quite a few photos from spring/summer 2004. I'm hoping to find backups at my parents' house this weekend. I thought I had a stack of backup discs here, too, but I can't find them.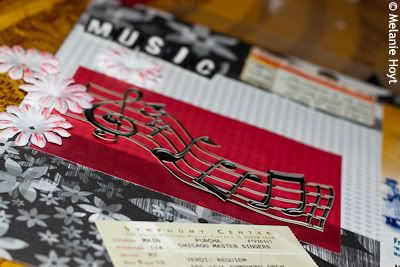 This is my most recent page, in progress. I finished it yesterday.
Which brings me to two other projects: 1) cleaning and 2) organizing photos. Both are ongoing and monstrous tasks. I'm not exactly the best housekeeper, especially when I'm busy, so I have all kinds of piles of things to sort through. I cleared a bunch of stuff out of my bedroom last week, but somehow new piles have already appeared. I'm enjoying the extra space right now (my roommate moved out in December and I haven't found a replacement yet), but I definitely kept at least the living room cleaner when B lived here.
The photo organization is also a huge task. It's time for a portfolio update, so I'm trying to figure out which of my skating shots from this season that I should print. I'm also well overdue in posting photos, so I'll try to get a couple more sets edited this week. It's also nearing the end of the season, so I need to make sure that I have double backups of everything. Being a part-time sports photographer is a never-ending task. I can't imagine keeping up if I did this full-time!
And spring break week culminates with seeing Stars on Ice on Saturday. I might be going alone, which will be a weird experience, but at least it's just the U.S. tour and I'll be reunited with the girls for the traditional CSOI weekend in April/May.