30 Days of Skating
Day 14: Who are your five favourite ice dance teams?
It's no secret that ice dance has become my favourite discipline over the last six years. So many dancers have inspired me and challenged me as a photographer since the first time I clicked my shutter at the 2007 Lake Placid Ice Dance Championships. But I'll try to stick to teams that have already completed their competitive careers, with one exception, I guess.
1: Megan Wing & Aaron Lowe
Especially towards the end of their competitive career, I would have rather watched them skate than anyone else, so I guess I have to put them at number one. I found them to be so musical and so versatile, and their programs were always so accessible and charming. And they were so consistent. Perhaps they didn't have the most difficult programs in the field, but they always showed up prepared and skated confidently, which goes a long way with me. They were a big part of the reason why I jumped ship and became a dance fan, why I skipped other events at Nationals to watch dance practices, why I got hooked on the discipline. And in the beginning, when I was fangirly and awkward, they were always so gracious and kind, always had time for a chat and a photo. Somewhere along the way, a transition took place and we became friends. I still have an incredible respect for them, not only as skaters (though I still say they were really underrated), but also as people. They're coaching now, and just four years into that endeavour, their dancers rank among the best in Canada at every level. I think they've surprised a lot of people, but not me. I've always seen the greatness in them.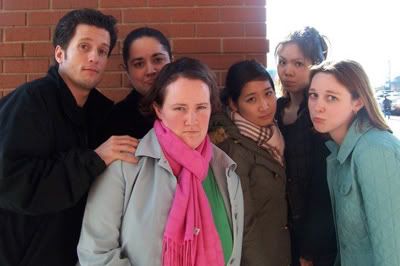 I'd almost forgotten about this: sad faces with Megan & Aaron, just before they vacated the central part of the continent for Vancouver

2: Marie-France Dubreuil & Patrice Lauzon
I started paying attention to MF&P around the same time that I started paying attention to Megan & Aaron—during the 2002-2003 season. But while I liked them during the years between '02 and '05, it wasn't until fall 2005 that I really latched on to them. It was, of course, "Somewhere in Time" that turned me from a moderate supporter to a superfan. My feelings on SiT have been
documented on this blog
already, so I won't rehash, except to that that the 2005-2006 season was the turning point for me. At the end of all of that, and the heart attack I nearly suffered waiting for the free dance at Worlds, they began notching up the list of my favourites. In those days, I found them equally glamorous and terrifying. It took me 3 years to track them down at an event and work up the nerve to talk to them. But in the past couple of seasons, they've become two of my favourite subjects to photograph—every program is a hit parade of gorgeous moments—and two of my favourite people to catch up with at events, as well. It turns out that, once you get to know them, they're actually kind of hilarious and quite charming.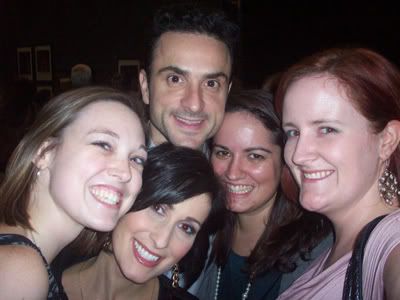 Circling up with MF&P for the usual self-po, October 2010

3: Tracy Wilson & Rob McCall
I can't watch their programs without a giant smile on my face. In my eyes, they were one of the perfect teams—so well-balanced in having different strengths, but working together so well. And I think Tracy Wilson is a dance goddess, basically. I hadn't even started watching skating yet when Rob passed away, so everything I know about them has been thanks to the wonders of internet video sharing. Perhaps it tainted my opinion a bit because I already held them on such a pedestal, but heavenly days, how I love watching their old programs. And I don't think you'll ever convince me that they didn't deserve to win in 1988.
I finally got to meet Tracy Wilson at the Olympic free dance!

4: Shae-Lynn Bourne & Victor Kraatz
When I was little, Shae & Vic were one of the only dance teams I could stand to watch. I thought she was so pretty and I liked their happy programs a lot more than all the other boring stuff in ice dance. I didn't understand why they didn't win everything. Of course, the years have given me perspective and more of an understanding of ice dance, but Shae & Vic still rank among my favourites. Some of their programs, especially when they were trying to fit in to get better results, are real doozies, but overall, the gems outweigh the doozies. And I'm forever grateful to them for keeping my attention when I was young and giving me a bit of early exposure to the discipline I would eventually grow to love. I still love watching Shae, who is one of the sweetest and most gracious people I have gotten to know through skating. She was the first world champion I ever interviewed, and even though I was shaking the whole time, she was patient and far more articulate than I was!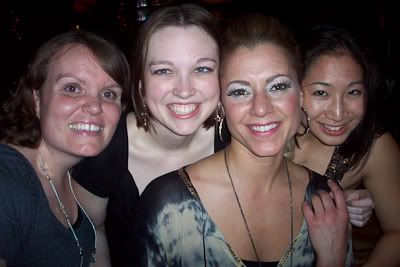 Chele, me, and Jen with Shae, spring 2010
5: Tessa Virtue & Scott Moir
Ah, the exception to the rule, the one team on my list that hasn't finished their competitive career. I decided I could include them, now that they're Olympic champions and I'm confident that they'll always have a special place in my heart. I knew they had something special when I first saw them as juniors, and I knew they were destined for great things when they burst onto the senior international scene so emphatically in 2006. And then their rise to the top of the world was so meteoric that it even caught me by surprise. I hope that if they're really going to continue to compete (I won't be convinced until they actually take the ice and skate a program during a competition!), that they will start to push the envelope a bit more and develop other facets of their presentation. I'm fiercely proud of them and I adore them, but I think they can do a lot more and I'd like to see that happen. We will see, I guess!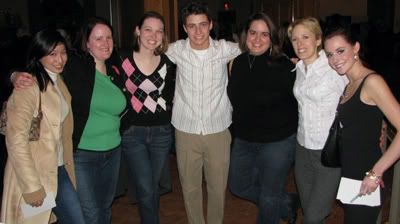 Jen, Jules, me, and Christina with Scott, Lesley Hawker, and Tessa in February 2007.

I just realized that all of these picks are Canadian. I guess it's fitting. I fell in love with dance in Canada and continue to watch dance most often in Canada, all the way down to the juvenile level. But I also feel like I should point out that my previous #5, recently usurped by Tessa & Scott, were not Canadians. Just to try to prove that I do have a bit of perspective.