First of all, I realize that it's already February 2010. But I've been busy already in '10, so it's taken me this long to put together a decent amount of my 2009 review. '09 really wasn't my favourite year overall. I had a pretty rough one. However, part of getting over 2009 and having a great 2010 is focusing on the good things that happened in 2009, and there were really a lot of fun moments. Since I didn't photograph the bad ones, this photographic year-in-review will highlight fun moments. Hooray!
In the blustery month of January, it was really really really cold in Chicago. Also I was really really really broke. So I worked as much as I could, tried to avoid going outside, and did my best hermit impression. I did have one photographic moment, as you can see, when Alana came to visit Chicago (again) so she could see Wicked here (again).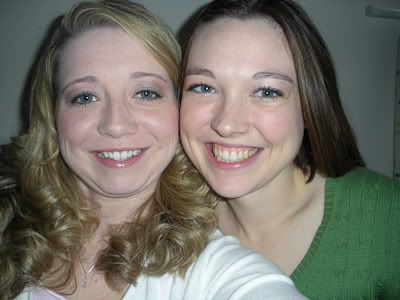 Pink goes good with green!
Things started picking up in February. I went back to school (second semester of an MFA in creative writing, for those of you who haven't been keeping up) and I got fairly serious about taking photos again via some travel and some skating highlights.
First, I went to the Chinese New Year Parade in Chicago's Chinatown with
Adam
. In Chicago, we like our Chinese New Year Parades to come with Irish bagpipe bands.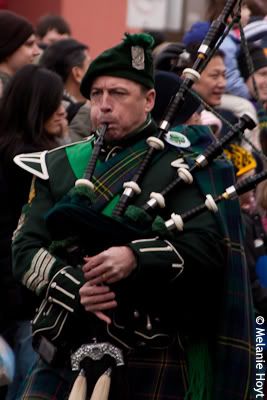 Later that week, I flew to Vancouver for my second trip in three consecutive years. This time, I attended the 2009 Four Continents Figure Skating Championships, which is one of the most unique events in the world, because you never quite know who will show up when you plan to go. It's fun to see the variety, and we had everyone from the lesser-known teams from countries not known for figure skating like Brazil and the Philippines, to South Korea's Yu-Na Kim, who won her first world championship a month later. 2009 4CCs was the first ISU Championship level event that I was accredited for, so it was really exciting, plus...it was the test event for the Olympics! Loved being in the Olympic arena and I'm sure that the skaters had a great experience testing out Olympic ice, too. Also, my editor at
Ice-Dance.com
, said that it was one of my best photography events ever, up to that point. I wasn't crazy about the greyish hue to the ice, but I loved sitting in the balcony and getting some epic angles. There's something magical about a shot with nothing but ice in the background. I could share at least twenty images that I love, but I'll try to stick to just one from each day that I was there. You can always see more on
IDC
.
Feb 4th: South Korean Kim Yu-Na's short program to "Danse Macabre," which was one of my favourite programs of last season. She won the event.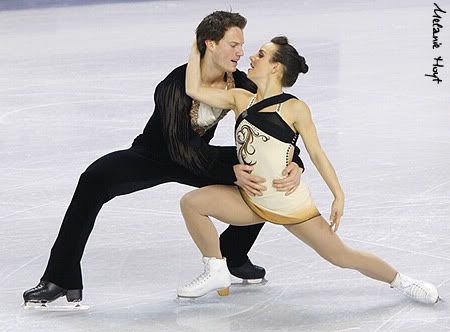 Feb 5th: Canada's Meagan Duhamel & Craig Buntin's "Tosca" free skate. Not as electric as their short, but I'd been wanting to get this shot all season.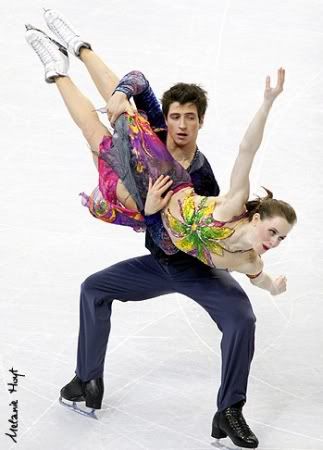 Feb 6th: Canada's Tessa Virtue & Scott Moir in their Pink Floyd free dance. I didn't like these costumes until I saw how beautifully they photographed. This shot is in my portfolio and looks awesome in print at 8x12!
Feb 7th: Jeremy Ten had one of the performances of the day in the men's free skate. He's local to Vancouver and he gave the performance of his life in front of a home crowd. It was awesome to be sitting right above a lot of the Canadian team members. When I looked down after he was done skating, a bunch of them were wiping away tears.
Feb 8th: Sunday was just the gala, which was a really weird final day of the competition. Since Chele had to leave before the gala in order to get back to MA for work on Monday, I sat with Jules on the "wrong" side of the arena, opposite the judges. It's amazing how many programs were still choreographed "for" the judges' side, even in a show setting. I did get some great shots of USA's Emily Samuelson & Evan Bates, though!
In addition to the skating, we also had some fun times sightseeing around the 2010 Olympic city! Although we'd all been to Vancouver together in 2008, the schedule was a lot busier then, so Jules, Chele, and I still had plenty of sights to track down during our 2009 trip. Unfortunately, my camera totally broke on the first day of competition. I was able to borrow a friend's extra body to shoot the event with, but most of my sightseeing was done when I just had a point & shoot. So...not too many "scenic" shots of the city that I'd want to post. I'll do better on my next trip! ;-)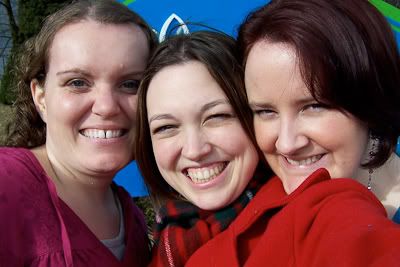 Chele, me, and Jules in front of the "Welcome to Vancouver" sign, better pictured...
...here, with just me in the photo. Haha.
And since I don't have sightseeing photos to share, here's a parting shot, and one of the best bloopers I've ever taken. Yes, she actually is wearing a dress back there.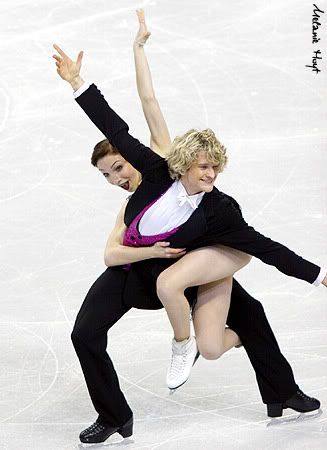 Two weeks after Four Continents, I went to the Chicago stop of the Stars on Ice tour for even more skating photography. For the second year in a row, I went with Jules and Katie. Katie lives in Madison now, but she came down and spent the weekend with me so we could shoot it together and write a joint blog for IDC, which is always a fun time. A few of my favourite shots:
Jennifer Robinson, 6-time Canadian champion, who is always one of the friendliest people at a skating event. Later in the fall, Jen told me that this was one of her favourite skating photos anyone has ever taken of her and, well, that kinda made me bawl.
John Zimmerman, 3-time U.S. pairs champion, skated on his own this year. I was really glad that the tour kept him and hope he'll be back. He's such a great part of the cast.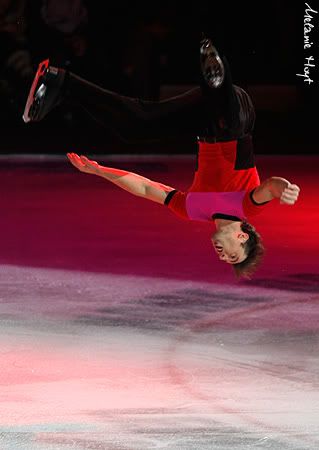 Michael Weiss, something-time U.S. champion, and habitual crowd-wower via his back flip. He's really become an awesome show skater all around, but it's the back flip that really gets the American audience. Always has been, probably always will be.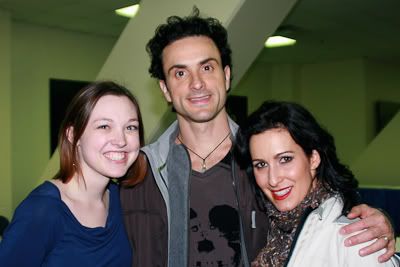 After the show with Marie-France Dubreuil & Patrice Lauzon, 5-time Canadian champions & 2-time world silver medalists, and more importantly, one of my favourite dance teams and providers of the tickets. Thanks again, guys!
March was dominated by more Stars on Ice shows, which is how I like my winter and spring months to be. After Chicago, I got in touch with Michael Weiss' family, who were interested in using my photos. Unfortunately, he'd been injured or sick or something and had only skated one of his programs in Chicago. Fortunately, I'd already planned to go to the show in Detroit with some friends. Unfortunately, the folks at the Palace of Auburn Hills were up on the NBA's camera policy and not SOI's, so they wouldn't let me bring my camera in. Fortunately, I'm kind of insane and I decided to go to Grand Rapids a couple of weeks later, too, since it's only a 3-hour drive.
Between the two shows, I had spring break and for a few days, I went on a trip with my mom to Memphis and Alabama. I really wanted to see where my grandma grew up—Gadsden, AL. I'd never been there and my mom hadn't been there since she was a kid. We lost my grandma in 2001, and I felt like I owed it to her and her memory to take this trip with my mom. It's too bad that the rest of the country had gorgeous weather that weekend, and we had freezing temps in Memphis and rain in Alabama, but we made it work. My photos aren't super pretty because it was grey and gloomy, but they mean a lot to me.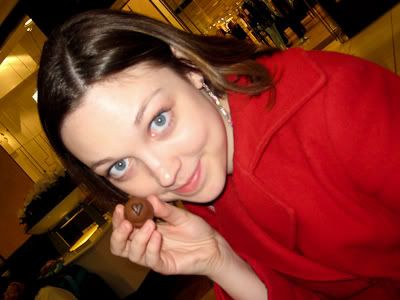 At the Somerset Collection in Troy, MI, before Stars on Ice. It's as much a tradition to go shop with the rich people at Somerset as it is to hit Stars on Ice in Detroit/technically Auburn Hills. Here, Christina took a moment to photograph me with one of my truffles from Godiva, which probably cost about $19.
Road trip with Mom: Walking in Memphis, Main Street at night.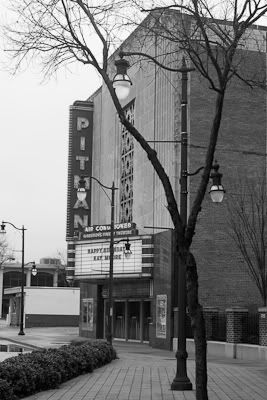 Pitman Theatre in Gadsden, where my grandma went to see movies when she was a teen. The town is trying to restore it; the projector currently does not work.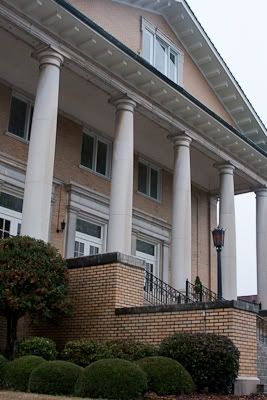 First Baptist Church of Gadsden, where my grandma and her family attended services. This building was completed in 1927, the year my grandma turned 9. She was baptized here.
Christina came back to Michigan (again!) for Stars on Ice: Grand Rapids. The show was on a Sunday, so we spent Saturday in Lansing. Of course, we took a ceremonial self-po before leaving J's house.
Me and Jules at my favourite restaurant in Lansing, Ai Fusion. Fantastic sushi, reasonable price, yummy drinks, and a great atmosphere.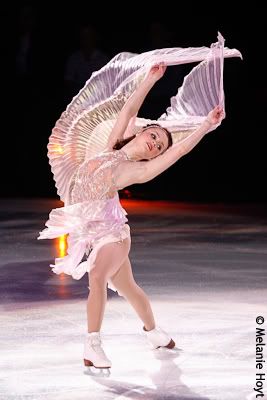 Sasha Cohen's "wings" transition from Stars on Ice in Grand Rapids. One of my best shots of the year, for sure.
Xue Shen & Hongbo Zhao's program to "Ramalama (Bang Bang)." Yes, it was ripped off mostly from
So You Think You Can Dance
, but it was still terrific.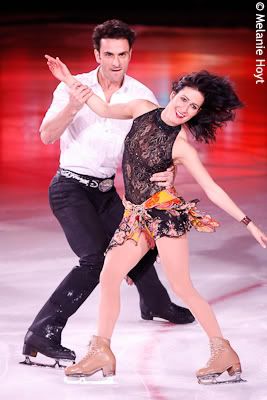 Marie-France Dubreuil & Patrice Lauzon skated to U2's "Desire" in the second half. Maybe my favourite program they've done since they retired from competition.
After the show, John Zimmerman made me take a picture with him. How could I have said no? I didn't want to hurt his feelings.
April was a bit of a slow month, photographically. I didn't have any skating events and I was busy finishing my second semester of grad school. I did get to see Vienna Teng in concert, though, and took some of my best concert photos ever.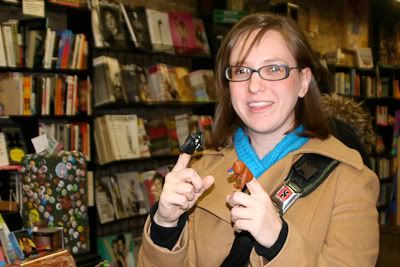 My friend Marynia and some finger puppets after one of the public readings for
Oyez Review
, the lit mag that we worked on first semester.
Ben Sollee, a rad cellist and singer who opened for Vienna Teng on April 17th at Schuba's in Chicago
Ward Williams, one of the members of the Vienna Teng Trio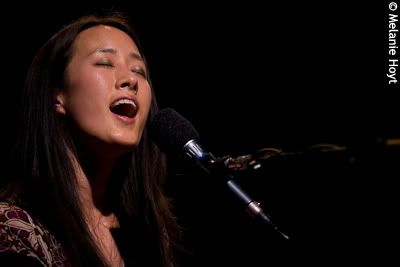 Favourite shot of the incomparable Vienna Teng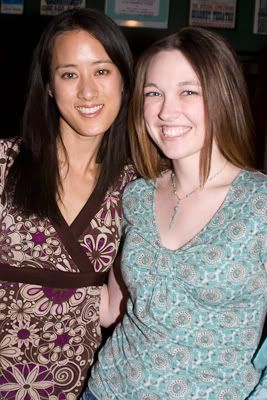 We passed by Vienna on our way out of the bar and told her what a great show she'd done. She was nice enough to let me take a photo with her, even though I was in desperate need of a haircut.
The weather started turning nice in April, so a friend of mine planned a visit to Lincoln Park zoo, where we jumped for joy.
And I marveled at how gorgeous my city looks from Lincoln Park
And I took a photo of a duck that my friend Jenny really loves, for some reason.
2009 Year in Review: Part 1 of 3 is complete! Stay tuned for parts 2 and 3!