I'm a little surprised at how quickly the month of May has flown by. Once classes ended in the first week, I thought I'd have a slow, lazy month, getting ready for my big trip across Canada and working at the beauty store. I was definitely getting ready for my trip and I was working a fair amount, but it definitely wasn't a slow, lazy month. I have been going at top speed for weeks! The good news is that I'm almost done with preparations and arrangements and I leave in 2 days, but more on that in my post tomorrow!
For now, a bit of catch-up:
The last weekend of April and the first weekend of May took me to Ontario for Canadian Stars on Ice, as usual. This year was my third year in a row making a weekend of it and going to multiple shows. We ended up going for the record—Windsor, Toronto, Hamilton, and London. Fun times!
Overall, the show this year isn't what it has been in the past. I understand the business strategy for setting up the tour like they did in the Olympic year, and considering that I was present at SOI's first sold-out show in who knows how long (London, hometown of new Olympic champs Tessa Virtue & Scott Moir), I guess it paid off. But a lot of the longtime fans really missed the way that SOI shows have always felt before, so I hope they'll go back to the old format next year.
For example, the opening and closing numbers were not good. The opening worked a bit better, because they relied on the skaters to come out individually and do something that they did well, but the group choreography at the end of the program was fairly lame. The finale, however, was a different story. I'm not sure what they were going for when they picked the music, but it came off as a joke. "I've Got the Music in Me?" Really? That's not even a good, but cheesy song. Who turns that up when it comes on the radio? And in an Olympic year, when the chances of pulling in a younger audience is higher than in the in-between years, you pick that song? Add to it the truly awful choreography (they did the sprinkler!), and you have one hot mess.
At the one U.S. show I went to in Chicago, it fell horribly flat. Even for a huge crowd, thanks to a lot of proud Evan Lysacek fans, the energy in the arena was more awkward than excited during the closer. A few skaters really tried hard, but when the whole cast wasn't into it, not even Belbin's perk and Weiss' back flip could save the number.
But in Canada, there was one other factor: a fantastic cast full of natural performers that went over the top and sold the crap out of the embarrassing choreography. Props to them. Once I got past the initial shock of the cheesiness, the Canadian finale was fun. I spent most of the number chuckling out loud, especially when I was sitting on the ice in Toronto.
Anyway, this blog post wasn't meant to be an entire Stars on Ice review. I wanted to post one earlier, but never found the time. So I just need to say that despite the poor group choreography choices, the Canadian SOI tour featured fantastic skating and some wonderful solos. Jamie Salé & David Pelletier's "Scream" earned a standing ovation at all four shows that I attended (I think) and it was well-deserved. I thought it was the best program they'd done in years. It was a treat to see Tessa Virtue & Scott Moir's free dance four more times, even though it was an abbreviated version, and I loved that Joannie Rochette reprised "Summertime," which I last saw her skate in 2008, I think. Cynthia Phaneuf's "Nothing Compares 2 U" was a standout, too, and I loved seeing her skate with such confidence. Marie-France Dubreuil & Patrice Lauzon's "Do I Move You" was some of my favourite choreography of the year (is Renee Roca on a roll this year, or what!), and I think it's my favourite program that they have done as pros. This is saying a lot, because I've loved all of their tour programs in the past 3 seasons.
But the single most awesome moment in all of the four shows was Kurt Browning's "That's Entertainment" in Hamilton. True, maybe it didn't quite have the same energy as when he skated the original, but that was 15 years ago. For 2010, this performance was incredible. It was one of those skates that made me leap to my feet at the end, then look around to make sure that the rest of the crowd had felt the same way. (They had.) I remember watching the program when I was kid and thinking it was pure magic. It was nice to know that I had been right.
As usual, I also enjoyed spending time in SW Ontario with a huge group of friends. A bunch of us went to the post-show reception in Toronto, which was inside the ACC this time, instead of at the Westin. This proved to be a problem when my friends didn't get their passes with their tickets and a security guard on a power trip refused to let them enter the building, even when I put on my best sweet-girl face and tried to talk them in (I had a different pass and he didn't have a problem with me going in), and even when Jo, Canada's sweetheart herself, came downstairs to verify that yes, these were the girls that she'd requested passes for. In the end, the security guard never bent, but someone who worked with the tour told the girls to walk on in, and they did while he continued to argue and pretended to call for a supervisor on his walkie talkie. 5 minutes earlier, he'd told me that there were no supervisors in the building when I'd asked to talk to his. Awesome.
Anyway, the rest of the girls did eventually get upstairs and we had some good chats with the cast. Although some of us were at the free dance in Vancouver, this was the first time we'd seen Tessa & Scott since they became Olympic champs and it felt weird (in an awesome way, of course) to congratulate them. Wasn't Scott looking terrified on his first senior warmup in his white suit just, like, two minutes ago? Also, now Tessa wears jumpsuits/rompers, apparently. Personally, I feel like attached pants are never the answer, but maybe she was making a statement. We also chatted with Jamie and she confirmed that she's doing Battle again, which of course is "out" now, so I don't feel bad blogging it. Two of our friends were at their first post-show reception ever, so it was great fun for me to introduce one of them to MF&P, and they other finally got to meet Jeff, which was great since she's been a fan for as long as I have known her.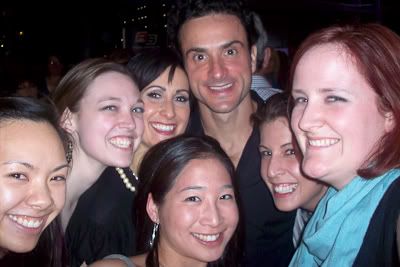 Our usual self-po with MF&P...love that she suggested it this time.
Some of the group: Jules, me, Lori, Jen, and Sarah
The next night in Hamilton, we added a few more girls to our group and after standing awkwardly in the post-show area for A LONG TIME (long enough for me to let Erica video me tap dancing), we were heading to Walt's (which was rechristened last year to Waltz-with-a-z, but that's lame so I have resisted), but apparently some loud music had sent our friends to the Sheraton bar, which is a nice little place. For all the time I have spent at the Copps in Hamilton, I had never been up to the bar on the second floor of the Sheraton.
And I swear, Jules and I were going to be good and skip the London show, but we made a last-minute decision (again) to go on that Sunday. It's hard to say no, since it's right on the way home and we always are driving through London just before the show starts anyway. We expected to have to buy standing room only tickets, but when I got to the box office and found out that the standing room was actually standing balcony at the very top of the arena, on the end, I was so relieved that they'd just released a few extra seats in the 2nd row. Whee!
Once I got back to Chicago, I finished my last project of the semester, and started planning like crazy for this trip. Honestly, I haven't done too much that warranted blogging and most of my efforts to photograph my city over the past month have turned out poorly, so I will leave you with a photo of the fountains in Daley Plaza. This was, I think, the first day that they tried to dye them red for the Blackhawks. It didn't go so well. But I love pink, so whee.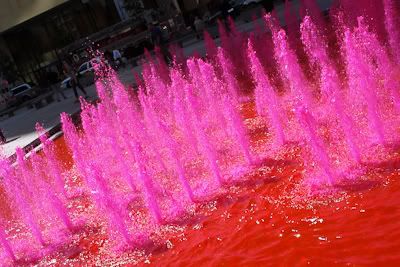 I'll be back tomorrow with a hiatus post and a link to my trip blog, but if you're impatient (yes, there's already content up), it's
here
.